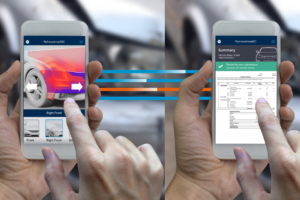 CCC: AI claims processing up 60%, how that benefits claim cycle times
By on
Insurance | Technology
CCC Intelligent Solutions has announced an update to its insurer artificial intelligence (AI) adoption report, which for the third year shows significant growth in the adoption of AI in auto claims. The company views AI as a benefit not only to insurers but to the whole claims process including faster cycle times for collision repair shops.
The application of advanced computer vision AI for claims processing increased 60% year-over-year, according to CCC's report. More than 14 million claims have been processed using a CCC AI solution, which shows growth of three times over 2019.
"There are a number of issues right now in the market that have really extended repair and made it a much longer process in terms of cycle time and a much more expensive process to fix vehicles," said Jason Verlen, CCC's product marketing vice president. "In addition to that, you've got kind of a confluence of another trend, which is the demand from consumers for an experience that they lead and control on their own on their cellphone regardless of what they're doing — when they're ordering pizza for lunch, or whether they're getting their car repaired."
The issues include supply chain disruptions, labor shortages, and increasing vehicle complexity that require pre- and post-scans and calibrations.
The growth in AI-powered claims is driven by a number of factors, including an increase in the number of insurers using AI solutions, the expansion of applications of AI across their business, and an increase in AI-eligible claims through an uptick in the use of photos to initiate a claim, according to CCC. Verlen said the use of AI in the industry was already rising before the COVID-19 pandemic but that it did accelerate it.
In 2022, more than 27% of claims processed through CCC's system were initiated by digital photos. Collision repairers have voiced concern with insurers' overreliance on photo estimates because photos, whether taken correctly or not, don't always show the true damages. That's because photos don't necessarily reveal any underlying damage that may be present, and the photos may not be assessed properly by insurers. Repairer Driven News asked Verlen for his thoughts on that perspective and how AI fits into it.
"We look at method of inspection data closely and the rate of supplements for photo MOI and staff are quite similar in terms of volume and costs," Verlen said. "The AI works similar to a human, detecting damage it can see to generate an initial estimate. …[G]iven all the challenges in the industry these days with labor, with parts, with everything that has gone on — the time span of all the AIs for that measurement has gone up except for one, and that's photo."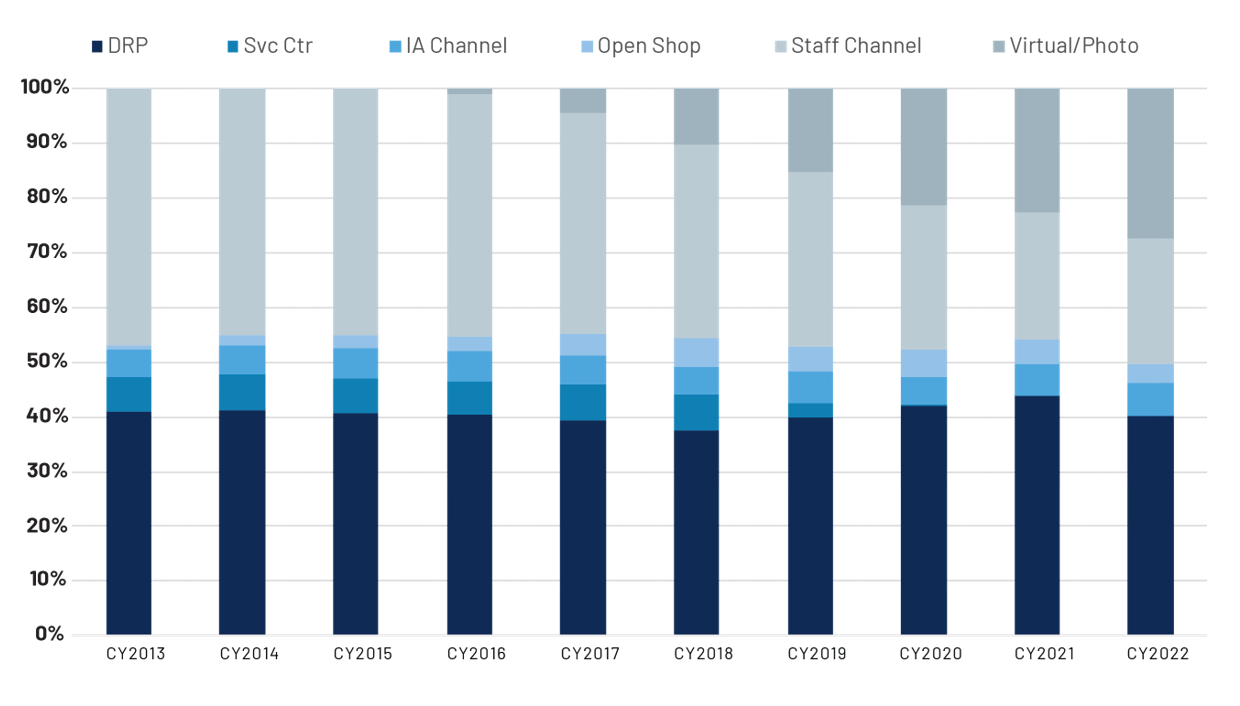 "In general, the time to get an estimate from a photo-based accident is less than 1.5 days and has actually improved during this challenging time in the industry. That's a great improvement for cycle time, which is good for the carrier and it's also good for the consumer," Verlen said.
Verlen added that AI and photo estimates also help consumers get their vehicles to a repair facility easier and faster. "It is not merely that AI has been applied to produce an estimate. The AI that has been applied and the estimate produced are part of a full digital experience for the consumer."
The "full digital experience" includes heat maps of vehicle damages.
"There's some credibility beyond the estimate because it shows, 'OK, we detected the damage correctly. We probably have produced an estimate correctly and then it enables the next step in the experience which is they can select from various repair shops in the geographic area that have the capability to fix the vehicles."
However, there may be some disagreement amongst industry segments regarding how "correctly" is defined. Repairers have found that AI can fall short of addressing all parts, components, features, and vehicle technology — and the argument has been raised that teaching AI to correctly identify vehicle systems and the OEM repair procedures associated with them may provide greater inherent benefit, than teaching AI to make subjective repair versus replace decisions. For example, the following image is a disclaimer attached to an AI estimate:

AI could pose an additional challenge to the repair process if AI is, in fact, perceived as more credible by the consumer, and it isn't correctly assessing everything that's on the vehicles it analyzes.
In 2021, WIRED magazine took a look at the insurance industry's switch to photo-based estimating and photo estimating AI as well as body shops' criticism of the concepts.
The overarching shop complaint was: Damage detectable by an in-person human appraiser is overlooked in photo estimating. If true, this becomes even more concerning in situations where shops work blindly off the insurer's estimate or lack a second pair of physically present eyes on the car. The WIRED article suggests one or both of these might be happening:
"Incomplete estimates can lead to incomplete repairs. Motorists sometimes bring their vehicles to Hernandez Collision Repair to make sure work done by other shops was done properly. The company's two shops in southeast Georgia have seen more shoddy or incomplete work during the pandemic, says April Hernandez, whose family owns the business. She attributes the change to photo-based estimates and the AI that's applied during the process. 'I feel like it's getting worse as time goes on,' she says."
RDN asked for Verlen's take on repairers saying that photo-based estimates can lead to longer cycle times because of large differences between what insurers estimate the repair cost to be versus the repair plans shops make after disassembly. Oftentimes, repairers then have to wait on supplements to cover the difference or customers end up paying out of pocket.
Verlen said CCC has found through its data that the number of supplements added to claims from photo estimates compared to an in-person estimator are identical and the dollar amounts are similar.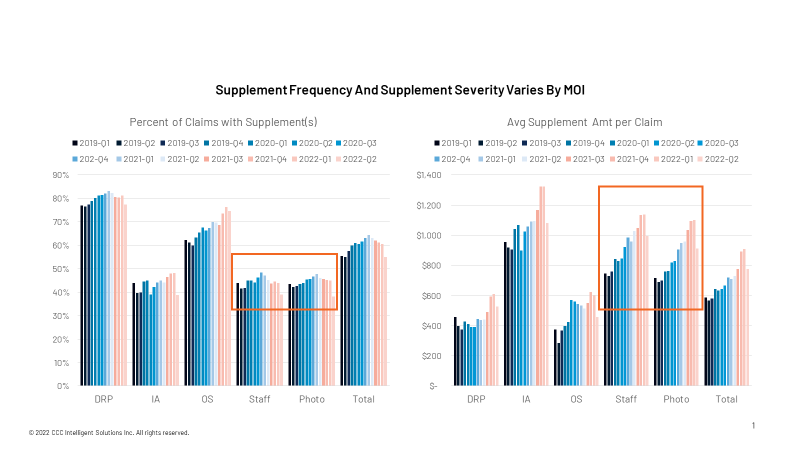 "We have had some complaints, especially early on with the quality of the estimates from photos," Verlen said. "That's the adoption curve of any new technology. The first generation of any new technology has its issues and challenges regarding people learning how to use it, et cetera. The quality of what it produces now though has been out for a good number of years… is roughly comparable to staff. Now, remember a lot of estimates that are produced by carriers don't involve a teardown either.
"The carriers generally write what they can see. That's their general standard and that's exactly what a photo does. It writes what it can see. For more serious damage, photo is not a very good channel for that. Photo is an excellent channel for lower hits."
CCC has set up rules with carriers to send more extensive hits to a staff person for an inspection of the vehicle and then they write up the estimate from that, he added.
Verlen sees AI and photo estimating as a jumpstart for repairers because with the press of a button they can see photos and a preliminary estimate then complete it as they assess and teardown the vehicles.
CCC reports the number of claims using four or more of its advanced AI applications grew two times year-over-year, including CCC Estimate – STP, meaning straight-through processing. Estimate – STP is currently used by 15 insurers, including seven of the top 10 carriers based on direct written premiums, according to CCC, which represents 50% of U.S. auto claims volume. Today, more than 100 insurers are actively using CCC's AI-powered applications.
Verlen wouldn't say whether CCC's photo and AI estimating technologies will eventually be used on property claims but he did say it would be possible through its recently acquired subrogation arm, Safekeep.
CCC also announced last week that Root Insurance will extend the use of CCC technology to include its first-party casualty solution.
The move will allow Root to manage auto physical damage and first- and third-party casualty claims powered by CCC through a single digital workflow, according to CCC.
The product digitizes bill intake, review, and reimbursement recommendations, and leverages accident data and insights "to help insurers digitally review medical bills for accuracy and appropriateness of charges and treatments," CCC says.
Verlen explained that CCC's third-party solution provides numerical data on the physics and velocity of the collisions to determine how hard the vehicle was hit and if the damages as well as injuries correlate with what the policyholder says happened. Basically, it puts data behind the he said, she said of the claims process.
The first-party solution helps monitor and manage medical bills that come in throughout the claims process, he added. The bills are evaluated digitally through AI and biomechanical analysis to determine if they've been submitted roughly within the bounds of the amount that the claim should be and if they "play by the rules," Verlen said.
"Most bills are and those can be routed through our system and paid and that means that there's more time for their experts to look at the ones that don't fit those parameters and take a deeper dive into what's actually going on," he said.
CCC chief commercial and customer success officer Mike Silva said in a statement that CCC is "excited to continue to support Root's vision for smart, digital claims management."
"Connecting the auto-physical damage and casualty claims processes will help Root gain greater insights to achieve better claims efficiency and better outcomes," he said.
Root Insurance Chief Claims and Customer Service Officer Mark LeMaster added, "As a digital-first insurer, it is essential for Root to leverage data and technology to inform decisions and deliver seamless experiences. By working with CCC we can do both across the life of a claim, spanning auto physical damage, first- and third-party casualty and subrogation claims. CCC's network, technology, and AI are coming together in a way that will enable us to deliver on our policyholders' expectations for straight-through claims experiences."
Images
Featured image: CCC ONE Estimating IQ enables repairers to apply AI to photos they receive from an insurer as part of a repair assignment. (Credit: CCC)
Data graphs provided by CCC
Share This: