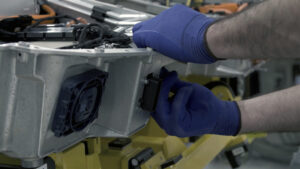 Concerns reported in a variety of mainstream media outlets address repairability issues with even slightly damaged battery packs on electric vehicles (EVs), rendering otherwise fixable vehicles total losses.
However, collision repair professionals with experience in complicated EV fixes say restoring damaged EV batteries is a challenging, but not impossible task.
"From our experience, BEV collision repair has more procedures to follow, required equipment and tooling along with significant training before you start the repair process," Barry Dorn, owner of certified repair facility Dorn's Body and Paint, told Repairer Driven News. "They do require a lot more knowledge to repair correctly and safely. You must be willing to make the investment in your teams and a significant investment in tooling and equipment before you attempt to repair a BEV."
He added that some insurance carriers aren't willing to go the repair route, instead opting to total vehicles because it doesn't affect their internal pay plans or because it's the easier path to take.
"We have had some carriers attempt to total loss BEV vehicles at 20%-30% of their value, which is a waste of resources that could have been repaired," Dorn said. "Repairing BEV's is similar in scope but with a strong adherence to the procedures and training provided."
Kye Yeung, whose California repair shop European Motor Cars was among the first to become Tesla certified, agreed. He said fixing EVs has become more difficult because of the way they're being built, which is why repairs should be made at shops that specialize in this type of work.
"Those vehicles that are damaged really need to go to a certified center that has been trained by the manufacturer and then have the [experience)] with the with that OEM where they could share information and have the engineers make that decision [on how to proceed]," Yeung told RDN. "And that would really minimize [consumer] concern because a lot of times these cars go into the wrong shop and they either be repaired improperly, or they can go down the road where the shop takes us completely apart, not knowing the car was a total loss to begin with."
The repairers shared their perspective following the release of a Reuters article that said "for many electric vehicles, there is no way to repair or assess even slightly damaged battery packs after accidents," leading to total losses.
"A Tesla structural battery pack is going straight to the Grinder," Sandy Munro, executive director of Munro & Associates, told Reuters, reiterating comments he made in a YouTube video last year.
Last July, Munro and his colleagues attempted to tear down a Tesla 4680 battery pack, which the automaker introduced to expand range. However, after two-and-half days of attempting to dismantle the cells, repairers made little progress due to polyethelyn heavily bonded over the steel cover.
"It's proven to be much more difficult," Munro said. "The repairability of this is essentially zero. It is a monumental task for our team to get to this point, and we're trying to do it as safely as possible. There really is no playbook on how to remove this cover and that's why we have our team taking it a small step at a time."
Dorn said he doesn't believe the Reuters article is an accurate representation of BEV collision repair, adding that while most service and diagnostic technicians lack the training and experience necessary to perform such BEV battery pack repairs, there are specialists that are up to the task.
"There are many considerations you must take into account when repairing any BEV," he said. "The main thing is training. If you do not know what you are doing and you have not been properly trained, the smallest of accidents can create numerous safety issues for the repairing technician. Plus, we see uncertified technicians take the approach of a conventional vehicle, this is not how BEV or mixed material vehicles should be repaired and will affect the cost of repair and safety of that vehicle going forward. 
"It is a completely different mindset, skill set, and approach to the repair process and/or build sequence."
EV repairs in general have proven to be more costly than fixes to internal combustion engine (ICE) vehicles and, as a consequence, are also more expensive to insure.
Tesla CEO Elon Musk said earlier this year during the company's 2022 Q4 earnings call that Teslas are beginning to have cheaper collision repairs and are now less expensive to purchase.
When discussing repairs, Musk said, "First, the best repair is no repair, avoid the accident entirely, which since every Tesla comes with the most advanced active safety in the world, whether or not you buy Full Self-Driving, you still get the intelligence of Full Self-Driving for active safety, active collision prevention.
However, concerns have been raised about self-driving vehicles as well, with Transportation Secretary Pete Buttigieg among those speaking out against autonomous cars.
"There is enormous safety potential in the future of some of these automated driving technologies," Buttigieg said during
Yahoo Finance Live.
"But any technology that's on the market today is something that is designed to supplement — not replace — your attention as a safe driver. And I am very concerned about any scenario where any driver thinks otherwise.
"We are a long way off from automated vehicles, where you can sit back, take a nap, or read the paper while it takes you from point A to point B," Buttigieg added.
A recent Insurance Institute for Highway Safety (IIHS) survey found that while technology helps prevent car accidents and is helping make roads safer, it is also making auto repairs more complicated,
The IIHS surveyed drivers whose vehicles are equipped with front crash prevention, blind spot detection, and other visibility-enhancing cameras. Among those who had the systems repaired, about half had issues with the features afterward, the study found.
"Most of the more than 3,000 owners we contacted said they had never needed to have their crash avoidance features repaired, but for the minority of owners who did, the problems weren't always resolved easily," said Alexandra Mueller, IIHS senior research scientist, who designed the survey. "Many had issues with the technology afterward, and some said they had to have the same feature repaired more than once."
IMAGES
Featured image credit: Aranga87/iStock
Share This: