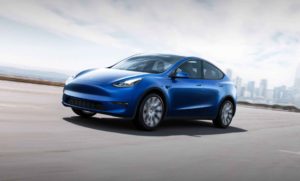 Tesla's vice president of engineering has described how models were designed to protect passengers from getting crushed during a collision.
In a YouTube video uploaded last week, Lars Moravy told viewers the automaker took several measures to ensure cabins are protected in the event of a crash.
"Passive safety is what happens when you get into an accident. We think about that from the beginning of a design," Moravy said. "And what we're trying to do is absorb as much energy from whatever object you hit before it gets to the cabin.
"At Tesla, It's so we always like to think we have two rules. Number one, protect the occupant. Number two, protect the battery. See rule number one: protect the occupant. The way we do that is in a progressive nature of crash structure."
The automaker then shared footage of how Tesla models appear underneath the skin, revealing its bumper beam, crush can, and its new front underbody casting, which debuted recently in Austin.
As Moravy explained it, the bumper crunches and progressively presses against the crush can following a crash, absorbing less than 20 miles per hour of energy. From there the casting design is put to use to further control the crushing of the entire system before it reaches the cabin.
The automaker utilizes multiple load paths to prepare vehicles for different types of accidents, he added. This includes a higher load path for vehicle vs. vehicle collisions, and lower load paths for crashes with different-sized objects.
Moravy said the load paths are spaced vertically to transfer the load through the crush rail and subframe, which pulls the drive unit down and out of the way from the cabin and out of the way of the battery."
"But we don't just do that in a vertical sense," Moravy said. "We also do it laterally. Your main crush rail is great if you hit something up front, but if you hit a pole or a tree just outside that crush rail there's nothing there to absorb and energy in most cars. We put our lower load path just outside that crush rail, and we actually angle it so that if you hit something [there] we start to absorb the energy and then we push the car away from whatever object you hit to make sure that you're not getting crushed into that object."
From there the backup structure protects the cabin, he said, adding Tesla uses door rings, glass and the battery to provide structure and absorb all energy during a crash.
"One of the things that's unique about all of Tesla's is the battery is super low," he said. "The lower center of gravity in addition to our suspension means our vehicles are less likely to rollover."
Tesla's Model Y was among just four vehicles to receive good ratings for backseat safety in a recent Insurance Institute for Highway Safety analysis of 13 midsized SUVs.
"All these vehicles provide excellent protection for the driver," said IIHS President David Harkey, "but only a handful extend that level of safety to the back seat."
To secure a good rating in the testing, crash-tested vehicles must, among other requirements, demonstrate that there is no excessive risk of injury to the head, neck, chest abdomen or thigh to backseat passengers involved in an accident.
The cabin's structure post-crash must also maintain "adequate survival space for the driver, and measurements taken from the driver dummy must not show excessive risk of injuries," the IIHS said.
"Zeroing in on weaknesses in rear seat safety is an opportunity to make big gains in a short time, since solutions that are already proven to work in the front can successfully be adapted for the rear," said IIHS Senior Research Engineer Marcy Edwards, who led the development of the updated test. "The four good ratings in this round of testing show that some automakers are already doing it."
Tesla has, however, come under scrutiny over claims Elon Musk, its chief executive, oversold the OEM's autonomous driving capabilities.
The National Highway Traffic Safety Administration (NHTSA) is investigating a number of fatalities allegedly related to Tesla's driver assistance features.
According to Reuters and other news outlets, one crash happened last November and involved eight vehicles in San Francisco including a 2021 Tesla Model S, the driver of which said the Full Self-Drving feature malfunctioned. The other recent crash involved a 2020 Model 3 in Ohio and resulted in one minor injury.
CNBC and Reuters report that NHTSA is investigating at least 41 crashes involving Tesla vehicles where automated features including Automatic Emergency Braking (AEB), Autopilot, Full Self-Driving (FSD), and FSD Beta were involved. Since 2016, 19 crash fatalities have been reported as part of Tesla-related investigations, according to Reuters.
Last June, NHTSA upgraded its Autopilot probe of 830,000 Tesla vehicles involving crashes with parked emergency vehicles. The upgrade meant the administration would "extend the existing crash analysis, evaluate additional data sets, perform vehicle evaluations, and …explore the degree to which Autopilot and associated Tesla systems may exacerbate human factors or behavioral safety risks by undermining the effectiveness of the driver's supervision," NHTSA said at the time.
Models affected by that investigation include 2018-2021 Model 3s, 2014-2021 Model Ss, 2015-2021 Model Xs, and 2020-2021 Model Ys.
Tesla is also under legal federal and state scrutiny including the California DMV's accusation that the automaker has falsely advertised its Autopilot and FSD features. The accusation is part of complaints filed with the state's Office of Administrative Hearings by the DMV.
In a class action lawsuit filed in September in the U.S. District Court for the Northern District of California, Tesla is accused of "making misleading and deceptive statements regarding the company's advanced driver assistance systems ("ADAS") technology" for years.
"Tesla has deceived and misled consumers regarding the current abilities of its ADAS technology and by representing that it was perpetually on the cusp of perfecting that technology and finally fulfilling its promise of producing a fully self-driving car," the complaint states. "Although these promises have proven false time and time again, Tesla and Musk have continued making them to generate media attention, to deceive consumers into believing it has unrivaled cutting-edge technology, and to establish itself as a leading player in the fast-growing electric vehicle market."
Images:
A Tesla Model Y is shown. (Provided by Tesla)
Share This: