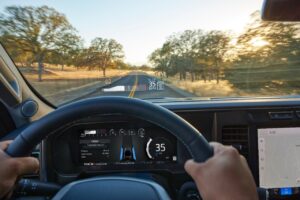 IIHS leader says 'better communication' could bridge disconnect between repairers, insurers
By on
Collision Repair | Insurance
An Insurance Institute for Highway Safety (IIHS) executive says repair shops and insurers could do a better job communicating needs and expectations to account for the changes happening within the repair space.
David Zuby, IIHS senior vice president of vehicle research, said during AirPro Diagnostics' inaugural TechTalk360 webinar that his organization is engaging with automakers to learn about new technologies and other features insurers will be paying to replace following a crash.
"We've got information on our private website for insurers that helps them gauge what's coming in the new vehicle market," Zuby said. "But you know, I think all of us can do a little bit better job of making sure that we're anticipating these changes rather than dealing with them after they get [here]."
Zuby made the comments after being asked how the collision repair industry can engage insurers and the IIHS to better educate underwriting and claims professionals on the importance of appropriately indemnifying repairs.
As more vehicles are equipped with advanced driver assistance systems (ADAS), it's becoming more complicated and costly to repair them. However, some insurers have pushed back against covering critical steps such as calibration that are necessary to restore the car to its original condition.
"We're constantly talking to our sponsor organizations and trying to help them understand this issue," Zuby said. "And for the most part all of these features, while possibly raising the average cost of repairs, in the end leads to lower cost to insure and that's even without taking into account the reduction in injury costs."
Zuby added that most of IIHS's analyses have found that the cost to insure ADAS vehicles is lower, despite the cost to repair them being up.
"I think part of the problem with the way the [claims professionals side] of business works is that you have some people who are only focused on the cost of the repair and that aren't really responsible for thinking about the bigger picture of the cost to insure," he said. "We try to talk to that audience and explain what's going on, and [tell them] that they shouldn't be concerned about the higher cost of repairs as long as it's coming out in the wash of lower cost to insure. We could use help in that educational process."
Earlier this year, the IIHS released a study showing that while new ADAS technology is helping make roads safer, it is also making auto repairs more complicated.
The IIHS surveyed drivers whose vehicles are equipped with front crash prevention, blind spot detection, and other visibility-enhancing cameras. Among those who had the systems repaired, about half had issues with the features afterward, the study found.
Some diagnostics specialists pushed back against the study, saying it did not consider insurer resistance and failure to prioritize adherence to OEM procedures as contributing factors.
Greg Peeters, chief executive of Car ADAS Solutions, said the issues he's observed in calibration centers involve the mounting, positioning, and aiming of sensors. He said it's important to follow all OEM procedures and document each step, as ensuring an accurate calibration takes time and the right environment.
However, he said part of the problem is that some insurers and repair shops don't always facilitate the need to do things the right way.
"There's a significant difference between getting the dash light off, and accurately calibrating vehicle safety systems," he told Repairer Driven News. "Repair facilities and insurance companies pursuing quick/cheap solutions create a false sense of safety. There should not be shortcuts to this critical repair process."
Zuby elaborated on the ways in which technology is making vehicles safer during the webinar, noting that:
Automatic emergency braking reduces front-to-rear crashes by 50%;
Rearview cameras reduce backing crashes by 18%; and
Blind spot detection helps drivers avoid being in crashes associated with changing lanes.
Zuby added that with projections showing that the auto industry will see significant growth in ADAS features within the next five years, the collision repair industry is going to be dealing with repairs involving an assortment of new technologies.
"We're moving from a time when a metal fender could be treated the same regardless of what kind of car it was on to a situation where a camera that's used to help a driver stay in the lane may need different treatment depending on whether it's a BMW or a chef," he said. "So it's hard to get good information about the extent to which repairs and mistakes during repairs are leading to a decrement in the effectiveness of these systems."
During its survey of ADAS repairs, IIHS found that about two-thirds hard their vehicles recalibrated as part of the repairs, regardless of whether the car was repaired at an OEM service center or independent shop.
However, Zuby said the survey also revealed that post-repair ADAS problems happened more frequently among drivers who took their vehicles to independent shops.
"I think this speaks somewhat to some of what we've heard about the lack of availability of the necessary information to conduct the repairs in a correct way to the independent shops that are even a lot of not a lot of but there are several states that are considering right to repair legislation that would make information unique to various automakers more widely available to people in an independent repair business."
He also said among those surveyed whose vehicles had ADAS issues post-repair, most reported that the repair included calibration.
"We're seeing a higher rate of post repair problems associated with people who told us that their repair included a calibration," he said. "Even if the majority of calibrations are completed when they're being carried out by the repair shop, they're not necessarily being done right."
He added: "I've, in talking to people around this space, come to learn that the calibration instructions are not always clear, and often they change from year-to-year model automaker, automaker. And so just because you learn how to calibrate on a particular model from a particular year doesn't mean that what you learn applies to a different model."
Images
Featured image: A head-up display in a 2023 Ford Super Duty. (Provided by Ford Motor Co.)
Share This: