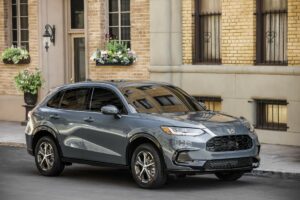 Beginning July 31, Honda and Acura will no longer offer its Honda Diagnostics Cloud (HDC) scanning software through CCC.
Honda said in a memo that the discontinuation is due to lack of use. The Honda Antares Capsule will also be discontinued.
In 2020, when the integration was launched, CCC said it was meant to increase repairers' efficiency on any pre-, mid- or post-repair diagnostic scanning.
Rather than having to upload photos of scan tool screens or PDFs of code outputs to CCC ONE for documentation purposes, users of the feature can connect an official Honda scan tool or a J-2534 device to a computer running CCC and initiate the scan from within CCC.
"CCC repair customers may still view results of pre-, in-process, and post-repair diagnostic scans from other selected solution providers directly within CCC ONE," CCC told Repairer Driven News. "CCC's repair customers can continue to use the CCC Diagnostics Network to seamlessly access our integrated diagnostics providers, Opus, AirPro and asTech for OEM-licensed scans."
Following the announcement of the discontinuation, asTech posted on its Facebook page that as a Honda-approved partner, it is integrated directly with CCC and connects remotely to required Honda OEM diagnostics tools for pre- and post-scans of Honda and Acura makes.
"…an asTech OEM report that proves that you've completed each scan with an OEM tool," the post states.
In a November 2020 position statement, Honda said all of its vehicles and Acura models must have the following minimum diagnostic scans, inspections, and/or calibrations done post-collision to avoid improper repair:
"A preliminary diagnostic scan during the repair estimation phase to determine what diagnostic trouble codes (DTCs) may be present, so proper repairs may be included;
"A post-repair diagnostic scan to confirm that no DTCs remain. Any repair that requires disconnection of electrical components in order to perform the repair will require a post-repair diagnostic scan to confirm if the component is reconnected properly and functioning. Damage that requires the replacement of body parts will always require a post-repair diagnostic scan; and
"Some safety and driver assistive systems will require inspections, calibration, and/or aiming after collision or other body repairs."
Honda defines "collision" in the document as damage that exceeds minor outer panel cosmetic distortion.
The statement goes on to say, "The mechanical forces encountered in a collision can damage electrical circuits and components in ways that are not easily diagnosed with visual inspection methods."
"The proliferation of electronic control systems has increased the number of potential DTCs beyond the point where a dashboard indicator can be installed and/or illuminated for every DTC. Dashboard indicators are intended for driver notification, not vehicle diagnostics. Therefore, the presence or absence of dashboard indicators/warning lights is not an acceptable method to determine if post-collision diagnostic scans are necessary."
It's noted in the statement as well that the only way to accurately determine the post-collision status of all Honda and Acura vehicle electronic control systems (ECUs) is with the factory-authorized diagnostic software, i-HDS or the Honda Diagnostics Cloud (HDC) powered by CCC One.
The rest of the statement outlines the proper steps repairers should take in diagnostic scans, calibrations, and inspections.
CCC notes in its 2023 Crash Course report that repairing complex parts now requires more diagnostic scans and calibrations.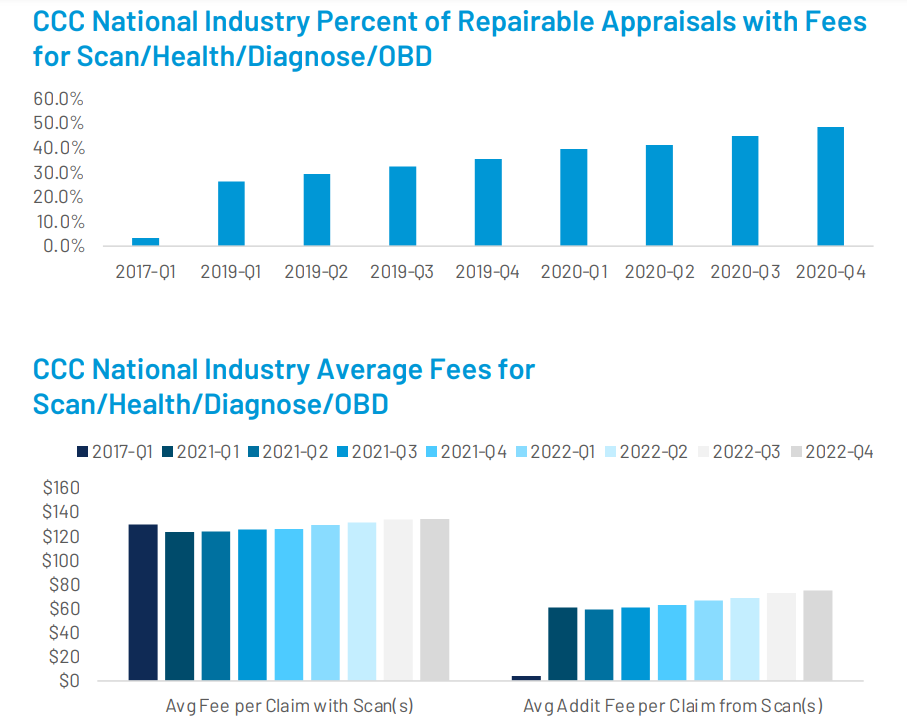 "The number of appraisals that include additional dollars associated with vehicle diagnostic scan and/or calibration operations has also increased," CCC wrote.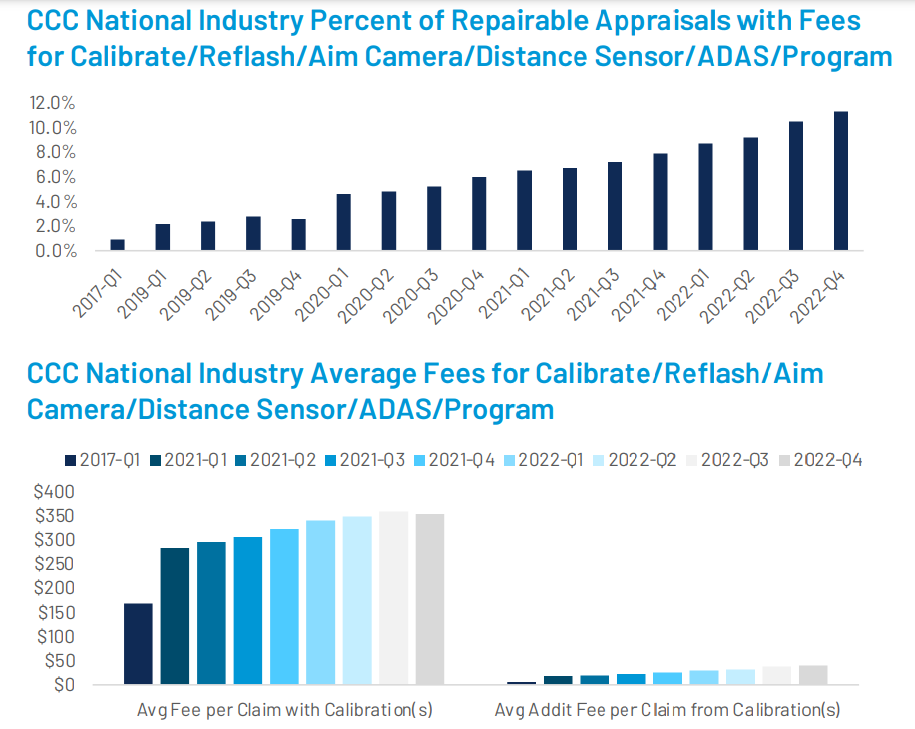 Images
Featured image: 2024 Honda HR-V EX-L (Provided by Honda)
Data graphs courtesy of CCC
Share This: