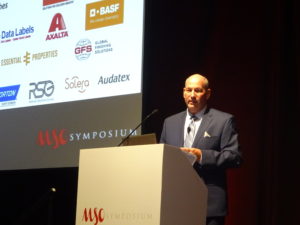 Independent repairers' banner organization Certified Collision Group announced last week it planned to add 200 OEM-certified collision repairers in 2019, a bold prediction for the network in the wake of the year of ABRA-Caliber and other notable consolidation activity.
However, CCG also reported Dec. 19 it had added 132 locations in 2018 to reach what sounds like nearly 300 shops, indicating it and the banner business model could hold their own against franchises and consolidator models.
In August, Romans Group founder Vincent Romans said he was likely to begin including banners in his annual tallies of the largest U.S. body shop chains. (He already tracks banners like CSN in separate research on Canada.) "They are making progress," he said.
CCG said it had become the "largest collision repair network in the nation with over $1.0B in collision repair revenues."
Asked about the statistic in light of Caliber's more than 600 locations and what was likely to be multiple chains cracking $1 billion, Senior Vice President Thomas Adams wrote in an email that CCC meant "the largest network, meaning those organizations comprised of independents, like the franchisers." (Emphasis Adams'.)
CARSTAR has more shops, but potentially less revenue. It has predicted it would have 650 shops across the country by the end of 2018; typically, its locations are fairly evenly split between the U.S. and Canada. It reported a record $850 million in sales combined for both countries in 2017.
"If we look at the U.S. as a whole, meaning national chains including consolidators, we are now #4 and may likely move up to #3 mid 2019 due to either growth or further consolidation among of the big 3," Adams continued in an apparent reference to a marketplace following the Caliber-ABRA merger.
CCG said making good on signing 200 OEM-certified locations in 2019 would spread "CCG's market reach to nearly 500 high-quality collision repair businesses across 40 states."
"The accelerated pace of consolidation within our industry, including the recent Caliber-ABRA merger, continues to position CCG as the best long-term solution to the competitive challenges faced by independent owner-operators and CCG's provider partners," CCG President Bruce Bares said in a statement. "Additionally, CCG's market coverage, commitment to OE Certification and best-in-class KPI performance provides significant benefits to our strategic insurer clients."
Though CCG dislikes terms like buyer's group, a major benefit of joining the banner network is leveraging its economies of scale to obtain discounts more competitive with a consolidator's while retaining independence. A franchise deal also allows this sort of thing, but Adams described the CCG format as imposing fewer terms upon the shop.
CCG's explosive rise since 2016 (the company started in 2014) is also interesting because of the company's heavy emphasis on OEM certification. The company in 2017 said it limits its membership to OEM-certified shops (or those willing to be certified within six months) referred by either another CCG shop or one of its vendor or insurer partners.
CCG on Dec. 19 had a combined more than 1,500 OEM certifications across the network. Adams wrote that "based on  the average number of OE badges per CCG location we'd anticipate roughly 1,200 additional badges into our network in 2019 alone, perhaps more."(Which works out to 5-6 OEM certifications per location, depending on how you want to do the napkin math.)
CCC also has a series of direct repair programs shops can join — though they're not required to do so.
"We continue to reinvest in our platform, processes and people, staying firmly committed to our mission: Driving the successes of the best branded, best performing, OE Certified owner-operators by helping them compete on a more level playing field," Adams said in a statement. "The future remains bright for CCG Affiliates and insurance partners, as our scale, OE Certifications and KPI performance positions CCG to more effectively compete in a rapidly consolidating industry that faces advancing structural, composition and technology-based repair requirements."
More information:
"Certified Collision Group™ Adds 132 Locations for 2018"
Certified Collision Group, Dec. 19, 2018
Featured image: Certified Collision Group President Bruce Bares speaks at the 2018 MSO Symposium during NACE. (John Huetter/Repairer Driven News)
Share This: