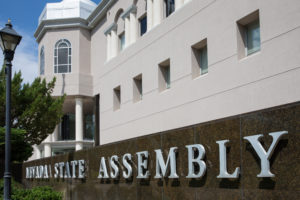 Nevada Collision Industry Association President Matt Gondini said "the reception has been great so far" from the collision and even auto industry to a bill requiring OEM part and procedure usage by insurers.
Gondini (Fix Auto Las Vegas East) said Wednesday that Honda supported the bill, and the NCIA was reaching out to other OEMs to testify on behalf of it. He said he thought "it'll strengthen" the effort to have automakers appear at the Nevada Capitol.
He stressed throughout the interview that Assembly Bill 173 was a consumer bill, at one point noting members of his family would be on the road.
He said that LKQ is resistant to the measure, which would prevent an insurer from using aftermarket parts on vehicles younger than 5 years before the crash without written consent. However, insurers had so far been quiet, he said Wednesday, though he noted the bill had only been filed Monday.
"We're waiting for that shoe to drop," Gondini said.
Parts
Using OEM parts on newer vehicles mattered for leased vehicles, according to Gondoni. Nevada new-car dealers supported the bill, and the use of aftermarket parts on leased vehicles affected their ability to sell the cars as certified pre-owned, according to Gondini. Customers also could be penalized under a lease were they not to use OEM parts, and he said NCIA members had reported complaints about this issue from customers.
Nevada statute already required insurers to disclose on an estimate the use of an aftermarket "body part," but no written consent was required. However, body shops were required to both notify consumers of aftermarket and recycled parts and get written consent to use them.
Gondoni said the measure was "flipping the script" — it no longer was up to the shop to explain the existence of aftermarket parts, he said.
Gondoni also observed that insurer estimates were inaccurately classifying price-matched OEM parts as aftermarket.
The association originally wanted more than a 60-month option for consumers to have OEM parts, but it settled on 5 years out of a desire to be fair, according to Gondoni. He said the length of time was meant in response to lease and loan terms, earlier observing that the motorist technically didn't own a financed or leased vehicle.
Experian reported that the average third-quarter 2018 lease length was 36.18 months, up 0.09 months. The average new car loan was 68.47 months, down 0.53 months, and the average used-car loan ran 64.36 months, up 0.41 months.
The bill also appears to expand notification and consent requirements to all parts, not just the limited concept of a "body part."
Repair procedures
The bill enacts into law what's already expected of repairers under Nevada statute and what the Division of Insurance already said is necessary of insurers: You must follow OEM repair procedures.
"An insurer shall not require any body shop or garage to repair a motor vehicle in a manner which is contrary to the recommendations of the manufacturer of the motor vehicle," the bill would add to NRS 690B, a statute which also includes Nevada's antisteering law.
NRS 487.688 already holds: "If a body shop or garage performs repairs on a motor vehicle, the body shop or garage shall perform the repairs in accordance with any specifications of the manufacturer of the motor vehicle and the written estimate or statement of the cost of the repairs that is most recently agreed upon by the body shop or garage and the person authorizing repairs."
Nevada Insurance Commissioner Barbara Richardson in a 2016 Department of Insurance bulletin warned insurers that the agency considered it an unfair claims settlement practice to violate OEM procedures.
"If an insurer does not provide the required disclosures or refuses to authorize repairs in accordance with (OEM) specifications and/or repair-industry standards, the insurer is engaging in unfair claims-settlement practices as defined in NRS 686A.310," Richardson wrote at the time.
Richardson's property and casualty chief insurance examiner Rajat Jain also last year refused to tell the Society of Collision Repair Specialists whether the agency considered it "reasonable" that an insurer reimburse the cost of following OEM repair procedures — even though he cited the 2016 bulletin in his communique to the trade group.
""Repair procedures and instructions are not within the Division's purview," Jain wrote to SCRS. "The terms and benefits stated in the policy would be reviewed."
But Gondoni said that despite existing Nevada support for OEM procedures, "all the insurers are ignoring it." He said Nevada insurers maintain they're following an "industry standard." (Note to any regulators reading this: OEM procedures are the industry standard.)
Gondoni said the bill "solidifies" the concept.
Be heard: Nevada legislator contact information can be found here and here.
Featured image: The Nevada Assembly building is shown. (Jim_Pintar/iStock)
Share This: