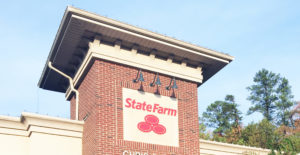 No. 1 auto insurer State Farm has told its Select Service shops to decide when a vehicle needs a pre-repair or post-repair scan and set a general — but flexible — expectation of an hour of mechanical labor to complete both.
A document posted Wednesday to Facebook by Collision Hub is clear evidence collision repairers and consumers threatened with out-of-pocket charges can use to counter a statement by misinformed or misleading adjusters.
A claim the insurer "never" pays for a scan or reimburses it at body labor or with a single, uniform amount is clearly incorrect — State Farm itself says so. In fact, it's saying so to a network of shops presumably contractually obligated to save the company money.
"Select Service repairers are responsible for determining when a pre or post scan is necessary to properly repair a vehicle," State Farm wrote. "Requests for payment for vehicle scans should be based on case by case consideration, evaluating specific facts, vehicle equipment and damages specific to a particular loss."
The document might even be of use when dealing with personnel from other carriers. ("The nation's largest auto carrier suggests these charges are variable and at times reasonable — so are you telling me and your policyholder you really never pay for that?")
State Farm in the document alerts its direct repair program shops to the existence of OEM repair procedures — and directs them to write estimates based on those documents.
"Most vehicle manufacturers offer collision repairers step by step technical repair procedures that are specific to a particular repair process," State Farm wrote. "Certain technical repair procedures include the new for a pre and/or post scan. Select Service repairers are expected to prepare estimates in accordance with these specific repair procedures."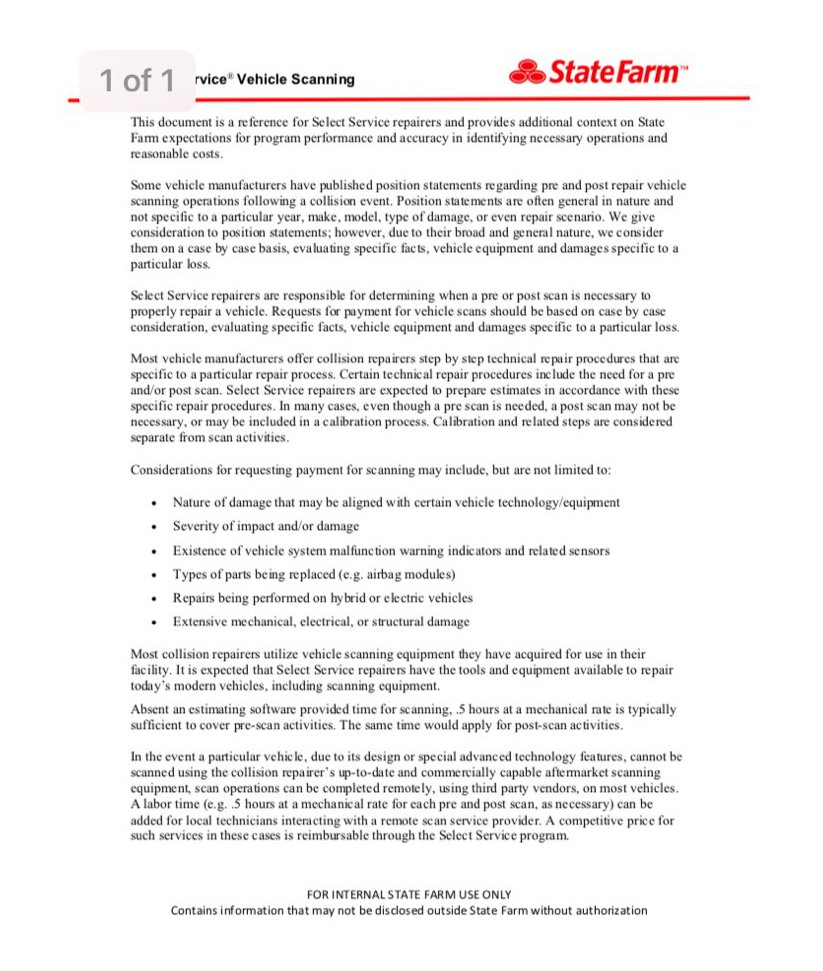 State Farm gives less weight to position statements but suggests they can't be dismissed outright either.
"Some vehicle manufacturers have published position statements regarding pre and post repair vehicle scanning operations following a collision event," State Farm wrote. "Position statements are often general in nature and not specific to a particular year, make, model, type of damage, or even repair scenario. We give consideration to position statements; however, due to their broad and general nature, we consider them on a case by case basis, evaluating specific facts, vehicle equipment and damages specific to a particular loss."
According to State Farm, direct repair program shops are allowed to bill for scans under conditions like:
• Nature of damage that may be aligned with certain vehicle technology/equipment
• Severity of impact and/or damage
• Existence of vehicle system malfunction warning indicators and related sensors
• Types of parts being replaced (e.g. airbag modules)
• Repairs being performed on hybrid or electric vehicles
• Extensive mechanical, electrical, or structural damage (Minor formatting edits)
There's a flaw in the logic here. The only real way to know if a vehicle needed a scan is to scan the vehicle. Relying on these external criteria instead of actually scanning is at the end of the day just making a guess as to the vehicle's electronic health. An educated guess, perhaps, but still a guess. It's like a doctor who gambles that none of his skinny patients have high blood pressure instead of testing them to confirm it.
Nevertheless, a repairer billing for scanning a vehicle already displaying one of these scenarios will have a stronger case the work merits reimbursement. So would a customer complaining to a regulator, agent or adjuster about a short-pay.
State Farm does make an unusual assertion that post-repair scans are more likely to be unnecessary than pre-scans. Most OEMs have called for both equally, and the minority OEMs like Nissan and Volkswagen who suggest rather than require pre-scans still are adamant that post-scans must be done.
"In many cases, even though a pre scan is needed, a post-scan may not be necessary, or may be included in a calibration process," State Farm wrote. "Calibration and related steps are considered separate from scan activities."
State Farm says it expects its Select Service shops to own a scan tool and "typically" only need 0.5 hours of mechanical time pre- and post-repair to do the work.
CCC in its "2019 Crash Course" reported an average scanning fee and/or labor charge of $150 in 2016, dropping to $70 for the fourth quarter of 2018. (CCC treated each scanning-related line item and cost as separate when calculating the average, so conceivably a typical estimate could mean a $70 pre-scan and a $70 post-scan for a total bill of $140.)
State Farm didn't rule out higher bills than 1.0 total mechanical, nor did it block the use of a third-party provider.
"In the event a particular vehicle, due to its design or special advanced technology features, cannot be scanned using the collision repairer's up-to-date and commercially available aftermarket scanning equipment, scan operations can be completed remotely, using third party vendors, on most vehicles," State Farm. "A labor time (e.g. .5 hours at a mechanical rate for each pre and post scan, as necessary) can be added for local technicians interacting with a remote scan service providers. A competitive price for such services in these cases is reimbursable through the Select Service program."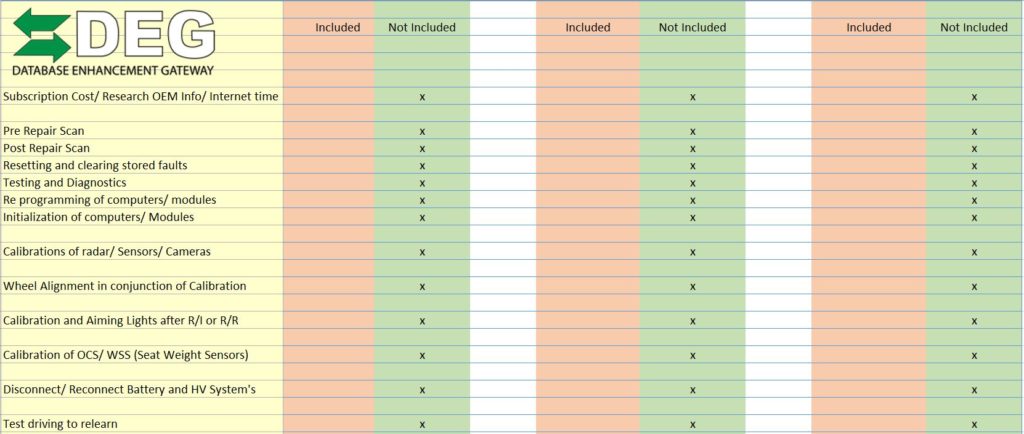 State Farm and the industry might never get an "estimating service provided time."
The sheer variety of diagnostic methods and vehicle options hindered Mitchell's ability to set a definitive scanning book time, repair sales and service Vice President Jack Rozint told the Collision Industry Conference in January.
Rozint said five different ways exist to scan a vehicle — something his CIC committee has highlighted in its extensive work summarizing such issues. They include running the diagnostic check in-house with an OEM scan tool or an aftermarket scan tool; connecting remotely to a scan provider (e.g. AirPro or asTech); subletting to a mobile technician; and subletting to a dealership, he said. All five have different labor times and couldn't be normalized, Rozint said.
So bills submitted by State Farm and unaffiliated shops might ultimately show a greater degree of variation than the insurer seems to expect here.
CCC in October 2018 updated its P-pages to make a similar point as Rozint:
"Due to the variety of scan tools used, both OEM and aftermarket, as well as the variation from vehicle to vehicle and repair to repair, MOTOR is unable to develop a time that accounts for these different scenarios," CCC wrote. "Therefore, MOTOR recommends an on-the-spot evaluation to determine an appropriate estimated time to perform diagnostic scans for each repair."
Audatex also lists pre- and post-repair scanning among its "Labor Exclusions" (except on Teslas through November 2017), prefacing the list by writing, "Because each vehicle's collision damage is unique, labor to perform some of the following operations may vary."
Images:
A State Farm agency is seen in Birmingham, Ala., Jan. 23, 2018. (TennesseePhotographer/iStock)
Collision Hub last week shared this State Farm document providing guidance to Select Service direct repair program auto body shops regarding vehicle scanning. (State Farm document; provided by Collision Hub)
The Database Enhancement Gateway in October 2018 posted this cheat sheet dictating what is and isn't included on operations related to scanning and calibration. (Provided by the DEG)
Share This: