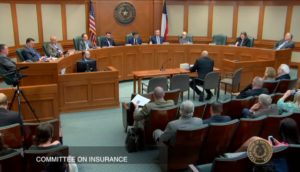 A bill requiring auto insurers to reimburse repair operations dictated by car manufacturers was defeated Thursday not by opponents but by the clock.
House Bill 1348 failed to receive a second reading by the midnight deadline Thursday, making it dead for the session, a staffer for sponsor state Rep. Travis Clardy, R-Nacogdoches. Clardy and repairers will have to start over with a new version.
Based on a House calendar, HB 1348 was just six bills away from being heard in the House Chamber before time ran out Thursday.
Lengthy discussion on House Bill 431 consumed the final minutes of eligibility before being interrupted midstream by the midnight deadline. (Repairers shouldn't blame that bill and debate for denying them a shot, though. Other measures consumed a great deal of the House's time as well Thursday based on video of the session. HB 431 just happened to be the bill left standing when the music stopped, so to speak.)
"We made it really far in the process," Auto Body Association of Texas Executive Director Jill Tuggle said in an interview Friday.
She said she had from the beginning been told it can take "three or four sessions" to make it through.
"That's been my outlook from the beginning," she said.
She said it was "easy for us to feel defeated" but didn't want repairers to be disheartened.
"It's not defeat," she said. "The bill wasn't voted against."
ABAT merely "fell victim to the system," according to Tuggle.
"We're looking at this very positively and excited for the future," she said.
She praised the association's lobbyist as a "rock star" and said ABAT plans to continue retaining him.
Even though the session is over for ABAT, "our work's not near over," she said. Much must be done before the 2021 Legislature convenes. ABAT also has established a Political Action Committee, she said.
"We learned a lot in the process here," Tuggle said of the 2019 session.
ABAT in 2021 can draw from bill language proven to easily pass the Texas House Insurance Committee. The panel gave its support to the measure 6-1 following an amendment to exempt OEM parts recommendations from the procedures insurers must reimburse.
Alternative parts would still have to meet the bill's updated definition of "like kind and quality."
(1) meets the fit, finish, and quality criteria established for the part or product by the original equipment manufacturer of the part or product;
(2) is the same weight and metal hardness established for the part or product by the original equipment manufacturer of the part or product; and
(3) has been tested using the same crash and safety test criteria used by the original equipment manufacturer of the part or product.
"This is not exactly what I submitted but the intent was to make sure that our Bill doesn't demand OEM parts (although that is what we prefer) as we believe we have to compromise and we have addressed the parts issue earlier in the bill by helping to define LKQ," Auto Body Association of Texas President Burl Richards wrote in April.
The bill already excludes glass repairers from its OEM parts and repair instructions provisions, removing another potential source of friction.
HB 1348 also inserts a definition in state law that holds a "(p)revailing rate" to be a "transparent and unbiased" one "conducted by a third party" that uses the "posted retail labor rates and not direct repair program shop rates that operate under a contract with an insurer."
The bill also would have enacted more antisteering provisions.
Currently, Texas law bars insurers or representatives from taking referral fees from a shop, requiring a first- or third-party claimant to use a certain shop, or forcing either to "travel an unreasonable distance to repair the damage."
The bill would now prevent insurers from imposing "any out-of-pocket cost other than the deductible" because a customer picked a particular shop to restore "the vehicle's condition before the damage occurred."
The measure also prevents insurers from offering to policyholders or third-party claimants "an incentive or inducement, other than a warranty issued by a repair person or facility" to use a certain facility. It would make it illegal for a carrier to "offer, communicate, or suggest in any manner that a particular repair person or facility will provide faster repair times, faster service, or more efficient claims handling than another repair person or facility" as well.
2017 bill versus 2019
Another repairer-backed measure, House Bill 3804, had a similar journey in 2017, though it ended the session farther down the calendar queue. The Insurance Committee approved an amended version 6-3 that year.
That bill didn't push OEM procedures; instead, it would have prohibited insurers from ignoring "a repair operation or cost identified by an estimating system, including the system's procedural pages, selected by the insurer for use in writing the automobile repair estimate for the motor vehicle."It also targeted steering.
Tuggle said ABAT was "so much more well-equipped this time around."
In addition, "we've garnered a lot of support."
In 2017, ABAT had a small member base, but the push for House Bill 1348 has helped grow membership, she said.
The trade group also in 2019 saw a campaign of support from consumer group Texas Watch, and Tuggle praised Executive Director Ware Wendell.
"While time ran out on the legislation, I wouldn't call it a defeat," Wendell wrote in an email about HB 1348. "Consumers and leading auto body associations have joined together in a campaign for safety that made great strides this session. The campaign is ongoing. We are gathering troops and momentum, and we will be back next session stronger than ever. The for-profit insurance industry should expect us. Their pressure tactics and schemes will fail. 
"A new day is dawning. Texas families will have their rights restored and auto repair specialists will be able to do their jobs the right way, free of insurance intimidation. Everyone deserves a quality and professional repair. Nothing is more important than safety."
Texas Watch took up the cause of quality auto body repairs following attorney Todd Tracy's summer 2017 announcement — just two months after HB 3804 died — of Matthew and Marcia Seebachan's lawsuit against John Eagle Collision.
The couple in October 2017 was awarded $31.5 million (later settled for an undisclosed amount) after a jury determined John Eagle Collision's adhesive-bonding of a 2010 Honda Fit roof rather than performing the welding directed by Honda led to their ordeal in a horrifying crash.
Tracy supported the bill, and Marcia Seebachan herself testified before the House Insurance Committee in 2019 to advocate for the legislation.
"They are great Texans who are intent on turning their tragedy into a safer Texas," Wendell wrote of the Seebachans.
Images:
Auto Body Association of Texas President Burl Richards (Burl's Collision Center) speaks March 9, 2019, to the House Insurance Committee in support of House Bill 1348. (Screenshot from Texas Legislature video)
Share This: