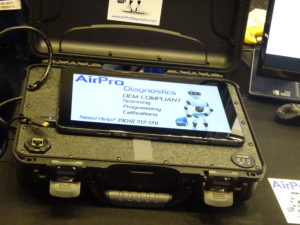 AirPro on Friday announced it would offer a free scan tool to any collision repairer in the industry.
The company merely requires a minimum of 10 billable scans a month to qualify for a waiver of the $2,995 setup fee, AirPro business development Senior Vice President Michael Quinn said in an interview. (Shops don't actually buy the AirPro the way they would a typical scan tool, according to Quinn: The company retains ownership but licenses the tool indefinitely. So the setup fee rather than a traditional purchase price is what gets the device in your door.)
"We want that tool out making money," he said.
Should a shop fail to make the quota, AirPro will merely request the shop pay to ship the device back — it won't demand the $2,995, Quinn said.
"We want to remove any barriers that prevent body shops from safely repairing vehicles utilizing live OEM software," he said in a statement. "We understand margins are tight for repairers and want to reach the masses with this special zero-cost offer. All body shops will now have access to our uniquely qualified, highly skilled diagnosticians and dealer level services in minutes – right in their own shops."
A news release Friday mentioned "qualified collision repairers and to every shop that holds any OEM certifications," but Quinn said any repairer would be eligible.
AirPro's MSRP for a pre-repair scan on a vehicle with codes averages $89.95-$119.95, while its post-repair scan averages $119.95-$129.95, according to Quinn. If a pre-repair quick scan finds no codes, that operation is free — AirPro only will bill the shop for the cost of a mandatory post-scan. (Quinn noted that AirPro's decision not to bill a repairer for a quick scan didn't mean the repairer wouldn't have legitimate charges to an insurer or customer related to the process, such as vehicle preparation.)
A billable pre-scan and billable post-scan would count as two scans towards the repairer's 10-scan threshold to keep the free tool, according to Quinn. The free quick scan revealing a vehicle is codeless wouldn't count toward the ten scans, nor would billable calibration operations handled by AirPro, Quinn said.
After so many months, a shop will be considered to have paid off the free AirPro and could in theory use it to run self-scans without involving the company at all, according to Quinn. However, Quinn said the self-scan feature only uses aftermarket software and is not permitted of shops certified by General Motors, Honda or Subaru, three OEMs who've approved AirPro for use at such facilities. (For billable scans, AirPro tools can make available official, current OEM software releases through the J-2534 standard on top of the potentially incomplete aftermarket scan software.)
So it would seem that a need to meet OEM requirements — a requirement of uncertified repairers too — would protect the AirPro business model here. In addition, it might be rare for some shops to provide the in-house technical expertise to perform and interpret the scan.
Asked about the threat of a collision industry growing more familiar with scans just buying a competing tool and handling the work in-house, Quinn said the realities of the industry made this unlikely.
Many repairers doing $1 million or less in sales don't have enough work to keep a qualified mechanical technician in-house full-time, Quinn said. And given a similar technician shortage in the mechanical repair community, it'd be difficult for the collision repairer to be able to find and hire such a staffer, he pointed out.
Pooling capability with a provider like AirPro made "all the sense in the world to me," Quinn said.
Quinn said AirPro has to work to keep its technicians current, and didn't know how a repairer would be able to sustain similar training.
In addition to selling a service, "we provide education as well," Quinn also said.
Quinn said AirPro would "of course" be able to handle a potential demand for scan tools from the 33,000-odd shops in the industry, noting the company recently quadrupled the square footage of its production capacity.
But company also wanted to scale carefully, Quinn said. It was "hell-bent" on a pledge to respond to a scan request within 10 minutes, and it would manage the intake of shops seeking free scan tools to avoid jeopardizing this goal, according to Quinn.
"Once they request service, the clock starts," Quinn said. A board at an AirPro facility displays the current time-to-service tally to the company's technicians, and an alarm sounds if a request sits longer than eight minutes, he said.
AirPro said shops interested in the free tool should contact AirPro via www.AirProDiagnostics.com or call 904-800-7096.
More information:
"AirPro Announces $0.00 Cost Tool Policy"
AirPro, July 12, 2019
Featured image: The AirPro is shown at SEMA 2017. (John Huetter/Repairer Driven News)
Share This: