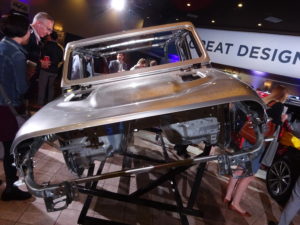 Altair recently announced the winners of its 2019 Enlighten lightweighting awards included the GMC Sierra's optional carbon-fiber pickup box, the Ford Escape's Smart Steel, and the Jeep Wrangler and Ferrari Portofino.
The winners provide a glimpse at some of the trends in the auto industry and a taste of what collision repairers might see going forward.
"It's not just the weight," Altair global automotive business and strategic solutions team Senior Vice President Richard Yen said during the awards ceremony Aug. 5. He said cost, performance, the number of parts consolidated and the savings from the sustainability of the material also were factored into the judging.
Center for Automotive Research CEO Carla Bailo, one of the judges, said picking winners posed "quite a challenge this year."
She described judges as examining the readiness of the technology, how many vehicles could be affected and mass savings relative to cost. The judging generated "robust discussions, I must say," Bailo said.
Bailo said some of the categories had "difficult discussions, to put it mildly," about who deserved the award.
Given these criteria, the stiff competition and the list of winners below, it sounds like a given that innovative lightweighting will continue in mainstream products — which in turn will affect the majority of collision repairers.
"We were pleased to once again receive so many outstanding entries this year," Bailo said in a statement. "The entries demonstrate excellence in their unique approaches to meet the challenges for weight reduction through innovative materials and joining technology combined with design simulation. This is critical to the success of light weighting initiatives as the future of mobility including electric and autonomous vehicles continues to develop at a rapid pace."
Altair awarded winners in four categories: full-vehicle, module, enabling technologies and future of lightweighting. The full-vehicle competition was close, and finally Altair decided to split it and name a low-volume and high-volume vehicle winner.
"The winning products demonstrate the power of innovation and engineering disciplines to reduce vehicle weight and emissions," Yen said in a statement. "We were thrilled with the entrants and are proud to recognize the winners and runners up."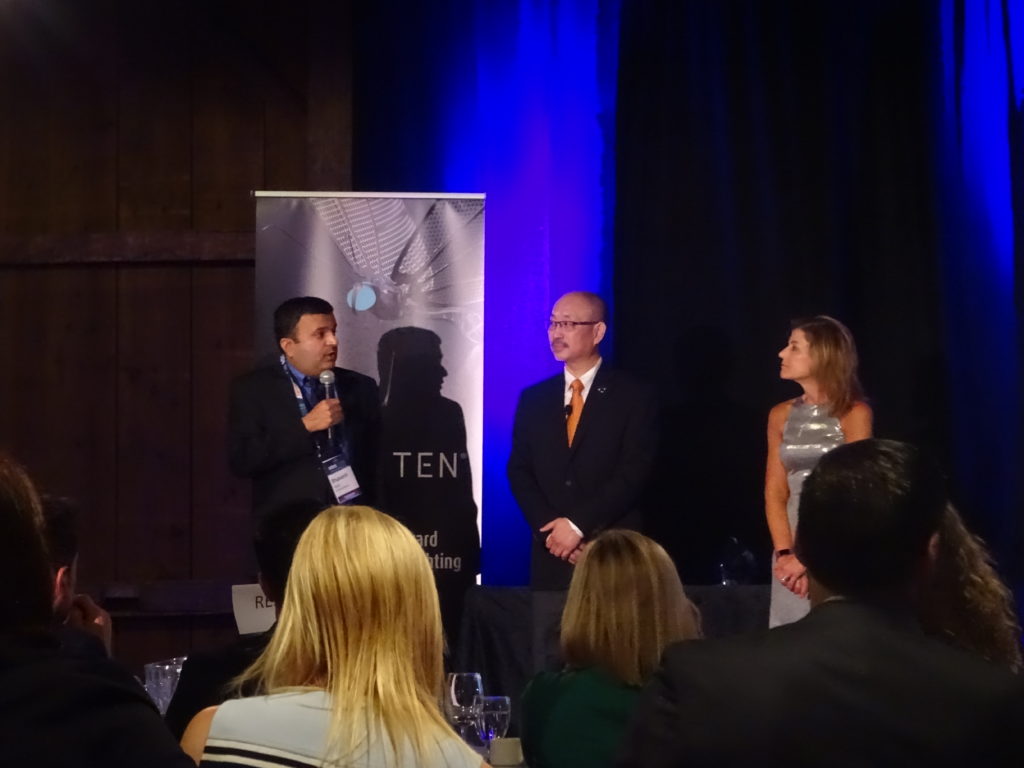 Here's a little more about the winners, including links where applicable to our past coverage:
Future of lightweighting
The #ULTRALEICHTBAUSITZ feasibility study by Alba tooling and engineering, Automotive Management Consulting and csi entwicklungstechnik took home the future of lightweighting award for a prototype lightweight seat. The seat weighs a little more than 22 pounds and was built using composites through "xFK in 3D" which is "a highly flexible, almost arbitrarily configurable, cost effective and sustainable fiber composite technology for winding components," according to the project's website. The rear of the seat is a honeycomb frame with a foam core.
Yen said the designers were "pushing the envelope" of performance.
"The market potential concerns the currently increasingly widespread hypercars (McLaren, Le-Mans-road versions, etc.) and future hybrid intermodal (flying and traveling) solutions such as air taxis or the like," the project website states.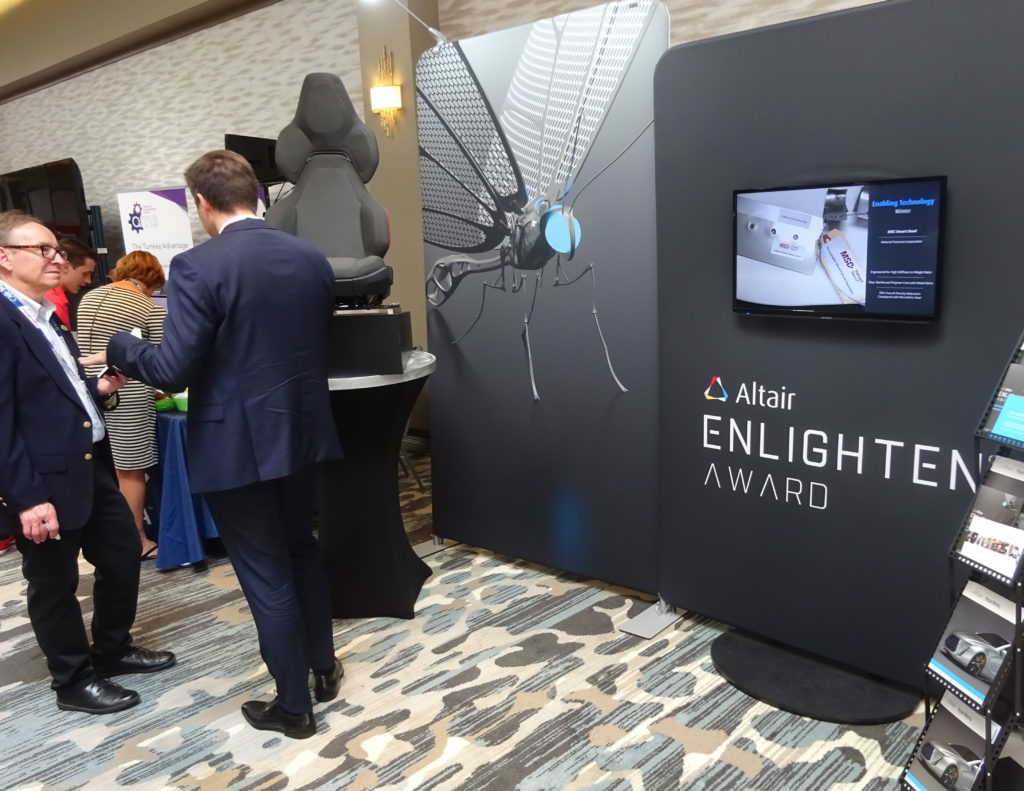 Enabling
Runner-up: The Arnitel thermoplastic copolyester hot charge air duct found in the 2019 Cadillac XT4 engine took home the silver medal in the Altair enabling category.
Glenn Cannavo, automotive OEM manager for part co-creator DSM said the project was able to convert 11 pieces to just five — two of which were clamps. Altair said the polyester version replaced a "thermoset rubber solution, significantly reducing the weight, cost and design complexity of the turbocharging system for the GM CSS 2.0L turbo engine."
Cikautxo Group, General Motors and Henn also worked on the duct, which Cannavo said actually can be found on six platforms.
Winner: Materials Science Corporation won for its Smart Steel, which can be found on the roof bows of the 2020 Ford Escape. Learn more about it from Ford and MSC's Great Designs in Steel presentations here.
The material consists of a composite sandwiched between two pieces of steel. OEMs can stamp it like other parts and spot-weld it using their existing technology (which hopefully means collision repairers can too). Altair called it the first spot-weldable low-density composite laminate found in a body.
"MSC Smart Steel is a new multilayer steel laminate engineered as a direct substitute for vehicle body parts stamped from low carbon steel," Altair wrote. "The concept involves creating a three-layer laminate whereby the outer skins are steel, and the middle layer consists of a low-density conductive polymer core, which allows MSC Smart Steel to be stamped and spot welded – an industry first!"
Materials Science Corporation sales and engineering Vice President Matthew Murphy said the substrate was in development since 2013. He said the company is now looking for a "steep growth curve."
MSC targets stiffness-related areas, for it can increase stiffness without the gauge increase required of regular steel, he said.
The substance also appears in at least one roof bow of the 2020 Lincoln Aviator and saved 38 percent of weight there, based on a part Murphy brought to the awards show.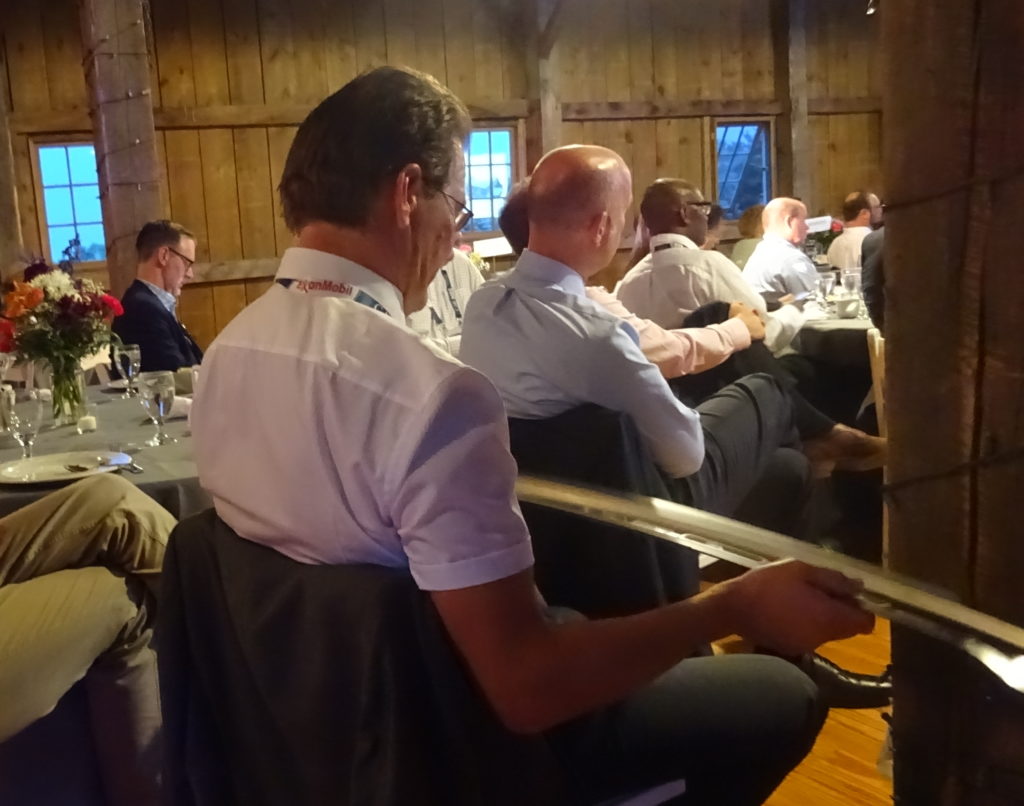 Module
Runner-up: General Motors and Continental Structural Plastics were runners-up for the CarbonPro carbon-fiber pickup box available as an option on the 2019 GMC Sierra Denali. See our coverage here.
"It saves 62lb of mass and offers the best in class impact resistant bed which adds unprecedented strength and durability to the truck," Altair wrote.
Bhavesh Shah, General Motors global advanced composites team lead, skepticism existed at first on if a ultraviolet-stable material would be possible.
Winner: ZF won for what Yen called an "incredible" knee-airbag fabric housing. See our coverage here.
"This lightweight 'Global Baseline Module' technology is based on a fabric housing and provides high restraint performance capability while allowing significant weight reduction," Altair wrote. "With a weight reduction of 30 percent, it is 20 percent more compact, and a design that can be tailored for all specific customer needs and markets to help meet global safety test requirements and standards."
ZF's Werner Freisler said normally airbags have a metal or plastic housing, and removing mass is difficult.
The customer wanted smaller modules for space, and ZF decided to try for a huge step rather than the typical iterative progression of a gram with each request.
One idea was to make the housing out of fabric, which Freisler said "sounds so impossible" that it begins to "be interesting."
He said the customer reported that ZF's competitor didn't think it was possible.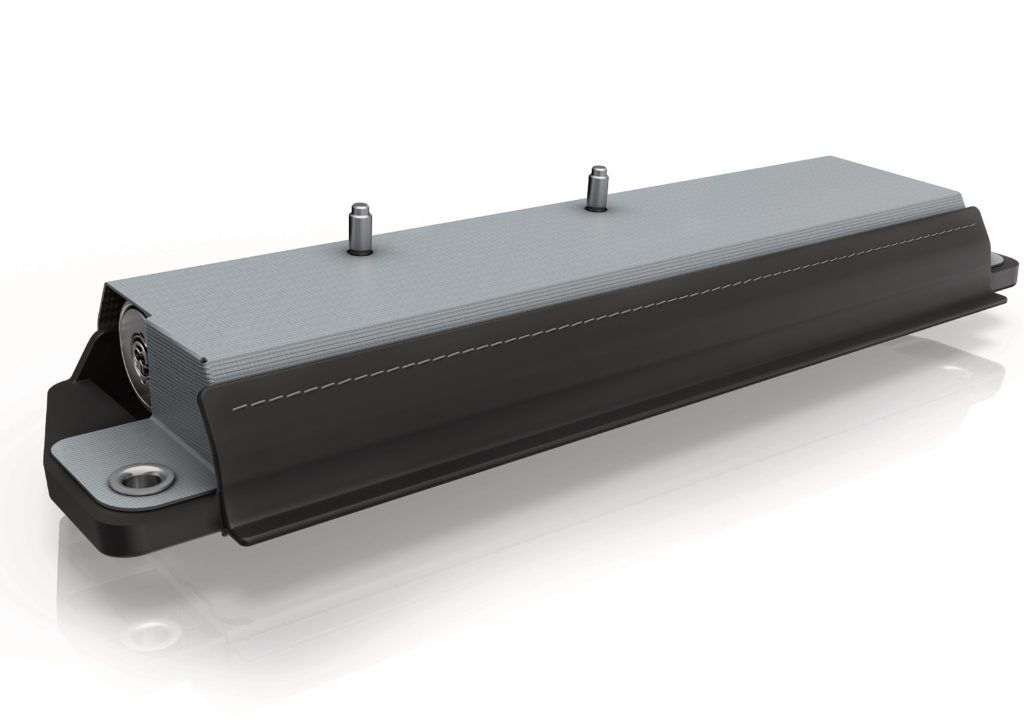 Full vehicle
Low-volume: The 2018 Ferrari Portofino came in more than 176 pounds lighter but 35 percent stiffer than its predecessor California T — enough to win the low-volume Altair award. The vehicle was Ferrari's first on its new front-engine platform.
"It is significantly lighter than the outgoing model, thanks to the adoption of new components featuring innovative design developed by an extensive use of structural optimization, innovative aluminum technologies and the use of cutting-edge production techniques," Altair wrote.
Ferrari body-in-white designer Andrea Merulla said the lightweighting process also involved Ferrari consolidating one component down from requiring 21 parts to a mere two items.
"Taking the Altair Enlighten Award in the full vehicle category for the Portofino BIW is a fantastic result for Ferrari," Ferrari Chief Technical Officer Michael Leiters said in a statement. "We have a dedicated group of engineers who constantly strive to achieve the most ambitious technical objectives the company sets, so this award honors their achievements."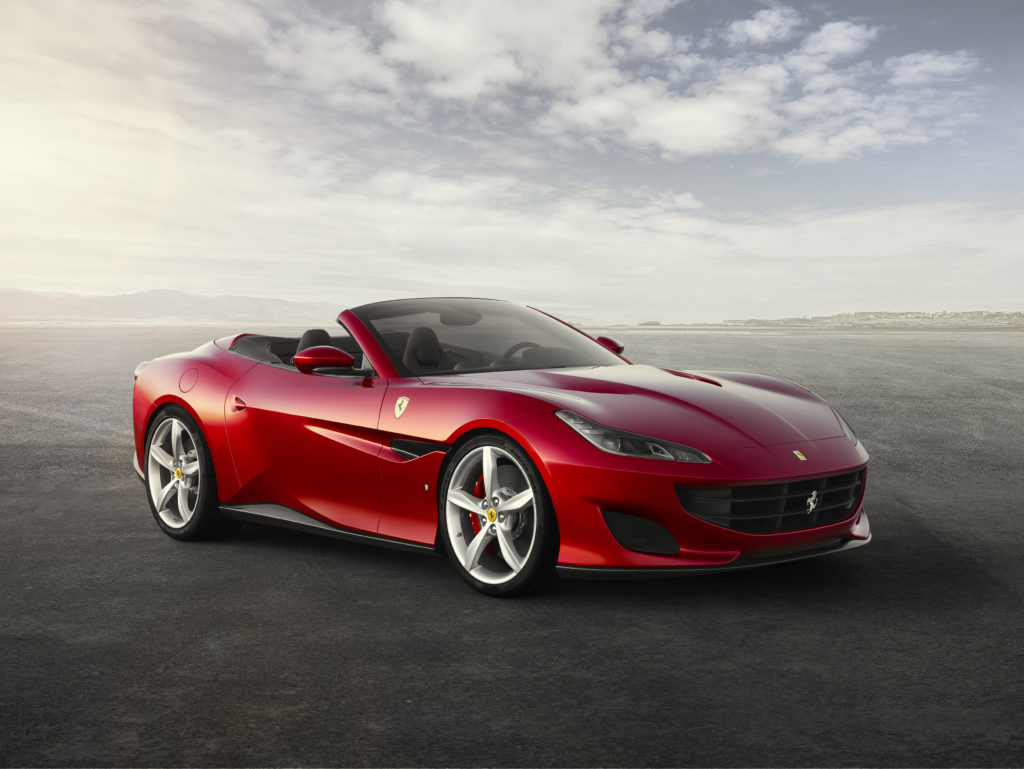 High-volume: The 2018 Jeep Wrangler weighs nearly 203 pounds less than the previous-generation version with a body and closures including substrates like alumimum, magnesium and ultra-high-strength steel and a frame that's 80 percent high- or advanced high-strength steel. Read our prior coverage of the vehicle here, here and here.
"It employs an advanced strategy of lightweight aluminum, sheet molding compound (SMC) and high-strength steel," Altair wrote. "Technology highlights of its new design include a lightweight body system that shed 51kg (>12%), by strategically applied advanced lightweight materials to maximize customer value, comfort, safety, and convenience, as well as minimize manufacturing impact to bolster the benefit of lightweight material applications."
"We are immensely proud of the work we did on the one-of-a-kind Jeep Wrangler," FCA North America product development interim head Rob Wichman said in a statement. "We are also grateful to Altair for recognizing engineering achievement, in general. Thoughtful, disciplined engineering unlocks innovation. And innovation moves the world forward."
Images:
The 2018 Jeep Wrangler body includes steel, aluminum, magnesium and SMC. (John Huetter/Repairer Driven News)
From left, Bhavesh Shaw of General Motors, Richard Yen of Altair and Carla Bailo of the Center for Automotive Research appear during the 2019 Altair Enlighten Awards on Aug. 5, 2019. (John Huetter/Repairer Driven News)
The #ULTRALEICHTBAUSITZ feasibility study by Alba tooling and engineering, Automotive Management Consulting and csi entwicklungstechnik took home the 2019 Altair future of lightweighting award for a prototype lightweight seat. (Provided via Altair)
Two 2019 Altair lightweighting award winners — the #ULTRALEICHTBAUSITZ seat and Materials Science Corporation's Smart Steel are visible in this display at the Center for Automotive Research's 2019 Management Briefing Sessions. (John Huetter/Repairer Driven News)
This ZF fabric airbag housing for a knee airbag won the 2019 Altair Enlighten module award. (Provided via Altair)
The 2018 Ferrari Portofino is more than 176 pounds lighter than its predecessor California T. (Provided via Altair)
Share This: