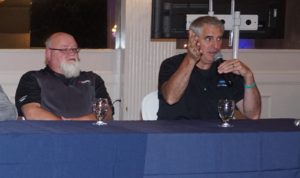 Editor's note: The Alliance of Automotive Service Providers of New Jersey on Monday posted a news release recapping elements of a recent advanced driver assistance system panel. It quoted panelists so extensively that it seemed redundant to "recap the recap" and made more sense to run the piece as written by AASP-NJ as a guest column. OEM repair procedures for ADAS and everything else can be found here.
By AASP/NJ
In an effort to educate repairers on advanced driver-assistance systems (ADAS), the Alliance of Automotive Service Providers of New Jersey (AASP/NJ) brought together industry representatives for a special panel discussion this past week at Gran Centurions in Clark.
Moderated by AASP/NJ President Jerry McNee, the USI North America-sponsored panel featured Mark Olson (VECO Experts), George Lesniak and Michael Flink (Autel), Paul Stern (LIFTNOW) and Chuck Leonard (Autopart International, Inc.)
First and foremost, the panelists stressed that ADAS calibration is not something that can be ignored.
"As a repairer, you are supposed to know that you have to do the calibration," commented Olson, who used the multimillion-dollar lawsuit against John Eagle Collision Center in Texas as an example of its importance. "You have to do the research…When you touch a car, you are responsible for everything, whether you know it or not. You can't say, 'I didn't know,' because ignorance is not self-defense."
Lesniak gave multiple examples of the steps needed to accurately reset cameras and sensors, which OEMs put in place for a reason. If the proper steps – which can involve such specific requirements as level surfaces, a full fuel tank and accurate tire pressure – aren't taken, these sensors may not be set back to their accurate zero-point calibration.
"If we touch it, move it and take something off and put it back, it needs to be calibrated. I know people say, 'Well, I never had a problem before.' Well, how do you know? And what if?" he said.
"Take the time to do it, and do it correctly," added Flink.
---
Learn about scanning and calibration at Repairer Driven Education
Find out more at SEMA about diagnostic scanning and calibration in "Overcoming objections to scanning" by Jake Rodenroth of asTech and Mike Anderson of Collision Advice. The 3-5 p.m. Wednesday, Nov. 6, session is part of the Society of Collision Repair Specialists Repairer Driven Education Series running Nov. 4-8. Register here for individual courses or the series pass package deal, which includes the entire week of classes, all three parts of the OEM Summit, IDEAS Collide and the Nov. 7 Sky Villa afterparty.

---
Olson urged attendees to keep track of all the steps involved in a repair and create what he calls a "bulletproof file."
"If you don't document yourself – even if you are not wrong – you are going to lose."
Even performing wheel alignments requires calibration due to ADAS technology.
"[These systems] rely on knowing exactly where 'straight ahead' is. When you are going 80 miles an hour, it will make a big difference," said Stern.
Another challenge body shops have had to contend with is the pushback from insurance companies that don't want to pay for pre- and post-repair scanning. The panelists advised shops to educate these carriers on what is necessary, using facts and figures to support their position.
"If you don't ask for it, you won't get anything. You have to know what to ask for," advised Flink.

"If you charge correctly for it, you should be able to get paid for it," added McNee.
Leonard raised the idea of ADAS as a possible revenue source for shops that commit to implementing the proper equipment and training.
"It is a big investment to get into ADAS, but don't lose sight of what your return on investment is and in covering yourself."
More information:
"AASP/NJ ADAS Panel Discussion Prepares Attendees for the Past, Present and Future"
Alliance of Automotive Service Providers of New Jersey, Sept. 16, 2019
OEM repair procedure website links on NASTF
Images:
From left, Chuck Leonard (Autopart International) and Mark Olson (Vehicle Collision Experts), participate in a September 2019 Alliance of Automotive Service Providers of New Jersey panel examining ADAS. (Provided by AASP/NJ)
From left, George Lesniak and Michael Flink of Autel, Paul Stern (Liftnow), Chuck Leonard (Autopart International) and Mark Olson (Vehicle Collision Experts), participate in a September 2019 Alliance of Automotive Service Providers of New Jersey panel examining ADAS. (Provided by AASP/NJ)
Share This: