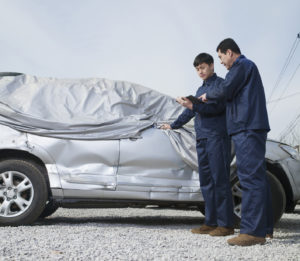 New "Who Pays for What?" survey responses from more than 400 shops found more than 80 percent of them had at least asked leading insurers to be reimbursed for work related to a total loss.
About 63 percent of those who asked to be compensated reported being paid "most of the time" or "always" by eight of the nation's largest carriers. The survey polled shops in July, and authors CRASH Network and Collision Advice announced results Tuesday.
That 63 percent was up 3.8 percentage points from 2018, but within the margin of error of 4.4 percentage points. However, CRASH Network and Collision Advice noted that 63 percent was "up from less than half (46%) in 2015."
Technically, a shop is billing the vehicle owner, who is pursuing reimbursement from the insurer based upon the repairer's invoice. The quarterly "Who Pays for What?" studies should smooth this process by demonstrating to all three parties that insurers do in fact "pay for that."
Collision Advice and CRASH Network reported in a news release Tuesday that the proportion of shops who "never asked" to be compensated for a total loss charge fell from 30 percent in 2015 to the 19 percent calculated this year. Shops were surveyed in July.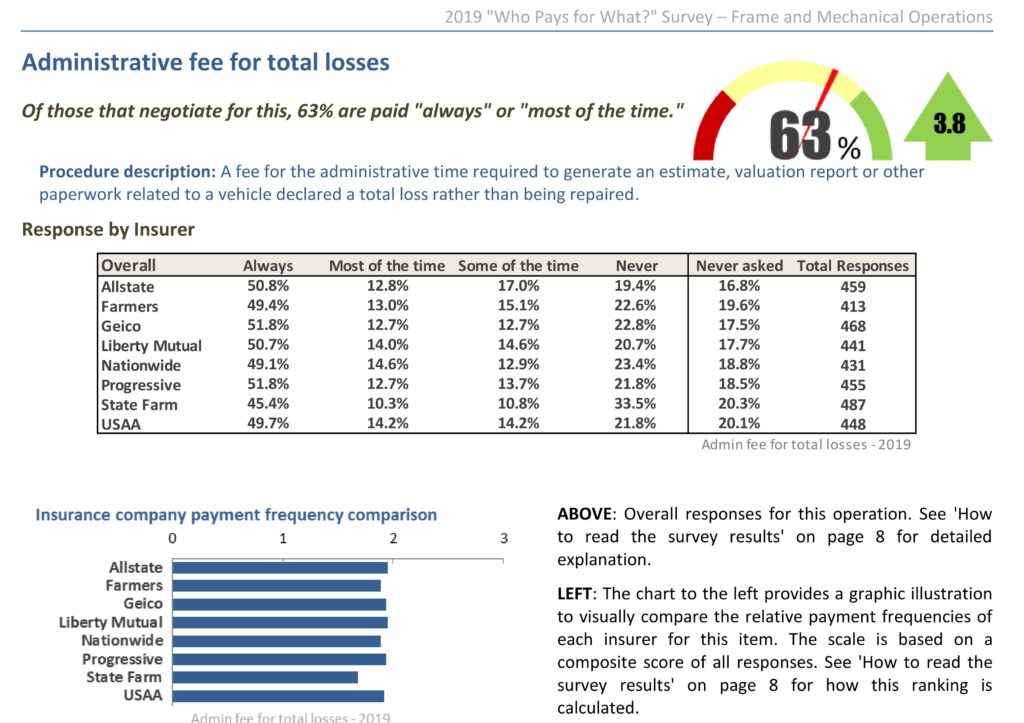 "Of those negotiating to be paid, 63% report being paid 'always' or 'most of the time' by the nation's eight largest insurers; that's up from less than half (46%) in 2015," the news release stated. The release polls shops about State Farm, GEICO, Progressive, Allstate, USAA, Liberty Mutual, Farmers and Nationwide.
Help the industry by taking the current "Who Pays for What?" survey on topics like scanning, calibration and aluminum through Oct. 31. All answers are kept confidential; data is published only in the aggregate.
Handling a vehicle eventually deemed a total loss instead of repairable can consume the shop's time and money in the form of payroll, overhead and other factors. The "Who Pays?" study defined the procedure being surveyed as "A fee for the administrative time required to generate an estimate, valuation report or other paperwork related to a vehicle declared a total loss rather than being repaired."
Totaled vehicles represented 19.1 percent of all claims in the first quarter of 2019, up from the prior year and way up from the 14 percent recorded in 2013, CCC reported in May.
State Farm was the least consistent about reimbursing repairers who request payment for total losses, based on the survey's 0-3 scale. By 10 percentage points, it also produced the largest percentage of repairers (33.5 percent) saying they "never" receive reimbursement from the nation's No. 1 carrier.
"Certainly shops may agree to waive any such fees as part of a direct repair agreement," Collision Advice CEO Mike Anderson wrote in the latest quarterly report. "But the percentage of shops saying they are paid for this fee all or most of the time has continued to rise (46% in 2015, 53% in 2016, 57% in 2017, 59% in 2018, and 63% this year) because the process has continued to become more complex. It can involve more tear-down, more research of OEM procedures, unloading or loading the vehicle to/from a tow truck, etc."
Non-DRP shops are significantly more successfully than DRP ones in getting paid when they request total loss charges. But a DRP doesn't preclude being paid total loss fees from the eight insurers.
Between roughly a quarter to a third of DRP shops reported never asking, and roughly one-half to two-thirds of the shops who do ask get rejected. But between roughly a quarter and two-fifths of the DRP who ask succeed "always or "most of the time."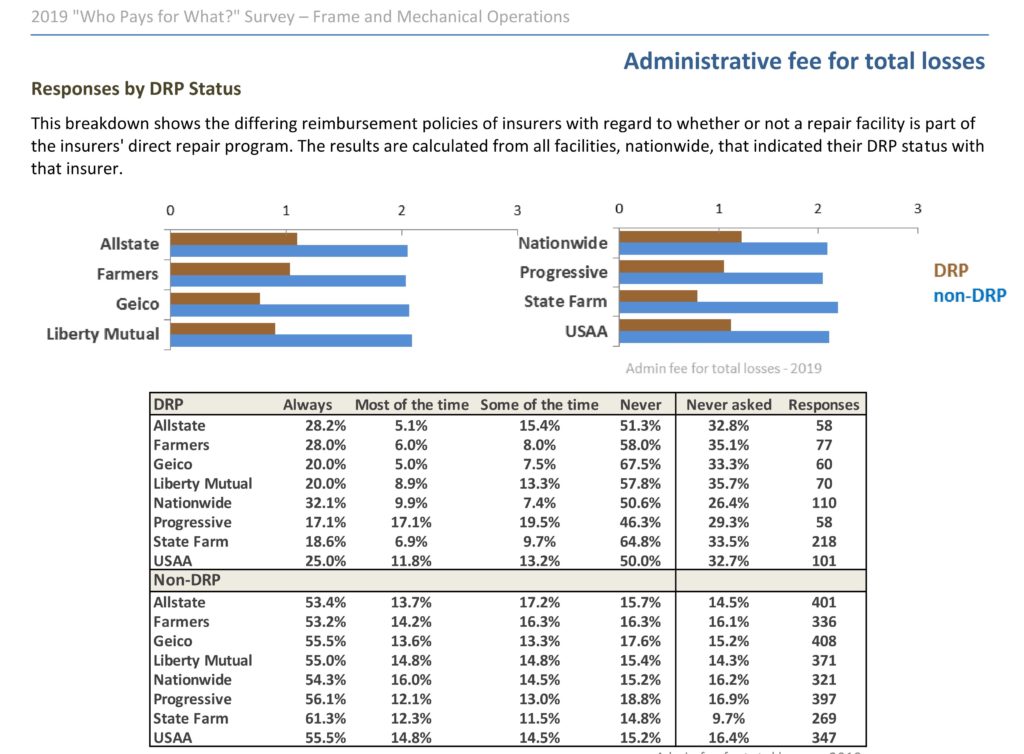 The survey also asked shops if they itemized individual total loss costs on their bill or just presented a lump fee. About 74 percent itemized.
The "Who Pays for What?" surveys partner with the Database Enhancement Gateway to share examples of inquiries related to the subjects of the poll questions.
The DEG in this case provided inquiry No. 11481 from November 2017.
"Is the time it takes to write a repair estimate included in any of the three databases labor premise?" the user had asked.
No, the DEG replied.
"Administrative labor is not considered in any part of the database labor times," the DEG wrote at the time. "Labor times published in all 3 estimating systems are to physically gather tools and to work on the vehicle unless noted in the foot notes or P pages."
More information:
"'Who Pays for What?' survey finds growing percentage of shops billing and being paid a processing fee for total losses; latest survey open through October"
Collision Advice and CRASH Network, Oct. 1, 2019
Take the October quarterly "Who Pays for What?" survey
Images:
A body shop can put billable work into a vehicle even if it is declared a total loss. (FangXiaNuo/iStock)
Shops who ask to be reimbursed for total loss charges are consistently successful, according to the results of a July 2019 "Who Pays for What?" survey. (Provided by Collision Advice and CRASH Network)
Non-DRP shops are significantly more successfully than DRP ones in getting paid when they request total loss charges. But a DRP doesn't preclude being paid total loss fees from eight major insurers, according to the results of a July 2019 "Who Pays for What?" survey. (Provided by Collision Advice and CRASH Network)
Share This: