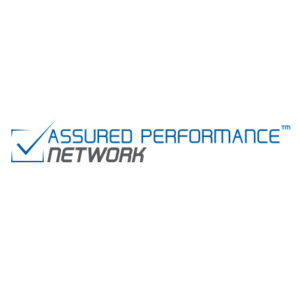 Recent Assured Performance announcements should help certified body shops compile the documentation proving they've delivered a quality repair, according to CEO Scott Biggs.
Biggs said Thursday that Assured Performance was engaged in a "massive initiative" to drive repair documentation. He asked if any shop owner — particularly those managing larger operations — knew how vehicles were truly being repaired under their roof.
The estimate had become such a "negotiating tool" over the past 30 years that it wasn't accurate, Biggs said. "It isn't," he said.
Even a final repair bill might not be accurate due to cost shifting, he said.
In November 2019, the company announced the launch of "RepairDOC" which would facilitate and at times automate tracking what was done on a vehicle and by whom. The system permits manual photo documentation by technicians, but also can save everyone time by automating certain data collection.
According to Biggs, a scan report or part invoice can be automatically piped into the system upon generation.
Biggs said the system even could track each technician's training, updating personnel records with course completion information from parties like I-CAR, the Automotive Management Institute, and paint companies. Essentially, you could verify that a repair of a particular vehicle had been done by a technician actually qualified to do it.
Biggs gave the example of Toyota, which he said offers a lot of training. Did the shop assign a Toyota repair to an employee who'd completed relevant Toyota curriculum?
"That's the key element with the labor side of things," Biggs said.
Biggs said one industry deficiency here involved the absence of a link between OEM repair procedures and skills in I-CAR's Professional Development Programs. Someone should connect the dots and map the procedures to the I-CAR education required to accomplish them, Biggs argued.
"That is a huge missing link," he said.
Assured Performance's system ties all the information associated with the repair to the specific customer VIN.
"Now, all parties; the repairer, consumer, insurer, and vehicle manufacturer can have visual proof and an official certificate that the vehicle was repaired properly and if they got what they paid for," Assured Performance wrote in a Nov. 4, 2019, news release. "To do so, the turnkey system provides 'evidence' the vehicle was repaired following OEM repair procedures, by a properly trained technician, using proper tools, and the vehicle was fully functional according to a final scan. This holds everyone accountable and mitigates everyone's liability exposure. As an end result, the system provides an official serialized certificate illustrating the patent pending Certified Repair for that specific vehicle."
Biggs said Assured Performance is "open to industry collaboration" and offers APIs vendors can incorporate into their software to feed data automatically into their shop customer's records. Entities like OPSTRAX and I-CAR have already successfully been integrated into the system, though the latter is still a work in progress, according to Biggs.
Data is fed into the individual shop's Amazon Cloud account, according to Biggs.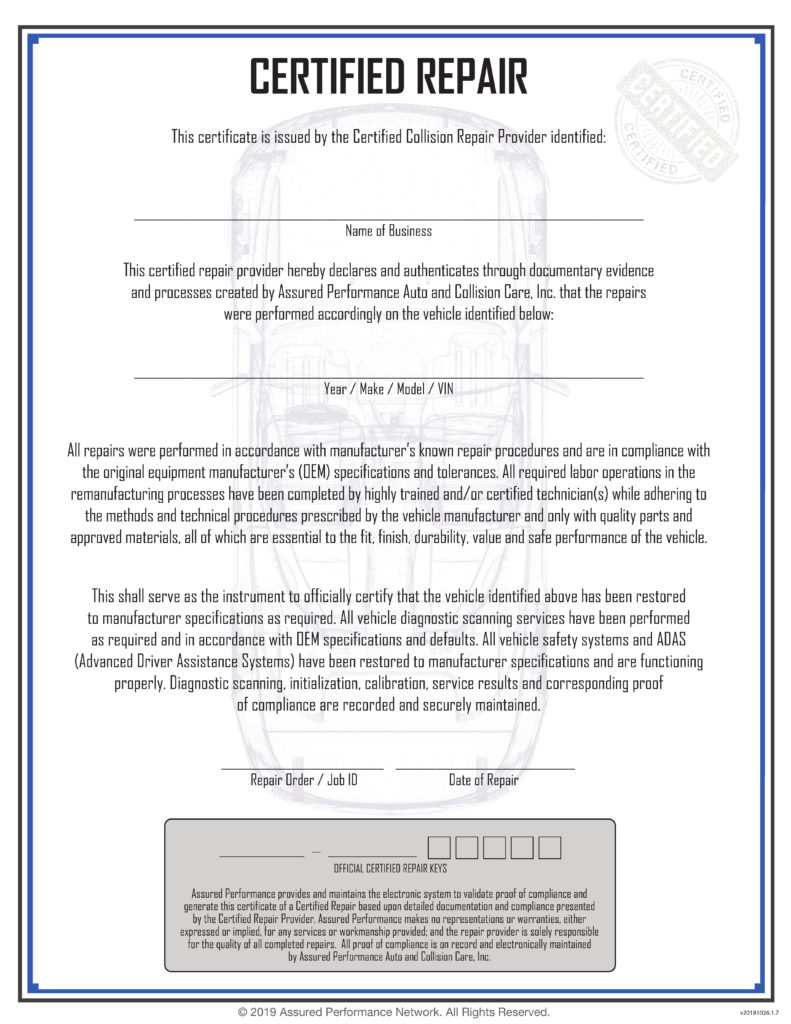 Regional directors to help
Biggs said Assured Performance has worked over the past 6-8 months to make the system easy to use. Still, repairers daunted by the idea of new technology and processes will have help.
This month, Assured Performance announced it had appointed regional directors Biggs said could coach shops: Larry Seida (Midwest/Northeast), Brent Henkle (Southeast), Gary Rowley (Southwest) and Chuck Hunt (Northwest). All will report to Assured Performance's new technical compliance and network performance Vice President Craig Seelinger.
"The Regional Directors will operate as Tele-Coaches for the entire Certified Repair Provider Network of over 3,000 repair businesses helping to implement and execute implementation of RepairDOC and the 'Certified Repair' Option (CRO), as well as business improvement planning across the entire network, starting in January 2020," Assured Performance wrote in a news release Jan. 7.
"We are investing in these highly successful Subject Matter Experts (SMEs) to ensure that shops have all the support they will need to capitalize on the new CRP business model." Biggs said in a statement Jan. 7. "Changing shop-insurer behavior will be difficult at best, but we are supplying significant resources to help with the assistance and support of strategic partners and those with a common vision. The rewards will be exponential for all stakeholders."
Helping insurers, OEMs
Assured Performance estimated the system could save between 8-14 percent of loss-adjustment and settlement costs "by reducing the need for costly on-site vehicle inspections, desk reviews and audits, supplement delays, diminished value and negotiating inefficiencies and repair cycle delays."
The documentation compiled — or the absence of such documentation — also could provide a means for OEMs to audit their certified shops. An OEM could also use it as an incentive, offering a rebate for a repairer doing things properly.
OEMs are saying, "'We absolutely want to see full documentation,'" Biggs said.
"RepairDOC helps to shift the emphasis from the exhaustive time spent estimating how the damaged vehicle might be repaired to how it really was repaired supported by electronic proof," Biggs said in a statement. (Emphasis Assured Performance's.) "Changing our collective mindset will be difficult for the industry, but as the research and testing have shown the reward is a potential savings of 8-14% in reduced friction cost and inefficiencies. Regardless, the new generation vehicles demand this level of quality and accuracy."
Biggs said the regional directors will teach how to use the system, set up automatic data feeds and assemble a staff skills inventory. He said few shops actually know which specific skills were housed under their roof. For example, if a technician leaves, what knowledge needs to be replaced?
"We built that system," Biggs said.
More information:
"Assured Performance Launches Integrated Repair Documentation System and 'Certified Repair' Program"
Assured Performance, Nov. 4, 2019
"Assured Performance Appoints Regional Directors to Drive Certified Repair Program"
Assured Performance, Jan. 7, 2020
Images:
The Assured Performance logo is shown. (Provided by Assured Performance)
An example of Assured Performance's documentation proclaiming a repair to be certified. (Provided by Assured Performance)
Share This: