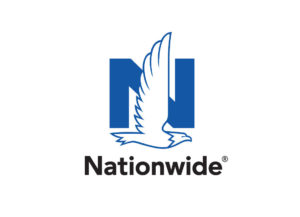 Nationwide last week announced it would test four-days-on, three-days-off scheduling and offer employees access to millions of dollars worth of training over five years.
"We must attract, develop and retain the best and brightest talent to deliver on our mission of protecting people, businesses and futures with extraordinary care," Nationwide CEO Kirt Walker said in a statement Jan. 13. "I'm proud that we are able to make key investments in our associates, try some new things to elevate Nationwide as the desired destination for top talent and prepare our workforce for the future. In so doing we will have talent that will deliver extraordinary care to our members and will innovate for our future."
'Summer Friday'
Nationwide will test a "Summer Friday" concept between Memorial Day and Labor Day this year.
"From Memorial Day through Labor Day, Nationwide associates who choose to participate will have the ability twice per month to condense five standard work days into four twice per month, giving them two Fridays off each month during the summer," the insurer wrote.
Asked what this would mean on Fridays for collision repairers and consumers who need to work with the insurer, spokesman Ryan Ankrom said the announcement is fresh, and all of Nationwide's teams are still "working out what that means."
One possibility might be for some staff to instead have three-day weekends spanning Saturday-Monday to spread out the absences, but that wasn't set in stone, Ankrom said.
"That's an example,' he said.
Smaller Nationwide teams would work that out among themselves, Ankrom said. The carrier knew not everyone could be off on the same day, he said.
Akrom didn't know if Nationwide's hours of availability would change if staffers taking three-day weekends worked a longer four days to compensate. (For example, would a repairer be able get ahold of an adjuster after what would be traditional business hours?)
As Akrom noted, it's early in the process, and the company is still working out the nuts and bolts. We'll try to follow up with Nationwide closer to Memorial Day to see what its staff decided with regards to its scheduling.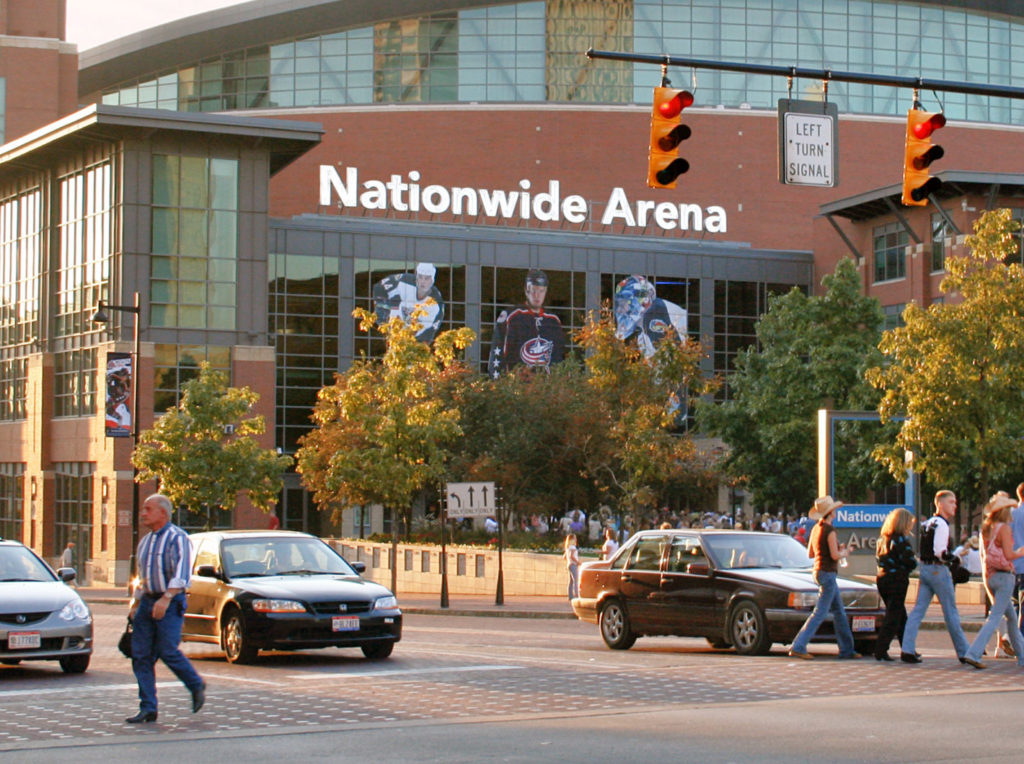 Benefits
Nationwide's employee-focused Summer Fridays pilot is an interesting idea, and perhaps something repairers might wish to poll both piece-rate and hourly staff about. Would they rather do "four 10s" or "five 8s"? What does that look like for customers? Are there any state labor law barriers?
Getting creative about working conditions and perks to meet employees needs might help shops retain and attract staff. Particularly as you're going up against employers like Nationwide for staff like customer service representatives and estimators.
And those employers might be adding even more perks as we speak. Nationwide also observed Jan. 13 that it recently upped its paternity, maternity and adoption leave benefit by two weeks. New mothers get 14 paid weeks off. Fathers or domestic partners and adoptive parents get 30 days off paid.
Nationwide also said "front-line associates will receive an increase in their incentive targets in response to market data" under the initiative announced Jan. 13.
The company described other benefits as well last week, though it's unclear if any of these are new.
Nationwide starts everyone at a minimum of $17 per hour and offers "competitive compensation and benefits at all levels."
It matches 50 percent of your first 8 percent of contributions to a 401(k) and gives new and expecting mothers a professional nurse to help. (It also offers overnight delivery for nursing traveling mothers.)
Granted, the average auto body repairer averaged $22.34 an hour in May 2018, according to the Bureau of Labor Statistics' most recent data. The median pay was $20.55. But a quarter of repairers make less than $15.91 an hour, which might make a $17 entry-level job at Nationwide or somewhere else look pretty good.
There's also benefits to consider. A 2019 Collision Repair Education Foundation and I-CAR study found large proportions of repairers offering benefits like health insurance and retirement but significant numbers failing to do so. Other benefits were less likely.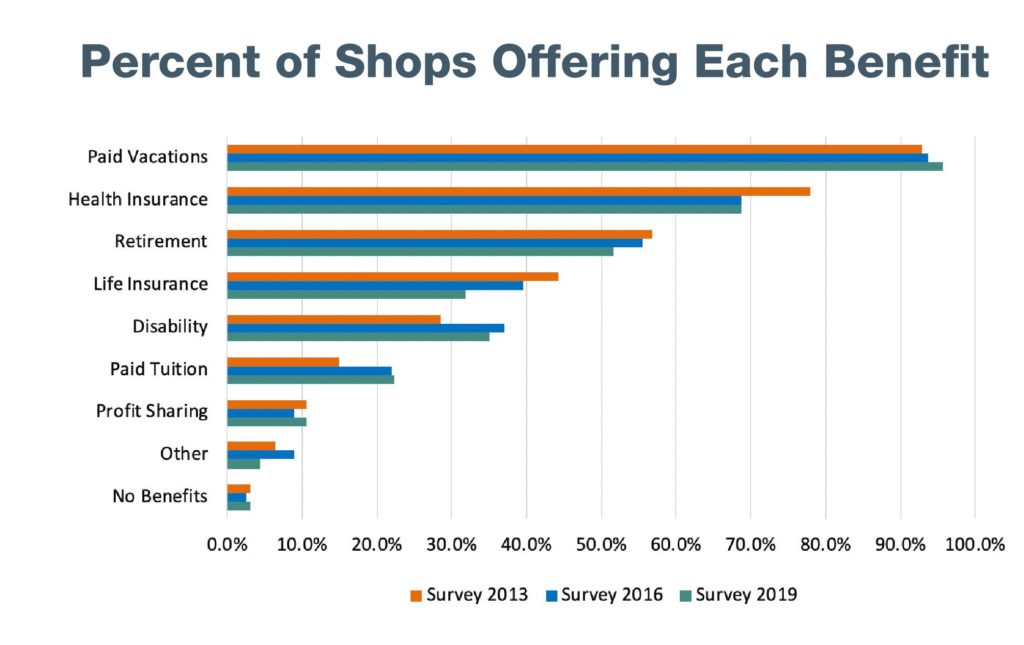 "The company also offers robust development opportunities, flextime and educational assistance, all making Nationwide an attractive career destination for the best talent," Nationwide wrote Jan. 13.
'Reskill and upskill'
The insurance industry appears to be eyeing technology (e.g. A.I., photo estimating in claims) to shed personnel cost.
Nationwide's five-year, $160 million plan to "reskill and upskill its workforce and increase bonus incentive targets" seems intended to help claims personnel and others among its 28,000-employee workforce prepare for other positions if technology makes their current jobs or skills irrelevant.
"Our people are our competitive advantage. We have and will continue to invest in them," Nationwide Chief Administrative Officer Gale King said in a statement. "Our commitment to them has to be holistic and must include helping them prepare for the future. The advancements in technology, the speed of change, competitive forces and the resulting impact of automation requires that we be proactive in preparing our associates for a very different future of work – one that is heavily technology enabled."
Nationwide plans to spend to "equip associates in digital literacy and future capabilities training" and will in February start an online "Future of Work Center." It will give every employee a "personalized learning curriculum focused on the skills for the future" each year.
"Associates will have applied learning opportunities that assist with their development and provide additional exposure to other career opportunities," Nationwide wrote. "Reskilling opportunities will be business-unit specific and will include targeted career paths."
"We've already had great success in reskilling within our IT organization through our partnership with Columbus State Community College in central Ohio," King said in a statement.  "We've also had success through apprenticeship programs across our business unit functions. We are aware of the roles in our organization that will be impacted by automation and the ones that are evolving and growing. We feel a strong obligation to equip our associates for these changes."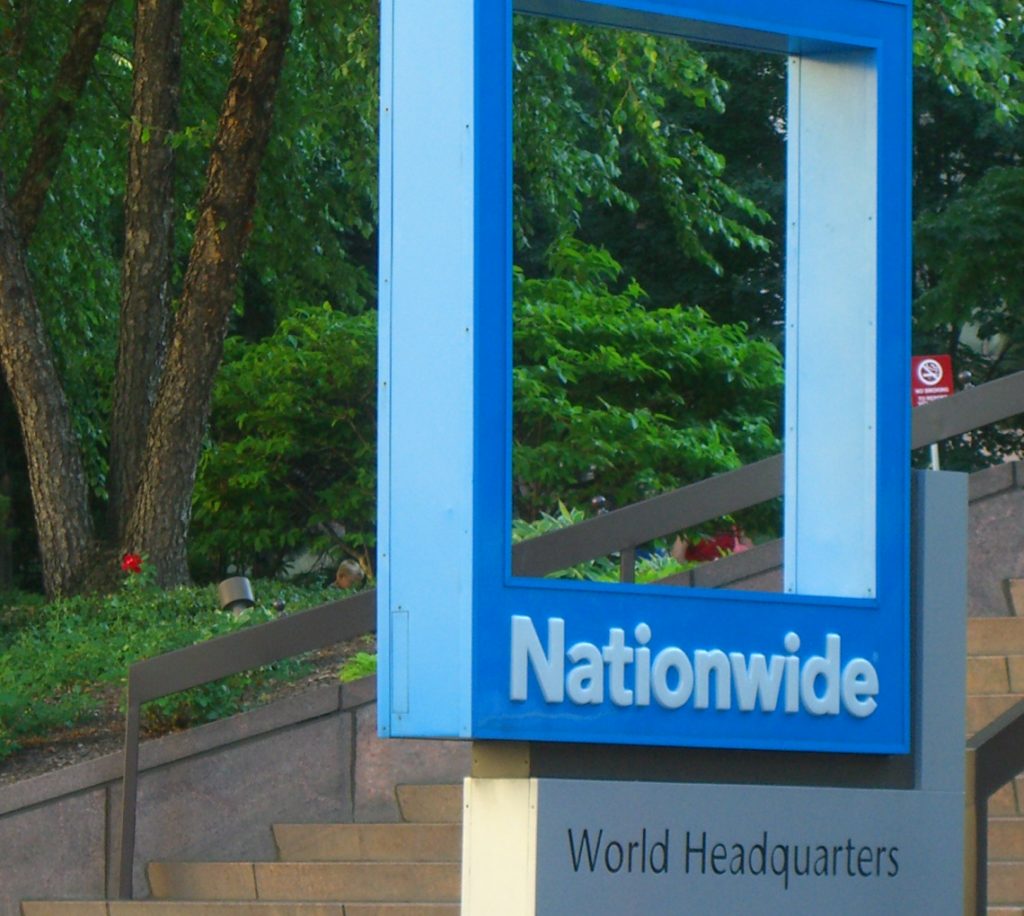 Columbus State President David Harrison said Nationwide "demonstrated great forethought and long-term vision to prepare its workers with future-ready skills and quality resources."
Shops should pay attention to this initiative over the next 5-10 years. The automation King describes could certainly play a role in claims, which could mean Nationwide might wish you and your customer to interact in a different fashion.
Repairers might also want to emulate Nationwide's example and focus on retraining and "upskilling." You might not be considering the kind of automation Nationwide hints at, but there might be a workforce attraction, retention and development benefit to teaching staff new skills.
Developing employees with an interest in a particular collision repair role might be an easier solution than attempting to fill that position externally, Pro Collision Training President Paul Gage suggested in 2018. Otherwise, that staffer will pursue that job anyway — at someone else's shop, Gage said.
Gage gave the example of a CEO seeking estimators. The CEO already has numerous people in the company who want to become estimators, Gage said. What the company really needed are customer service representatives and parts staff, he said.
Why? Because a customer service representative who wants to be an estimator can be developed into that job, Gage said. And it's much easier to fill a CSR vacancy than an estimator, he said.
Gage said "we have this immediate reactive need" to find the "warmest body" rather than evaluate who could be developed from within. An internal staffer already understands the shop's expectations, culture and standard operating procedures, he noted.
"In a rapidly-changing business environment and competitive job market, businesses are looking to attract and retain talent to help them deliver on their mission, and workers are looking for a company that is values-based and values them," Nationwide wrote Jan. 13. "Workers are also seeking employers who will partner with them in preparing for their futures."
More information:
"Nationwide announces five-year, $160M Future of Work investment"
Nationwide, Jan. 13, 2020
Images:
The Nationwide logo is shown. (Provided by Nationwide via PRNewsFoto)
Nationwide Arena in Columbus, Ohio, is shown. (Derek Jensen (Tysto)/Wikimedia Commons)
A smaller percentage of shops reported offering life insurance and retirement in 2019 than in 2016, according to a Collision Repair Education Foundation and I-CAR study that polled more than 675 shops. (Provided by CREF)
A Nationwide sign is shown. (Nick22aku, Nick Juhasz/Wikimedia Commons)
Share This: