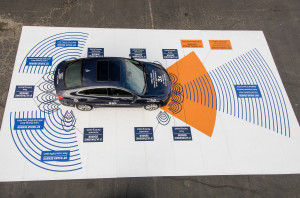 Body shops seeking to explain a higher repair bill to consumers can draw upon a new Consumer Reports article explaining both the need for pricier ADAS calibrations and the way such systems can complicate formerly penny-ante repairs.
The piece posted Jan. 30 explains how repair costs are increasing when damage does occur but how consumer vehicles are made safer by the tech.
"Consumer Reports believes that all cars should come standard with AEB, pedestrian detection, FCW, and BSW," Consumer Reports wrote. "CR experts say that with fewer crashes over time because of the wider adoption of collision avoidance systems, drivers should save money, even if collision repair bills are higher."
The magazine devotes significant space to the relationship between forward-facing cameras and windshields and includes some important information from Safelite.
"Most forward-facing cameras used for ADAS are mounted to the glass in or around the rearview mirror, and those cameras don't know where they are in relation to the glass," says Jon Cardi, a senior vice president at Safelite AutoGlass. "A minute movement at the windshield could translate to a big error several hundred feet ahead at highway speeds." …
Safelite AutoGlass did testing using AEB sensors that were intentionally misaligned and found that vehicles collided with targets they were supposed to avoid.
Considering that Safelite is a) No. 1 in auto glass and b) has relationships with many insurers, the information ought to hopefully shut up any adjuster who's refusing to reimburse your customer.
And if that doesn't work, you have the American Property Casualty Insurance Association also telling Consumer Reports such a calibration should be done.
"It's in everyone's best interest to see that such recalibration is done, and done properly," APCIA Assistant Vice President Bob Passmore told Consumer Reports.
The latest "Who Pays for What?" survey by Collision Advice and CRASH Network found 87 percent of hundreds of shops polled in October 2019 reporting insurers mostly or always covered ADAS calibration charges. However, the fact that this isn't closer to 100 percent "always" suggests carriers might need further education.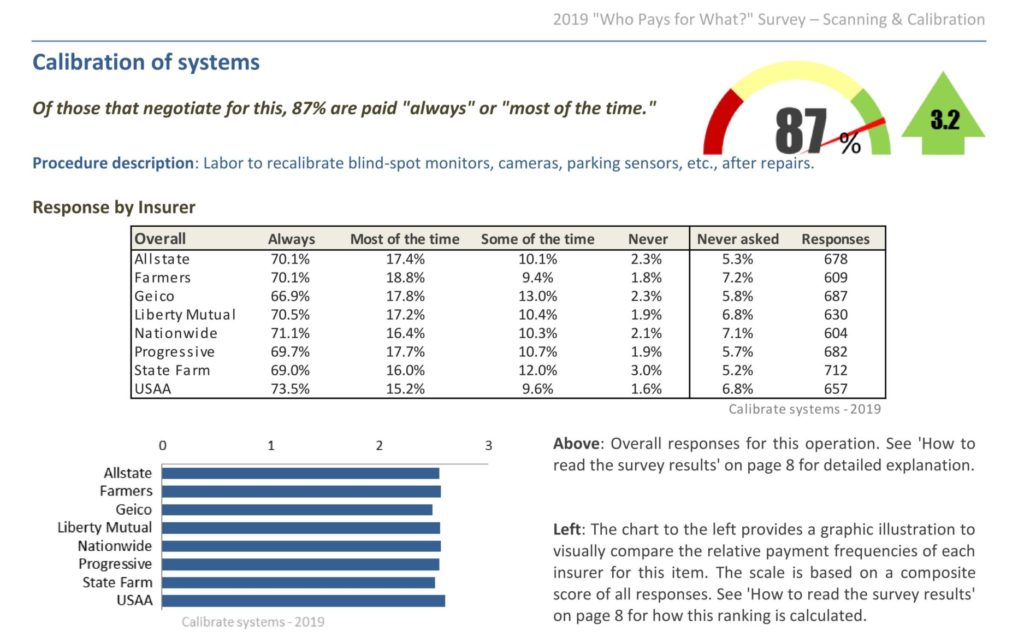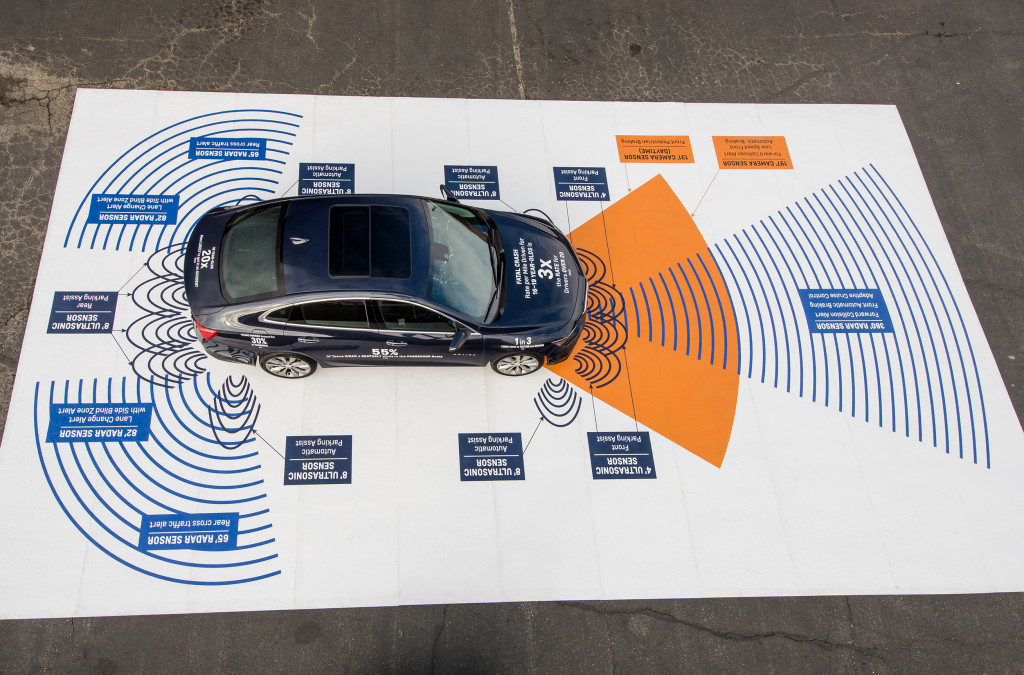 (Help the industry by taking the current "Who Pays for What?" survey focusing on refinish operations before Feb. 1. All answers are kept confidential; data is published only in the aggregate.)
The article uses data from RepairPal to predict costs of various formerly minor repairs like bumpers, mirrors, headlights and windshields — and makes a case for why those prices are higher.
RepairPal calculated a "Basic" front and rear bumper repair at $700-$1,800 each. Front bumper sensor and camera replacements were estimated at "+$500"-$1,900 and recalibration at "+$250"-$600, while rear bumper sensor and camera replacements ran "+1,000"-$2,500 and recalibration at "+$250 and up."
The article also notes for the front bumper that, "Experts recommend recalibrating sensors and cameras after minor collisions, even if the ADAS equipment doesn't need to be replaced."
It points out the potential issue with filler and paint over a sensor and quotes Joe Schneider "a KPMG adviser to insurance companies" as stating "Years ago, there might be a little nick on it that you would never file a claim for. Now, that same nick could require recalibration of a camera or sensor."
This is all stuff you can use to educate a consumer whose insurer is being difficult.
Consumer Reports does make a couple of odd missteps in the article, but they're not deal-breakers.
It declares "information about how to repair these vehicles isn't always available, creating uncertainty for insurers and repair shops." While technically accurate, this assertion seems to overrstate the issue and mislead the layman consumer audience.
All OEMs but Hyundai offer collision repair procedures, and even Hyundai joins its peers in offering mechanical repair instructions. Just because a body shop or insurer doesn't know how to look them up — or worse, is too lazy to do so — doesn't mean they don't exist. Consumers should be aware of this and be encouraged to seek out shops who do understand and use those instructions.
Fortunately, CR later writes, "CR experts stress the importance of following manufacturer guidelines with ADAS repairs. But they say some shops aren't able to meet this standard yet."
It also makes a big plug for OEM-certified shops. If automakers audit repair procedure usage, as some of have described plans to do, that should also at least get customers in the hands of someone who does the research:
Ask your dealership if it can handle the repair or if it can recommend a qualified repair shop. Not all dealerships have the tools necessary to recalibrate ADAS sensors and cameras, but a factory-backed service department can usually point you in the right direction. You also can look online for manufacturer-recommended collision repair shops. Some manufacturer websites have a list of certified collision centers, although you might have to dig around for it. If you go with an independent repair shop, research online reviews and ask the shop which certifications it has and whether it can make the necessary repairs and calibrations.
The article also declares all used and aftermarket parts equally as good as OEM for ADAS purposes:
If your car is under warranty, you should ask for manufacturer parts because some manufacturers could void your warranty if certain aftermarket parts are used. If your car is out of warranty, aftermarket or used parts can save you money and should provide the same level of safety. CR believes that to keep repairs more affordable, car manufacturers and their associated dealers shouldn't have a monopoly on parts or repair services.
This not only ignores that even proponents of alternative parts distinguish varying levels of quality (see CAPA, the ARA grading guide, etc.), it ignores Consumer Reports' hype of its own 1999 cover story within the same article. "In CR's labs, we use our 'hydraulic basher' to deliver low-mph impacts to bumpers," Consumer Reports wrote of its 1999 piece. "A Ford original- to-manufacturer bumper has only minor cosmetic damage, while a replacement imitation one shatters."
It also does the alternative parts industry a disservice by oversimplifying Magnusson-Moss. Installing a non-OEM part doesn't automatically void a warranty. However, if the part fails and screws up a system under warranty, then the OEM can reject the claim.
But on the whole, there's a lot here to like and use to educate customers and insurers. Go check out the article.
More information:
"The Hidden Cost of Car Safety Features"
Consumer Reports, Jan. 30, 2020
Images:
Sensor/camera capabilities of the 2016 Chevrolet Malibu are shown. (Provided by Chevrolet/© General Motors)
Data from an October 2019 "Who Pays for What?" survey by Collision Advice and CRASH Network. (Provided by Collision Advice and CRASH Network)
Share This: