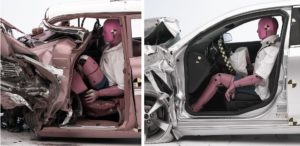 General Motors has obliged both the collision repair and auto insurance industry by refining its guidance on which collision circumstances trigger certain inspections.
It has provided more clarity on how the inspections would be conducted and declared that certain operations officially weren't necessary in certain minor damage situations.
Nevertheless, there's still the prospect that an insurer would still refuse to reimburse the claimant for the labor GM says remains necessary on their vehicle.
Asked about this scenario during a VeriFacts Guild 21 session Thursday, GM wholesale dealer channel collision manager John Eck made an important point for repairers, insurers and consumers to consider.
Eck said as an automaker, it was difficult for GM to get in the middle of a transaction between an insurer and shop. That wasn't its role, he said.
But Eck also noted he would say, "Just because you've done it in the past, doesn't mean that that's the way it should still work."
A 1980 Buick Skylark was a completely different vehicle than a present-day model, Eck said. One couldn't compare the technology associated with what a vehicle was expected to do 20 years ago with the present day.
"They're just not even the same vehicle," he said.
The argument that "'We've never paid for it in the past' doesn't really apply," according to Eck. The question becomes "'What should we be doing now'" given one's knowledge, the vehicle's materials and the expectations for the model's performance, he said. As to the latter, he pointed out that expectations exist for how the vehicle interacts with people who aren't even inside of it.
He said he'd say, "'We need to have a conversation,'" for present-day vehicles aren't like those of two or three decades ago.
Past history of failing to reimburse work couldn't be applied to a different vehicle. "It just doesn't stick," Eck said.
He proposed an example from the residential construction issue. A consumer receives a new, unexpected line item on a bill. The builder reports it's related to complying to a new regulation.
"I gotta pay it," Eck said.
Vehicle tech, expectation changes
The insurance industry's evolving safety benchmarks for vehicles demonstrate this concept and illustrate the fallacy of drawing upon certain past experience when considering modern collision repairs. This misconception might not be limited to insurers and consumers — even body shops can succumb to it.
The Insurance Institute for Highway Safety didn't launch frontal crash-tests until 1995. NHTSA full-frontal crash testing predated that by two decades, but the IIHS focused on offset crashes instead and found the auto industry lacking.
"When we began our moderate overlap frontal tests, the majority of vehicles were rated poor or marginal," the IIHS writes. "Today, all vehicles earn good ratings. Occupant compartments are much stronger than they used to be. They hold up in a crash and allow safety belts and airbags to do their jobs."
The IIHS didn't start side crash testing until 2003. The IIHS observed that while NHTSA was already testing vehicle sides, its barrier dated back to the 1980s and focused on the smaller vehicles of the time. The feds didn't account for SUVs and trucks becoming so popular, and the NHTSA test overlooked the possibility of head injuries, particularly to shorter drivers like women.
So the IIHS built its own test, and it's looking at revising it again as soon as 2022.
In 1995, the IIHS found 82 percent of head restraints were poor, forcing OEMs to improve. In 2010 — just 11 years ago — the government issued a new head restraint height and backset standard which the IIHS should guarantee nearly every seat would receive a "good" IIHS geometry rating. By 2011, all seats had good or acceptable scores.
In 2012 — less than a decade ago — the IIHS introduced driver-side small-overlap crash tests. "This crash test is a challenge for some safety belt and airbag designs because occupants move both forward and toward the side of the vehicle," the IIHS wrote. …
"Manufacturers have responded to the driver-side small overlap test by improving vehicle structures and airbags, and most vehicles now earn good ratings." By 2016, nothing less than good small-overlap protection would suffice to earn a Top Safety Pick+ rating.
In 2013, the IIHS first began to rate advanced driver assistance system front crash protection systems. By 2014, a vehicle could only receive Top Safety Pick+ on builds or trims with that ADAS.
In 2017, it started rating vehicles on the passenger side after finding some OEMs failed to extend the driver-side engineering there. In 2019, a good passenger-side rating became required to achieve Top Safety Pick+.
And in 2019, the IIHS began to study vehicle-to pedestrian crash prevention technology. By 2020, advanced- or superior-rated vehicle-to-pedestrian safety tech needed to exist at least as an option on a vehicle for the model to receive Top Safety Pick+.
To see some of this in action, here's a 2017 GMC Acadia, which the IIHS says is identical for physical crash testing purposes to GM's 2021 Cadillac XT6. The XT6 was the first of GM's 2021 lineup to achieve Top Safety Pick+.
More OEM, insurer perspective
Eck called the topic of insurers refusing to reimburse OEM procedures a "touchy issue" for an automaker, for it wasn't the one paying the bill. The insurer paid the bill while the repairer performed the work, he said. It was hard for GM to get in the middle of that transaction.
Eck said that his OEM's role involved providing all content and information to a shop to say, "'This is what I need to do'" for a proper repair.
"He should get paid for that work that is necessary for that to happen," Eck said.
The repairer didn't wish to be liable for the vehicle's safety, and "we don't want them to be," Eck said. "And that's why we give the direction we do."
Eck said he hoped insurers would consider GM had sought to reduce confusion and frustration and had provided a inspection and replacement framework balancing reasonableness with safety.
Many people would conclude the operations were reasonable and the shop deserved payment for them, Eck suggested.
Moderator George Avery, a retired State Farm veteran who fielded audience questions, had put the inquiry to Eck. In doing so, Avery (Avery Knows) observed that the volume of claims adjusters and estimators handle allows them to learn through "sheer repetition" that a particular item isn't covered in the policy.
"When you deny something, that doesn't mean they're wrong," Avery.
"However, I do understand how people get in a rut. … You just get so used to saying no."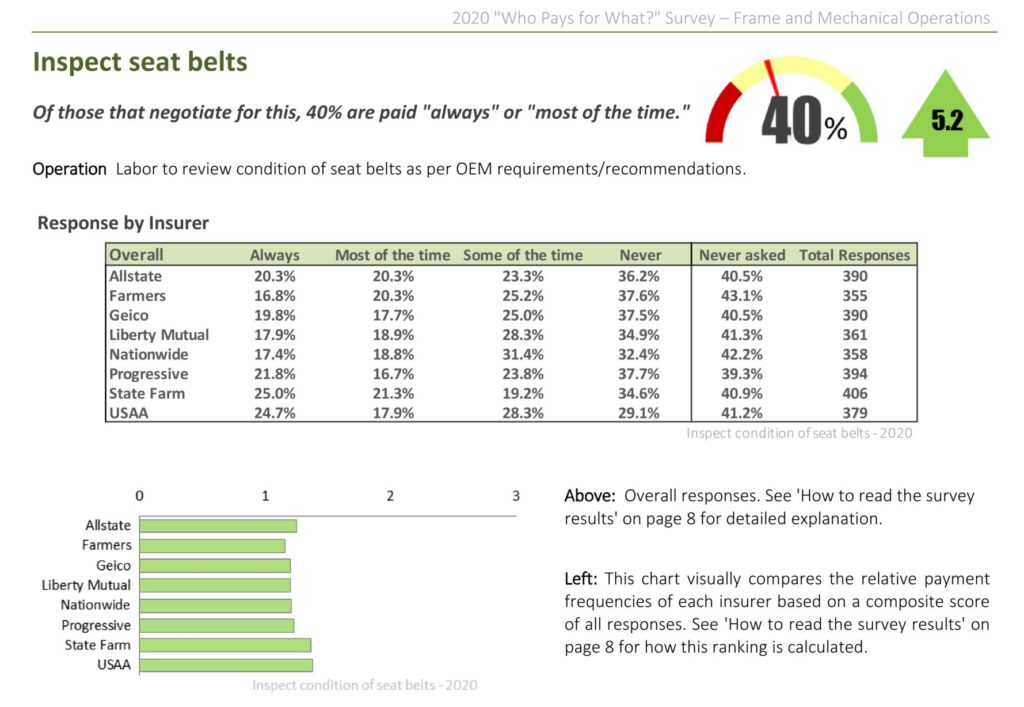 Fortunately for body shops and consumers — who might otherwise need to go out-of-pocket to meet the shop's bill — the nation's largest insurers have been shown to reimburse safety inspections.
"Who Pays for What?" data collected by CRASH Network and Collision Advice in summer 2020 shows eight Top 10 insurers, including No. 1 State Farm, consistently reimbursing seat belt checks, for example. Collectively, the carriers reimbursed bills for seat belt inspections "most of the time" or "always" 40 percent of the time when shops charged for the work.
General Motors requires a seven-step seat belt inspection process after every collision, regardless of severity.
The next VeriFacts Guild 21 call will occur at 2 p.m. July 8.
More information:
General Motors OEM repair procedures
"Repairs and Inspections Required After a Collision"
General Motors, May 2021
Images:
A 1959 Chevrolet Bel Air, left, and a 2009 Chevrolet Malibu are shown after a moderate-overlap crash test into each other to celebrate the Insurance Institute for Highway Safety's 50th anniversary. (Provided by IIHS)
Forty percent of shops who billed for work to inspect seat belts saw insurers consistently reimbursing the charge, a summer 2020 "Who Pays for What?" survey found. (Provided by CRASH Network and Collision Advice)
Share This: