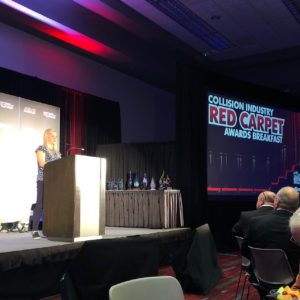 Hall of Eagles member Toby Chess hadn't missed a SEMA Show since 1997, but he skipped Wednesday's fourth annual Collision Industry Red Carpet Awards Breakfast hosted by the Society of Collision Repair Specialists (SCRS) in the Upper South Hall of the Las Vegas Convention Center.
Chess had a very good excuse. His daughter, Stacy Torres, gave him a kidney on Oct. 12.
Still, his March Taylor Kina'ole Award — created to honor the spirit of March Taylor, who owned Auto Body Hawaii in Kailua and served as an SCRS board member — really hit home back in Los Angeles.
Calls, emails, texts and even a video of the ceremony soon after flooded in.
At first the 76-year-old father of one, granddad of two and husband of Sheila said the previous winners deserved the lifetime achievement award, but he did not.
That's typical Chess and so was the short and emotionally shaky response to the trophy.
"It's an honor. That's all I can tell you," he said.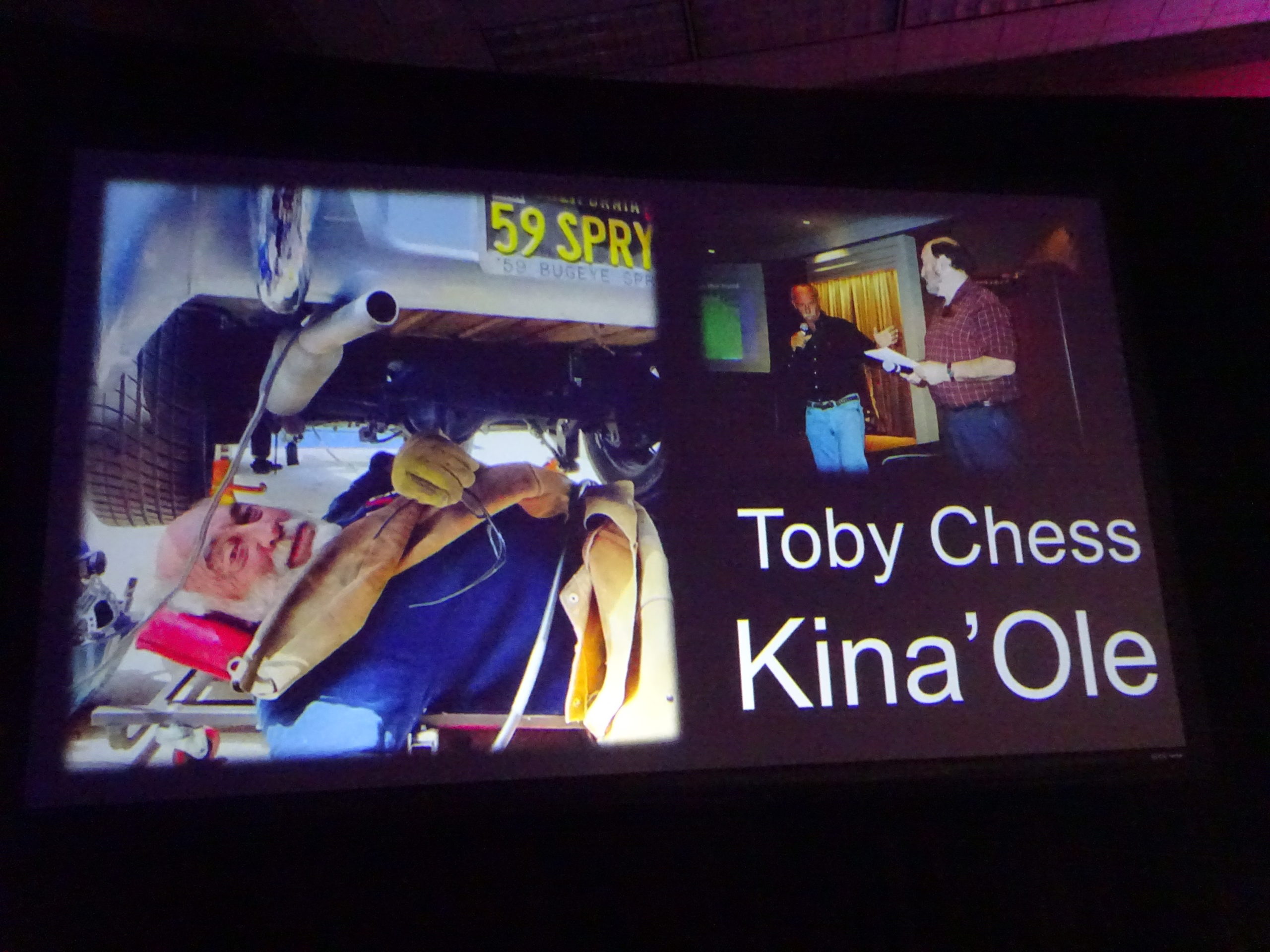 But Chess, who is probably best-known for all those I-CAR welding classes, had plenty to say when it came to Taylor, his best friend who died on Aug. 26, 2007.
"March and I had a very special relationship," Chess said. "It's hard to put into words. When he had passed away, at the eulogy, his wife referred to me as the second wife without sex."
"March would get up at 5 a.m. and go into the shop. He had a bunch of people on email, shop owners. They'd send him a note, 'Hey, this job needs more time. This repair needs more time.'
"So he would contact Audatex, CCC and Mitchell and say, 'You need to look at this. I checked it out and they are right.' And he was starting these inquiries. It started off with a couple and it started building and building and he had gotten to where there were over 200 of the inquiries and he just couldn't do it anymore … it was overwhelming."
This ushered the way for what would become the Database Enhancement Gateway (DEG).
"It's really a shame that March couldn't see the fruit of his work."
Taylor established kina'ole as SCRS's "guiding light."
Kina'ole means, "Doing the right thing, in the right way, at the right time, in the right place, for the right individual, for the right reason, with the right feeling, the first time."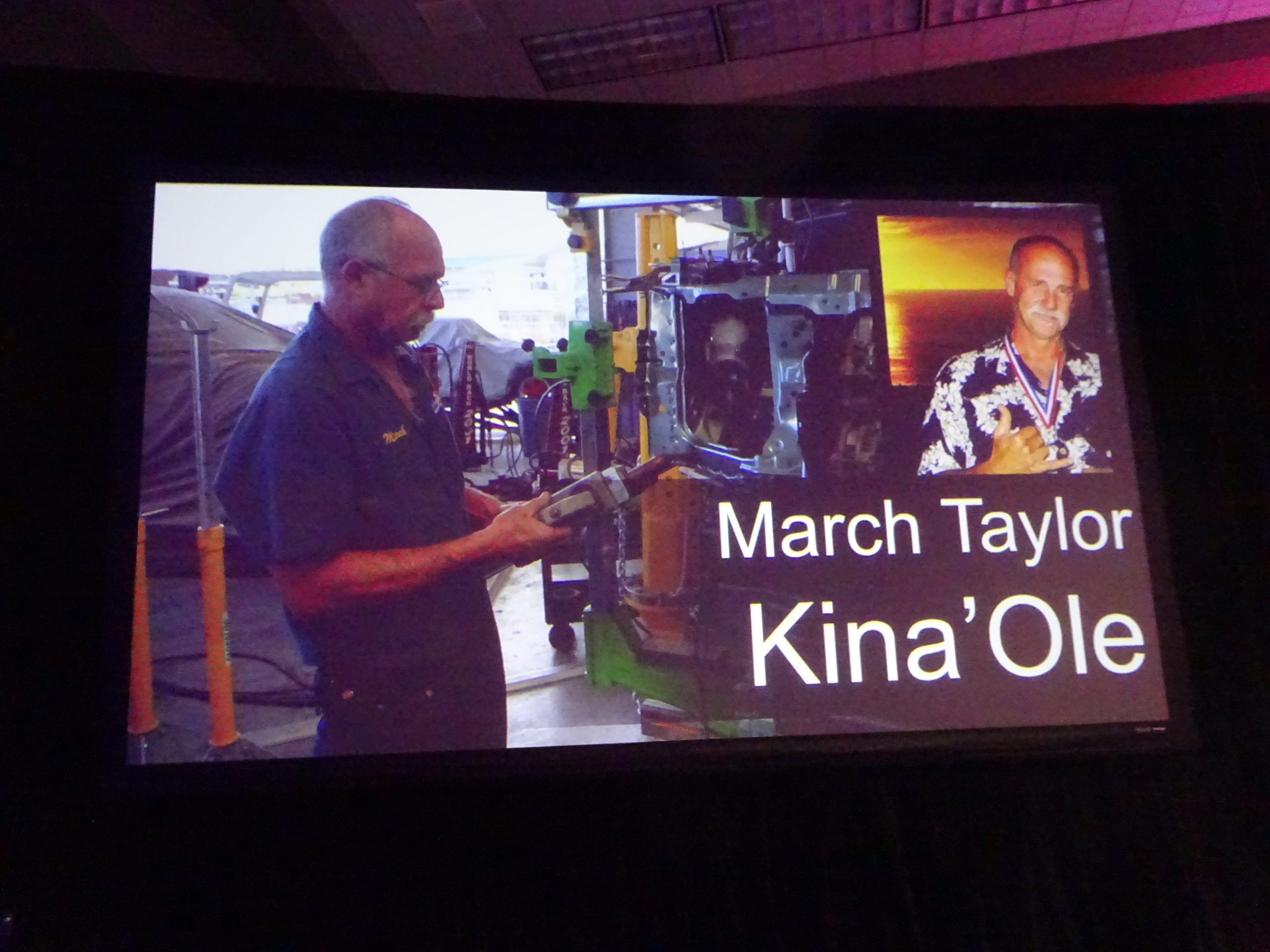 That mantra was recited on stage Wednesday and alluded to more than once.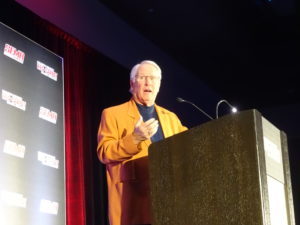 "March Taylor lived kina-ole, so we created this award in his honor and his name," said SCRS Past Chairman Jeff Hendler, who joined Dorn and SCRS board member Kye Yeung in presenting this award to Chess.
"March Taylor tirelessly worked on behalf of all of us in the industry," Hendler said. "He owned a great shop, one of the finest shops in the United States. But you'd never know it because he worked in the back. He knew what a technician is."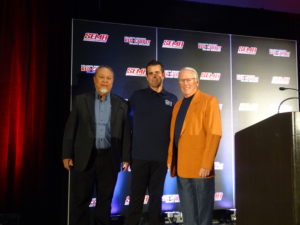 Yeung said Taylor and Chess worked seamlessly. They played that way, too.
"The friendship that they shared was so open," Yeung said. "To watch it from afar made you envious."
Yeung stepped into the SCRS board void left by Taylor and he and Chess now are best buds.
"I'm his best friend now, and it's amazing how it goes full circle," Yeung said.
Not long after winning the award, Chess texted a reporter a photo of a bottle of Corona with a napkin taped to it. The napkin reads: "Property of March Taylor."
"This has been in my refrigerator over 14 years," typed Chess, who doesn't drink beer. "March drank beer like it was water. I told him there would be a cold one for him when he stayed with us.
"I really miss my friend and today was especially tough."
There were 10 other prestigious awards proudly handed out Wednesday as Jordan Hendler, the facilitator of Tuesday's Collision Industry Conference, served as the emcee.
The Collision Industry Electronic Commerce Association (CIECA) Awards
Outstanding Contribution Award: Tom McGarry, Axalta Coating Systems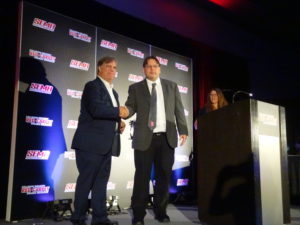 This award "recognizes the person who contributes the most thorough personal or corporate efforts to the achievement of the CIECA mission, objectives and goals."
Recently retired, McGarry was on the CIECA board for 25 years.
"During Tom's time on the board, he had a history of giving great guidance," said Jeff Schroeder, CIECA board chairman.
Chairperson's Award: Kim DeVallance Caron, Enterprise and Dan Webster, Mitchell International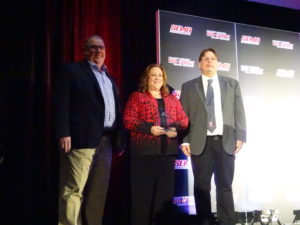 "The person within the CIECA organization structure who excels in taking a proactive approach to further the success of CIECA."
CIECA couldn't narrow the two winners down.
"Because we just have two incredibly dedicated, good people who are really working hard for CIECA and we wanted to make sure both were honored," Schroeder said.
"When there's a tough job to be done, Kim will be the first to stand up and volunteer. She has a very good eye for detail and has been very good to CIECA."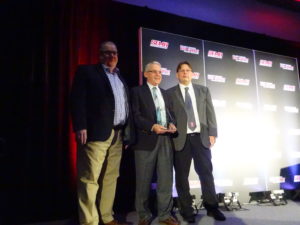 As CIECA moves more toward APIs, Webster "has been very helpful," Schroeder said. "There's a lot of research that has to be done — there's a lot of things that have to be done absolutely right — and Dan's made sure we have it right."
Electric Commerce Company of the Year Award: Car-Part.com
CEICA says this "recognizes the company that contributes the most through its employees, resources and dedication to help CIECA achieve its mission, objectives and goals."
The 2020 CIECA winners also were honored since last year's SEMA Show was cancelled due to COVID: Outstanding Contribution – Andy Bober, Entegral; Outstanding Dedication Lifetime Achievement Award – Charley Quirt, CIECA's Technical Project Coordinator; Chairperson's Award – Phil Martinez, Mitchell International; Electric Commerce Company of the Year – Mitchell International.
Body Shop Business Awards
Executive of the Year Award (Single Shop): Steve Saunders, director of OE compliance at Faith Quality Auto Body in Murrieta, Calif.
Executive of the Year Award (Multi-Shop): Cheryl Boswell, CEO and managing partner of DCR Systems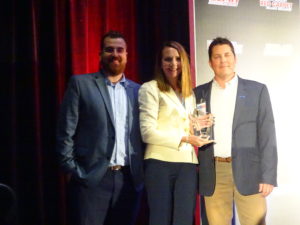 This award has been given for well over a decade and is bestowed "to a true collision repair 'visionary,' someone who has experienced great success by being forward-thinking, overcoming challenges and persevering."
Saunders was an I-CAR Ring Award winner in 2005 and has a history of other accolades while Boswell has been in her current role since 2005.
A longtime member of the Women's Industry Network (WIN), Boswell has helped Sterling Collision Centers pick up 18 acquisitions and 29 greenfields, and is noted for speaking plainly while discussing complicated topics. She was the 2019 winner of WIN'S Cornerstone Award.
"I just want to say it takes a village," Boswell said.
Collision Repair Education Foundation (CREF) Awards
Fueling the Future Award: Carl Boyer, Midwest Regional Manager, Stertil-Koni USA and Tim Adelmann, collision industry consultant
A close friend of Jay Leno who helped get him on board to assist CREF, Boyer has served as Snap-On's North American Sales Manager for the company's TruckCam group and OEM Sales Manager of CAR-O-Liner.
Boyer complimented presenter Brandon Eckenrode, CREF's managing director.
"The amount of work he puts into CREF is just incredible," Boyer said. "I'm out of warranty and we need to purchase some new guys for our shops."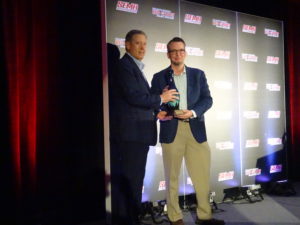 Adelmann is credited with getting I-CAR involved on the school level with committee building.
Eckenrode said he and Boyer will be in Leno's personal garage in Denver in two weeks for a CREF project.
I-CAR Awards
Russ Verona Memorial Award: Schaefer Autobody Center, Webster Groves, Mo.
"We are honoring one exceptional shop and a platinum individual," said I-CAR President John VanAlstyne. "There are two days left of SEMA, but this is my highlight, right now."
VanAlstyne said this award recognizes businesses that have an intense focus on training and that hold an I-CAR Gold Class subscription for at least five consecutive years while supporting that program.
"They really value professionalism and they support the industry in three schools," said VanAlstyne, also noting the shop's many contributions to organizations that need support, like the Boys & Girls Clubs of America.
Jeff Silver Award: Kenny Hall, State Farm Insurance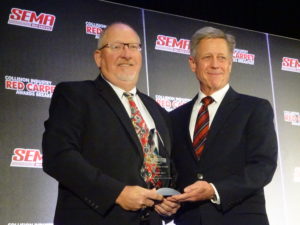 Van Alstyne said Hall has been particularly active in the education segment of collision repair. He's on the school advisory boards of six Ohio collision repair programs, is on the Skills USA Ohio board of directors and has been a longtime volunteer in leadership roles in the state for I-CAR.
SCRS Awards
Collision Industry Non-Individual Service Award: Women's Industry Network (WIN)
 "We don't give an award each and every year. We have a group of awards that we give over time, and when we feel the time is right for somebody or an organization or a group of people," said SCRS board member Brett Bailey.
Bailey talked about how the room has changed over the years because so many women were in it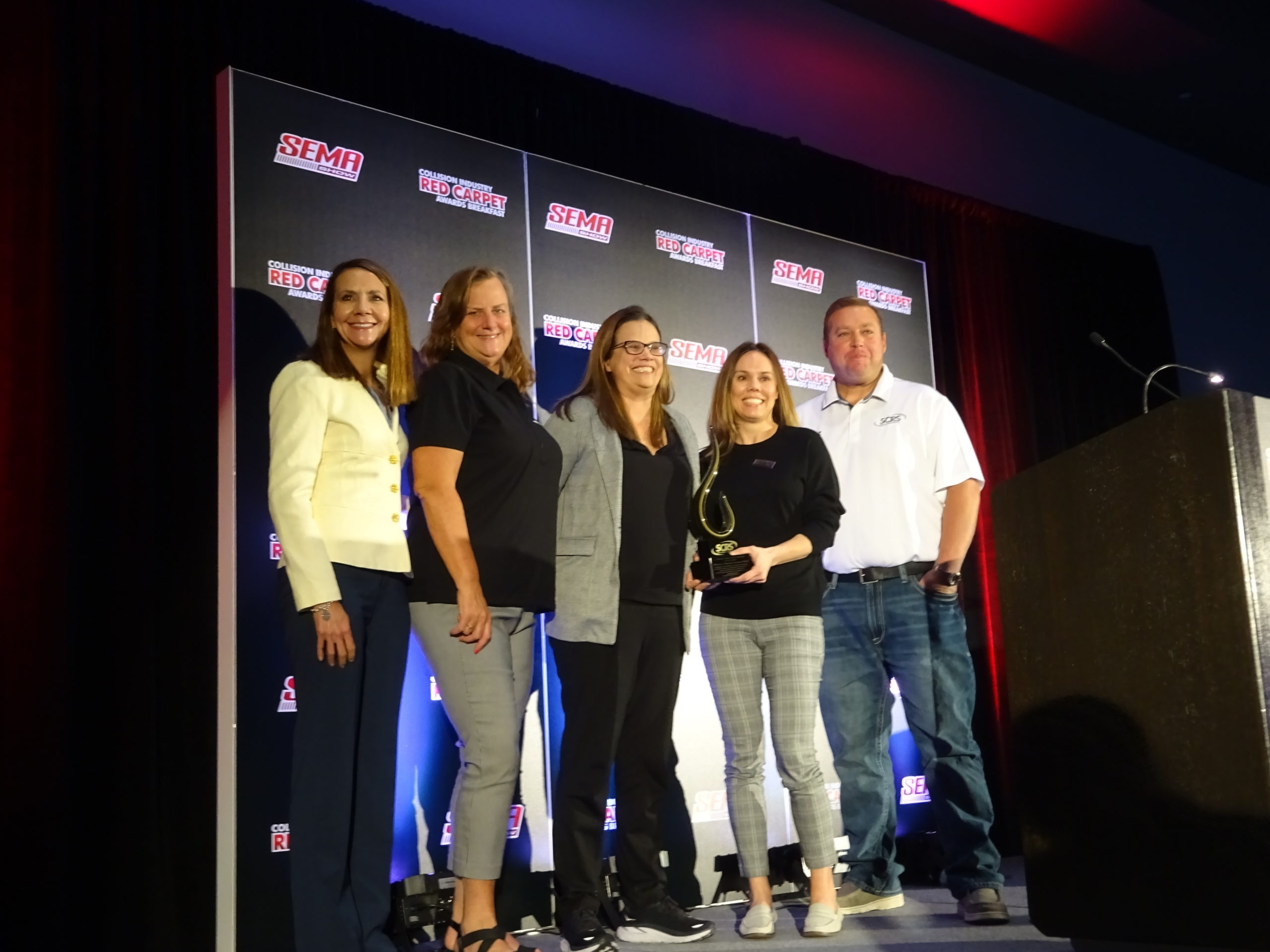 Wednesday morning. He noted that his dad, mom and cousins all worked in collision repair, but his mother is the only one still involved day-to-day … after 46 years.
"Training, education and scholarships, all things we treasure in the industry and they've exemplified that the last 20 years," said Bailey of WIN.
The WIN mission "is to support and enhance the role of women in the collision repair industry, promoting education, professional advancement and networking."
Collision Industry Achievement Award: Jeff Peevy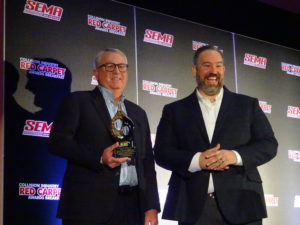 Peevy has over 20 years of executive experience in the industry and since 2020 has been the I-CAR Vice President of Technical Products, Programs & Services. Previous to that, Peevy was the president of the Automotive Management Institute since 2015 and from 2019-2020 was the chairman of the Collision Industry Conference (CIC).
Peevy was recognized for his efforts in refocusing industry discussion on the consumer, symbolized by an empty chair. Throughout Tuesday's CIC presentations at SEMA, an empty chair was placed beside the podium.
"The Collision Industry Achievement Award is usually given to someone who has done specific deeds or created specific products," said Aaron Schulenburg, SCRS Executive Director, as he presented the award. "It's really an individual who has taken an action to make this industry better; to do something that makes us all better as a result of it.
"I think everyone should be so lucky in their career – especially if they've been here many years or many decades – to be able to do something that really resonates throughout the industry in a really significant way.
"I think to be recognized by the collision industry for putting the consumer first is the most honorable recognition that we can get. It's what we're all obligated to do."
Peevy garnered a lengthy standing ovation from the almost 200 in the crowd.
"I didn't see that coming," Peevy said. "I will tell you this, and this is how I've heard it said: A repair is either right or it's wrong. We have a customer that has entrusted us to do their repair correctly. Full stop.
"We all have people who have given time to us in our career and made a tremendous impact. We have a lot of really talented young people coming into our industry – maybe not nearly enough – and we all need to do things with intent and make sure this new generation focused on quality repair."
Images:
Featured: There was almost a full house for this year's Red Carpet Awards Breakfast at SEMA on Wednesday (Dana Caldwell/Repairer Driven News)
Other images (top to bottom): Toby Chess and Marsh Taylor slides (SCRS); Jeff Kallemeyn; Kai Yeung, Barry Dorn, Kellemeyer; Yeung; Tom McGarry receiving award; Kim DeVallance Caron receiving award; Dan Webster receiving award; Cheryl Boswell receiving award; Carl Boyer receiving award; Scott Schaefer, owner of Schaefer Autobody Center; Kenny Hall receiving award; WIN board members receiving award and Jeff Peevy receiving award (Dana Caldwell/Repairer Driven News)
More information:
Collision industry organizations to honor industry leaders at Red Carpet Awards
SCRS invites industry to Red Carpet Awards Breakfast; event features AMI, BSB, CIECA, I-CAR, NABC honors
SCRS announces March Taylor Kina'ole award, rest of Red Carpet Breakfast honors
Share This: