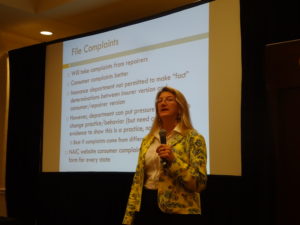 Attorney: Errant consumer advice points up need for clarity on auto insurance
By on
Announcements
Having collision damage repaired by a shop that's not in the insurer's preferred network is "similar to seeing a doctor who is out-of-network," a syndicated consumer affairs reporter recently advised his cost-conscious readers.
It's a simple way of describing the issue. Unfortunately, it's not accurate.
Unlike with health insurance, "your premium is not predicated on whether you agree to take your vehicle for repair to a network shop," said Erica Eversman, an attorney specializing in collision repair. "Instead, the presumption is that when you pay your premium, you will be taking your vehicle to any shop of your choice."
The difference may be well understood by collision repairers, but not so much by members of the general public, who tend to use their auto insurance infrequently. That can make misguided advice like the HMO analogy, contained in a consumer advice commentary carried by WCPO television in Cincinnati and other outlets, particularly detrimental to the car owner.
"It's a failure, I think on the on the part of the author" of the syndicated article, said Eversman, chief counsel for Vehicle Information Services. "That person took what was just available on the face of the information and did not dig further to find out what's going on. Is there a solution? Is this in fact true? Insurers really do this; do you have any recourse? And I think that that's a terrible disservice to consumers.
"And I hate to sound judgmental, because in complete fairness, insurance and how it functions is largely a mystery to most people," she said. "Besides that, I mean, let's face it, who can read those [policies]? I have a hard time understanding what it is that is actually being said in my policy," she said.
In the commentary, consumer reporter John Matarese offers advice to a woman who's gotten pushback from her insurer, Progressive, on a $7,000 estimate to repair her sideswiped Toyota.
"She brought it to a nearby shop because she heard they did excellent work," Matarese wrote.
"But her insurer — Progressive — balked at the $7,000 dollar estimate, [car owner Linda] Lewis says.
"'They keep telling me there are other shops in the area that would fix the car much cheaper,' she said.
"She didn't realize that this shop was not one of the insurer's preferred shops, sometimes known as in-network shops, that would do the job for $2,000 less."
Left unsaid is that the contractual relationship is not between the insurer and the shop, but the insurer and the insured. So when "the insurance company says, 'No, no, no, we're not fixing it for [the shop's estimate]. Here's our estimate, our shops down the street will do it for this,' technically, that has no merit whatsoever. And yet that information is not being conveyed to consumers," Eversman said.
One pointed question for insurers: Ask them whether they are opting to repair the car, or to pay to have the car repaired. They're not the same thing; by having the car repaired (called "elect to repair"), and dictating what work will be done and by whom, they're taking on the legal responsibility for any shortcomings in that repair work, Eversman said.
When insurers took the elect-to-repair route in the 1970s, "the insurers started getting sued for negligence because the vehicle had not been properly repaired, and they started losing those cases. They said, 'This was a terrible idea. We don't want to do this elect to repair thing anymore.'" So since that time, that's when they started building these preferred repair networks.
"What the insurers then sought to do was they sought to have complete and total control of the repair. And really the repair cost is what they really care about, obviously," Eversman said. "But they've also really inserted themselves now into the mechanism of the repair and everything else. Because for some reason they do not any longer seem to understand that they don't really repair cars, and they actually say things like 'our repairs,' and 'we repair,' whatever. So this is how you got the DRP program."
She said it's likely that when an insurer offers a settlement to the insured, they're not actually relying from an estimate from one of their network shops, and do not really know that the repairs can be done properly for that price.
Eversman asserted that "insurers have gotten so lazy that they no longer even go to the shops, network shops, and say, 'Will you fix it for this?' They just flatly tell the consumer, 'Shops will fix it for this.' So they have this phantom bid out there."
"Often," she added, "what ends up happening is the vehicle is not repaired for the amount of the insurance company's estimate. Rather, it may easily be repaired for far more than what the insurance company's estimate is. And sometimes it gets repaired for more even than the independent collision repair shop said it would it could be repaired for. So you have this gamesmanship on that."
Quoting the legal advice website nolo.com, Matarese offers the following advice to policyholders who disagree with their insurance company over the cost of proper repairs:
"Appeal to your insurance company. Ask the body shop to try to negotiate the price. Contact the state insurance department. Finally, call a lawyer who may be able to assist. If all else fails, you have two choices: pay the extra amount out of pocket, or take the car to a cheaper, in-network shop."
In Ohio, one of the markets where the consumer advice commentary ran, the state's Department of Insurance has a number of suggestions for policyholders who find themselves in a dispute with their insurance company over the cost of a repair.
"We encourage Ohio auto insurance consumers to contact us (800-686-1526, consumer.complaint@insurance.ohio.gov) with any insurance questions or concerns they may have. This includes filing an insurance complaint with us if they feel they have been unreasonably denied a claim or received a limited or reduced claim payment," a spokesman told Repairer Driven News.
The department outlines four steps for resolving a dispute:
1 . Your insurance company

The adjuster:

• Your first stop; adjusters evaluate damage and make settlement offers

The claims supervisor:

• Your next stop if you believe the adjuster's position is unreasonable or unfair

Appraisal or arbitration:

• Your policy provides for one or the other if the claims supervisor was unable to satisfy your concern

2 . Ohio Department of Insurance

• For free information about your rights and how to proceed with a claim; call the Department's Consumer Services hotline at 1-800-686-1526

• Written complaints are investigated to determine whether the company and / or agent have acted improperly

• Please note: the Department cannot settle factual disputes over who was at fault or how much the damage is worth

3 . Small Claims Court

• Your county small claims court can settle disputes involving $3,000 or less. In a typical case, you would sue the other driver, not his or her insurance company

4 . Private Attorney

• Consult an attorney whenever you need information about your legal rights and remedies
Eversman suggests that consumers take advantage of the information available at the website of the Automotive Education & Policy Institute, a nonprofit she founded in 2008. Among the resources is a list of questions policyholders should ask of their insurance company, their body shop and themselves when having repair work done.
One tool many policyholders can use is the "right to appraisal clause" (RTA) in their policy that sets forth a mechanism for resolving disputes. In this scenario, the insurer and the body shop provide their estimates, and agree on an "umpire" who will issue a third estimate. If at any time the two appraisers agree with each other on a price or either appraiser agrees with the umpire's total, then that's the amount the insurer owes.
This language can vary from policy to policy, and in some cases might not be present at all.
"Consumers have been making use of this (RTA) in the last several years with very good results for them. And the insurers don't like it," Eversman said. "So as a result many insurance companies are either taking the appraisal clause out of the policies entirely, or they may have changed their right to appraisal clauses to state that it only applies to evaluation decision for a total loss.
"But to the extent that it's your policy, you absolutely have the right to invoke the appraisal clause and you certainly can do so," she said.
More information
Eversman, Ebert: Auto insurers can dictate repair or pay for it, but not both
Images
Featured image: National Association of Insurance Commissioners consumer liaison Erica Eversman speaks during an April 17, 2019 SCRS Repairer Roundtable. (John Huetter/Repairer Driven News)
Share This: