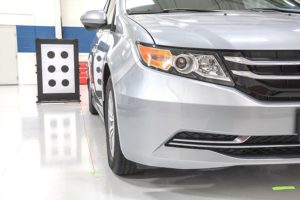 A bill that would require repairers and glass shops to meet or exceed OEM specifications when calibrating advanced driver assistance system (ADAS) components, but would seemingly also permit the use of aftermarket tools, glass and parts, is under consideration in the Illinois legislature.
House Bill 5409, called the Advanced Driver Assistance System Repair Act, would apply to any repair facility or glass company that conducts or approves glass repair, replacement or ADAS calibration.
The bill was filed on Jan. 28, one day after HB4719, which also contains provisions about ADAS calibrations and glass repair.
HB5409, filed by Democratic state Rep. La Shawn K. Ford (8th District), defines ADAS as "an electronic safety system designed to support the driver and vehicle while operating on roads and highways that is intended to increase vehicle safety and reduce losses associated with automobile crashes." It does not spell out specific components.
The bill would require a repairer to inform the customer if a calibration is required, and if it will be performed. If performing a calibration, the repairer must "meet or exceed the manufacturer's specifications," the bill states.
The glass company or repairer would have to provide the customer with an itemized description of the work to be done on the vehicle, and would have to notify the customer "the total amount the insurer has agreed to pay for the work."
Any glass or repair shop conducting a scan or calibration for glass repair or replacement on an ADAS-equipped vehicle would be "not limited to vehicle glass, tooling, or equipment dictated or recommended by the manufacturer's procedures or specifications."
One complication this language could open up is in the area of technology such as cameras and behind-the-windshield lidar, which General Motors intends to introduce with its Ultra Cruise hands-free driving technology. The designer of the lidar units has said that a specially-designed windshield must be used in order for the unit to function.
In addition, some shops have reported that several car dealerships have refused to calibrate an ADAS system when a windshield has been replaced with aftermarket glass. Ford, Subaru and Volvo are among the OEMs that have instructed repairers to use only OEM glass when replacing a windshield.
How a repairer would be able to meet or exceed OEM specifications while ignoring the OEM's specific instructions on replacement glass is not explained in the bill.
Under HB5409, insurance companies would not be required to pay "more than a fair and competitive price for the local market area," the bill states. It does not spell out how that competitive price would be determined, or by whom.
Repairers would be forbidden from representing to a customer that the repair, replacement or calibration work would be paid for by insurance unless the cost is "fully covered and approved by the insurer."
According to a "Who Pays for What?" survey conducted by Collision Advice and the CRASH Network in October 2021, insurers pay for calibrations 88% of the time.
Glass companies and repair shops would only be allowed to bill for repair or recalibration services that are performed and "necessary" — presumably as determined by OEM specifications, though that's not stated in the bill.
Anyone who knowingly offers a car for sale with an ADAS system that is inoperable or has not been calibrated to OEM specifications would have to provide written notice to the buyer. The bill would allow buyers to pursue civil claims if the information hasn't been disclosed, and imposes a $500 civil penalty.
The bill is similar to provisions of legislation enacted in 2020 in Utah around ADAS calibrations and glass repair. That bill, which amended Section 41-1a-1004 of the Utah Code, also requires that calibrations "meet or exceed the manufacturer's procedures or specifications," and allows repairers to use non-OEM tools, glass and repair parts in calibration work.
Brian Wojcicki, executive director of the Alliance of Automotive Service Professionals-Illinois (AASP-Illinois), said HB5409 "will need further review by industry stakeholders."
"During legislative negotiations last year in Illinois, Section 41-6a-1645 of this Utah legislation was referenced by Safelite as ADAS language they supported, which includes reference to a manufacturer's repair specification but contains some exceptions," Wojcicki said.
Illinois HB5409 overlaps to some degree with HB4719, filed with the Illinois legislature by Democratic state Rep. Elizabeth Hernandez on Jan. 27. That bill would require OEM specifications to be followed in all collision repairs, glass replacement and advanced driver assistance system (ADAS) calibration covered by insurance.
More information
Illinois House Bill 5409
Click to access Illinois-10200HB5409.pdf
Ill. bill would require OEM specifications to be followed in collision repairs
Tech firm CEO predicts automotive lidar technology is about to go mainstream
Share This: