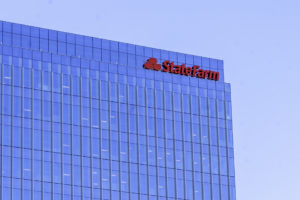 NAIC reports State Farm holds largest share of private auto insurance market
By on
Announcements
State Farm ranked No. 1 among private passenger auto insurance companies in 2021, according to the National Association of Insurance Commissioners' (NAIC) Property/Casualty Market Share report.
The association's 2021 market share data include nationwide direct written premiums for the top 25 groups and companies as reported on the state page of the annual financial statement for insurers that report to the NAIC.
As of March 1, when the report was released, total private passenger auto insurance had the largest amount of direct premiums written at $260.6 billion, or 32.89% of all written premiums, according to NAIC.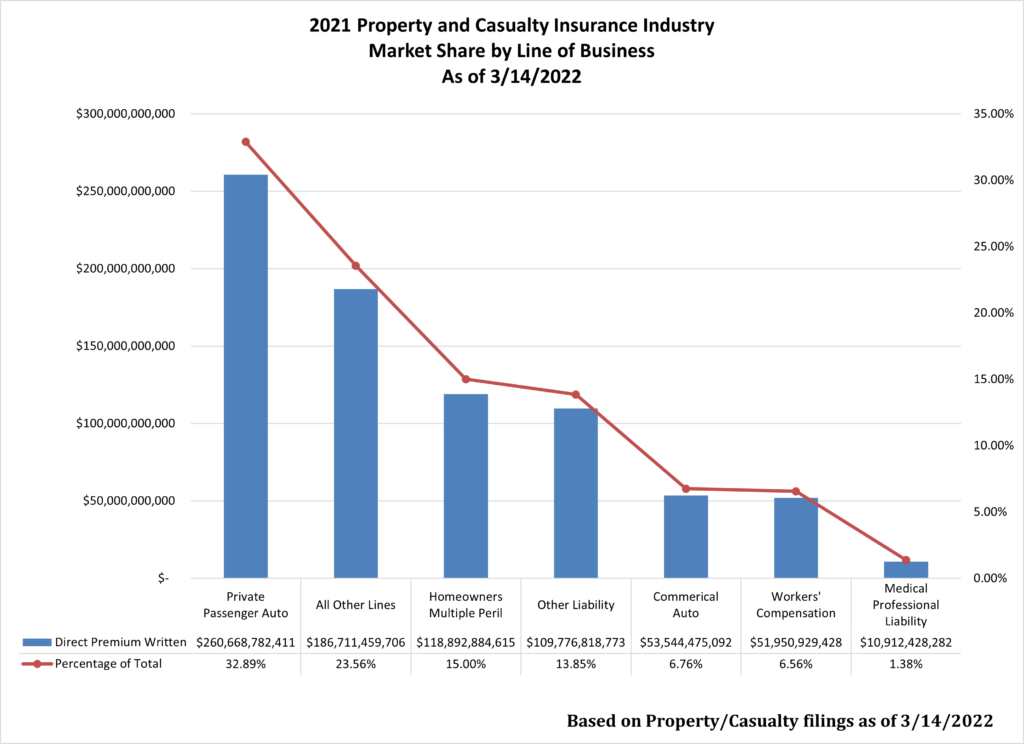 State Farm holds 15.98% of the market share, down 7.24% compared to 2020 NAIC data. Berkshire Hathaway Group, which owns GEICO, knocked Progressive out of the No. 2 spot holding 14.36% of the market, which also sent Allstate one spot further down the list to No. 4. Progressive and Allstate both hold less of the market compared to last year, down 6.23% and 4.55% respectively.
Both Progressive and State Farm saw net income drop in 2021 and hiked their rates, which the American Property Casualty Insurance Association (APCIA) attributes to the highest inflation increase in 12 months since 1982.
State Farm had yet to release its 2021 annual report as of Tuesday, but the company boasted "record growth in auto, home and life policies" in a Feb. 25 press release. "While experiencing record growth in auto policies, State Farm reported another year-over-year decrease in auto earned premium. The decrease in auto premium continues to reflect a focus on returning value to customers in the form of lower premiums when appropriate."
The release also notes that State Farm's auto insurance line made up 61% of its P&C companies' combined net written premium and earned premiums were $41.2 billion. Compared to 2020, earned premiums were down $100 million.
In its annual report, Berkshire Hathaway stated GEICO has seen a cumulative increase in voluntary policies-in-force of 26% over the past five years and in 2020, ranked second in the market holding 13.5% of the auto insurance industry.
"Underwriting results in 2021 were favorably impacted by reductions in incurred losses for prior accident years under property and casualty contracts," the report states. "Underwriting results in 2021 were negatively impacted by reductions in earned premium from the GEICO Giveback program, higher private passenger auto claims frequencies and severities estimates and higher losses in the life reinsurance business. Underwriting results in 2020 included the effects of the pandemic, arising from premium reductions from the GEICO Giveback program, reduced claims frequencies for private passenger automobile insurance and increased loss estimates for certain commercial insurance and property and casualty reinsurance business."
Auto insurance customer satisfaction
An October J.D. Power 2021 U.S. Auto Claims Satisfaction Study found that the increase in used car prices and advancements in straight-through processing has "driven customer satisfaction with auto insurance claims to a record high."
Overall satisfaction with the auto insurance claims process increased to 880 on a 1,000-point scale, up eight points from 2020, according to J.D. Power. "This is the fourth consecutive year of improvement in auto claims satisfaction, which has been driven by year-over-year increases in performance across five of six factors measured in the study: first notice of loss; claim servicing; estimation process; repair process; and settlement."
The Hartford ranked No. 1 with a score of 905 followed by Erie Insurance with a score of 901 and Auto Club of Southern California Insurance Group with a score of 897.
"Auto insurers are achieving high levels of customer satisfaction in claim handling, but they still have room to improve when it comes to providing clear communication pathways that match the customer's expectations," J.D. Power states. "New technologies and the growth in the number of total loss claims will put enormous pressure on traditional customer service and claims processing operations to create a more effective way to handle auto claims."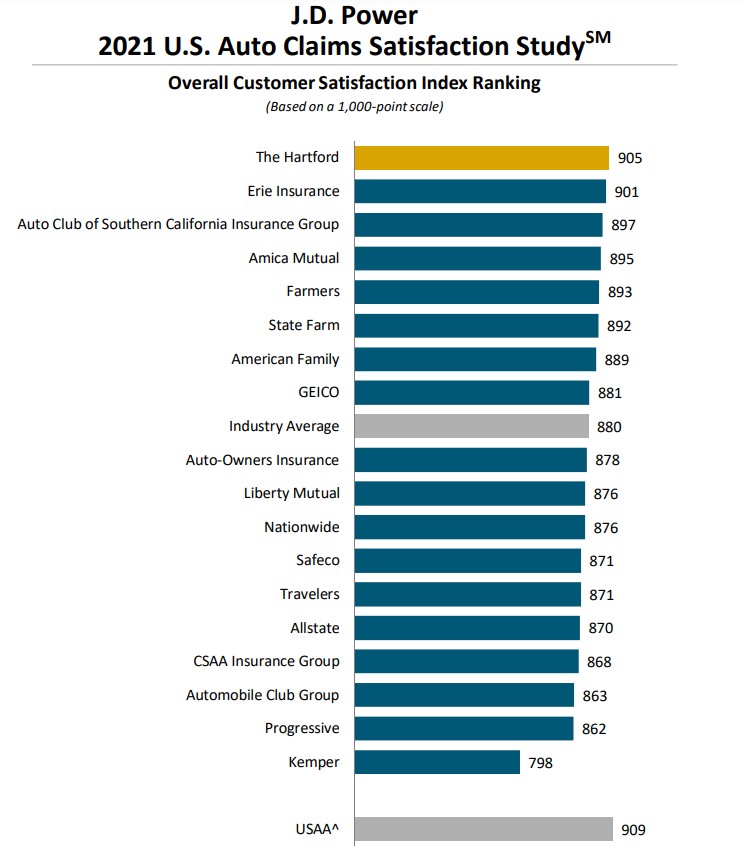 In CRASH Network's recently released annual "Insurer Report Card," which surveyed 1,153 collision repair shops, American Family and Travelers ranked the highest among the 10 largest and best-known insurers with a C+. USAA, Nationwide, Progressive, and Farmers each received a C; GEICO, Liberty Mutual, and State Farm were each graded C-, and Allstate trailed the pack with a D+.
Featured image credit: JHVEPhoto/iStock
"2021 Property and Casualty Insurance Industry Market Share By Line of Business" (Provided by NAIC)
"J.D. Power 2021 U.S. Auto Claims Satisfaction Study" (Provided by J.D. Power)
More information
NAIC market share data finds Progressive up to 13.3% of auto insurance premiums
Share This: