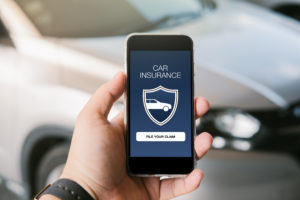 APCIA justifies auto insurance rate hikes
By on
Insurance
The American Property Casualty Insurance Association (APCIA) has released three reports detailing how insurers and policyholders are "experiencing strong upward pressure on insurance rates" following the highest inflation rate rise in a 12-month period since 1982.
APCIA attributes auto insurance rate increases to labor shortages as well as the cost of vehicle repairs and rental cars going up. Both Progressive and State Farm saw net income drop in 2021 and hiked their rates.
The Insurance Journal reports that Progressive saw a net income drop of about $3.35 billion, or 41%, from about $5.7 billion in 2020. In November, the company received approval for 38 rate hikes in 10 states adding up to a combined estimated total of $161.1 million in premiums that will be earned, according to S&P Global Market Intelligence.
State Farm reported its net income dropped from $3.7 billion in 2020 to $1.3 billion in 2021. The company states on its website that "auto insurance rates are increasing industry-wide" due to the rising cost and frequency of claims as more miles are driven, repair costs are up, and drivers are distracted.
The model is clear and consistent across the board – as costs go up, carriers are increasing their rates accordingly, which aligns with previous reports that despite reporting strong 2021 earnings, Allstate has also hiked rates on policyholders and plan to continue doing so.
APCIA reports that "the return of higher frequency coupled with significantly higher auto repair and replacement costs has heavily impacted auto insurance costs." While it may seem like part of the increase in repair costs has to do with higher labor rates for repairers to offset their own rising expenses, that's not always the case. For example, the creation of a special commission to examine auto body labor rates in Massachusetts has shown the insurance industry's perspective on labor rates – a push against paying shops more for labor with the justification that it's an effort to control costs for policyholders.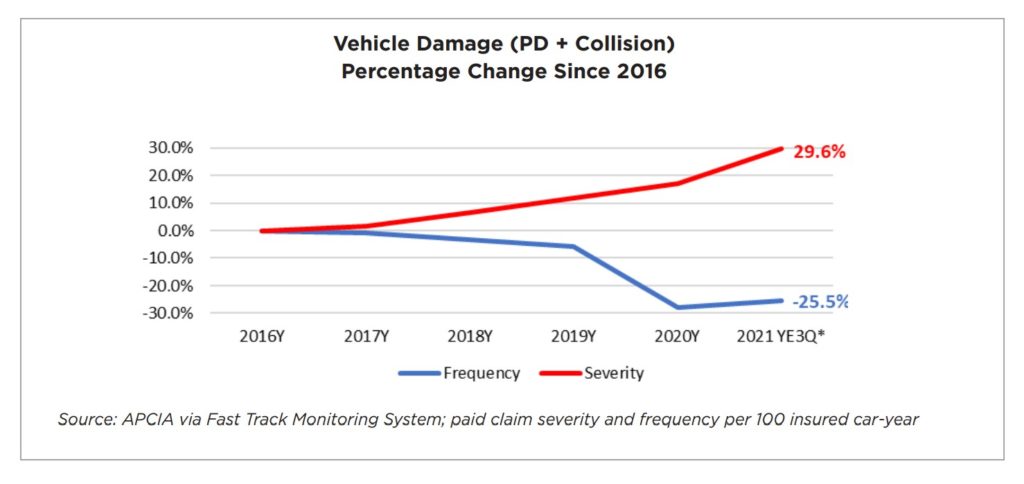 Auto insurance has been "particularly impacted" by increases in prices for new vehicles, which rose 11.8% in 2021 – the largest increase since 1975, according to APCIA. Prices for used vehicles also rose a record 37.3%.
"Higher rental rates combined with longer average repair times are also contributing to higher auto insurance costs," APCIA wrote. "The average length of an insurance replacement rental rose by 23%, from an average of 12.3 days in the third quarter of 2020 to 15.2 days in the third quarter of 2021."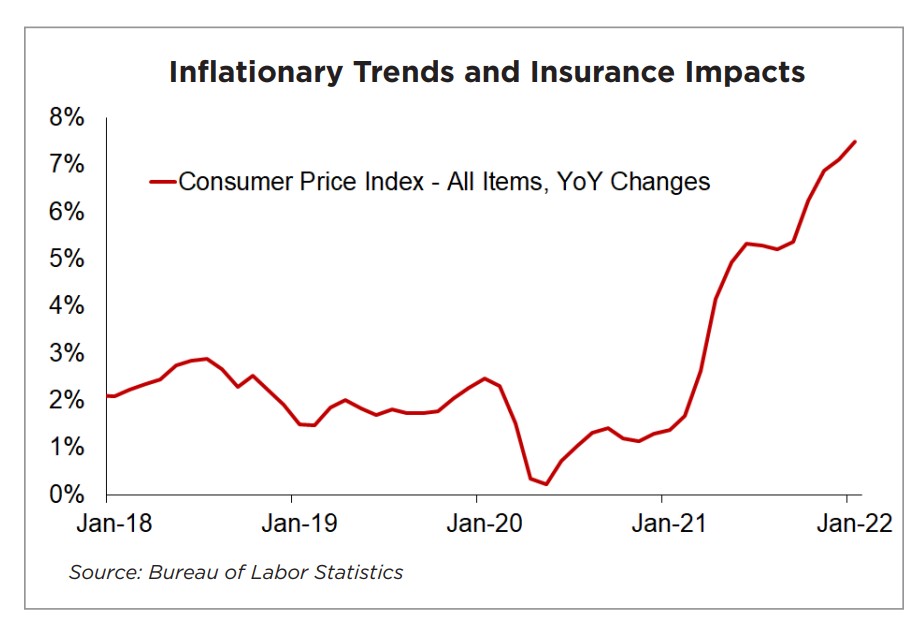 "Pent up demand, depleted vehicle and parts inventories and a series of global supply chain snafus in a post-pandemic era have created a myriad of issues rippling across the auto industry, which are leading to significant spikes in claims costs, whether needing to repair or replace a vehicle," APCIA states in its report titled "Auto Insurers Struggling to Keep Pace with the Highest Inflation in 40 Years."
Private passenger auto loss ratios spiked from 55.6% at year-end 2020 to 72.2% in the first three quarters of 2021, which APCIA attributed to to "riskier driving behavior" since the beginning of the pandemic including impaired driving, speeding, and failure to wear a seatbelt, which has led to an increase in fatalities. The APCIA's auto insurance report also notes miles driven during four of the last five months are within 1% of 2019 pre-COVID levels and auto claim frequency is on the rise.
"We urge people to drive safely, especially during this period when there has been a sharp increase in car crashes due to more reckless motorists on the road," said Robert Passmore, APCIA auto and claims policy vice president, in a statement. "This will reduce their risk of loss and avoid potentially lengthy repair times as vehicle parts become more difficult to source."
Private passenger auto liability direct losses spiked 13.9% in the third quarter of 2021 over the same period in 2020. "Insurers' direct written premium for auto only increased 3.1% during the same period, far below the rate of escalating losses," APCIA wrote.
Supply chain issues caused by port backlogs, natural disasters, trucker blockades at Canadian border crossings and "exponential growth" of global container freight costs also "posed additional challenges adding upward pressure on costs and extending lead times for delivery of goods, including critical auto parts and components." Frequency of comprehensive claims due to theft was also listed by APCIA as a factor in higher insurance costs.
"All indicators suggest elevated auto repair and replacement costs will stretch well into 2022 and potentially beyond. …As it relates to auto insurance costs, the bottom line is until vehicle production improves, restoring inventory in the new vehicle market, demand and in turn prices for used vehicles will remain at record levels. However, as new Coronavirus variants spread, including in key regions where semi-conductor chips are produced, auto manufactures around the globe will continue to struggle to bring supply and demand in balance."
IMAGES
Featured image credit: Stationidea/iStock
Vehicle Damage (Property Damage & Collision) Percentage Change Since 2016 (Source: APCIA) 
"Inflationary Trends and Insurance Impacts" taken from APCIA's "Insurers Struggling to Keep Pace
with the Highest Inflation in 40 Years" report
Share This: