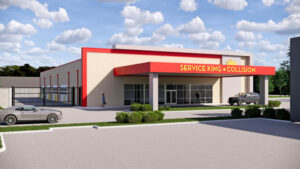 Service King secures $200M in new capital, sheds $500M in debt in deal
By on
Announcements
Service King has secured $200 million in new capital and cut its debt by more than $500 million in an agreement that will see Clearlake Capital Group become the majority owner of the collision repair chain.
Under the terms of the deal, announced Tuesday in a joint news release, Service King's existing funded debt maturities have been extended by five years to June 2027.
"With the support of its financial stakeholders, Service King expects to complete these recapitalization transactions on an expedited basis," the companies said.
Blackstone Inc., which has been Service King's majority stakeholder since 2014, will be exiting its investment, Service King told Repairer Driven News.
There will be no change to staffing or the number of locations as a result of the agreement, Service King told RDN.
The company said the $200 million in new capital is to be used for general corporate purposes and significantly improving its liquidity position. The debt reduction is primarily through the retirement of $375 million in notes, and other actions, the company said.
The announcement said the agreement with "key financial stakeholders" is backed by "substantially all" of Service King's bondholders, as well as the holders of 100% of its first lien revolving debt and at least 74% of its first lien term loan debt. A first lien loan is a secured form of debt that has first priority in payment in the event that a company is liquified.
Service King was declared in limited default by Moody's Investors Services on May 6 after failing to make an April 1 interest payment on its unsecured notes.
Moody's had previously noted that Service King had been facing "springing" maturities that would begin on June 1 in the event that more than $135 million remained outstanding on its loans.
"Moody's views Service King's current capital structure as untenable given the company's high financial leverage, weak coverage, and overall weak operating performance," the company said at the time. "Given these factors, Moody's expects Service King will likely execute a debt restructuring over the near term."
In a statement provided by Clearlake, José E. Feliciano, co-founder and managing partner of Clearlake, said, "We see significant opportunities ahead for Service King as the Company continues to deliver on its mission of being the national collision repair operator of choice across several of the country's fastest growing MSAs [metropolitan statistical areas]. We are excited to partner with Service King and its talented teammates and reinvest in the business to drive growth for the long term."
David Cush, Service King's CEO, called the agreement "an important step forward in strengthening our financial position by adding new capital and reducing our debt, positioning Service King to continue to grow and succeed over the long term."
"We are confident this recapitalization will allow us to further invest in the Company and our people, and enable Service King to continue delivering safe, superior auto body repair services to our customers across the markets we serve," Cush said in a statement.
The CEO thanked "our insurance carrier partners and vendors for their continued support, and our noteholders and lenders for their collaboration throughout this process and confidence in our business." He also thanked Service King's employees.
The joint statement said that Service King will continue normal operations at all service centers nationwide with no interruptions as a result of this transaction. The financial stakeholders have committed to support the transaction in all scenarios, subject to various conditions set forth in the comprehensive agreement.
Blackstone did not respond to questions from RDN by the publication deadline. Clearlake said it would not comment beyond the press release.
Service King has suffered from rising costs and labor shortages, according to Bloomberg News. Analysts say capacity in the collision repair industry has fallen by as much as 18% from pre-pandemic levels, primarily because of labor shortages.
During last year's third quarter, Service King maxed out its sources of credit and got a new $15 million loan from its sponsors to support operations, Bloomberg reported.
Service King's recent financial difficulties were highlighted in November, when Bloomberg reported that the company had warned its lenders that it was running out of cash and might not be able to repay its debts, endangering its ability to remain in business.
Citing unnamed sources familiar with the company's most recent financial results, Bloomberg reported that the company had $31 million in cash as of the third quarter, after drawing $72 million on its revolving credit facility and hitting its borrowing limit.
Sources also told the news organization that the company has entered into a sale and lease-back agreement with some of its real estate holdings, generating $66 million in gross proceeds.
The sources asked not to be identified because the results were private, Bloomberg reported.
Clearlake, an investment firm operating integrated businesses across private equity, credit, and other related strategies, says on its website that its focus is on "complex situations in small and medium-sized companies."
Founded in 2006, Clearlake currently has over $72 billion of assets under management. Its headquarters are in Santa Monica, California, with affiliates in Dallas, Texas; London, and Dublin.
Based in Richardson, Texas, Service King operates 335 locations in 24 states and the District of Columbia.
More information
Moody's finds Service King in limited default over failure to make interest payment
Report: Service King nears out-of-court deal to ease debt burden
Images
Featured image: An artist's rendering of Service King's facility in Sugar Land, Texas. (Provided by Service King)
Share This: