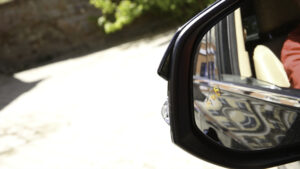 Tarik Bolat, CEO and co-founder of autonomous driving tech company GPR, wrote in an Automotive News opinion piece that many motorists turn off safety features, such as advanced driver assistance systems (ADAS), because they think they're not working properly.
Bolat also says drivers don't yet see the safety potential of ADAS and that the systems "as currently designed aren't working for consumers."
"While the industry works to enhance road safety tech to surpass the ability of human drivers, it must also change public perception to ensure users are comfortable — and confident — in fully and semi-autonomous systems," he wrote. "New technologies are enabling manufacturers to move at pace to address critical performance gaps, but consumer education must be brought up to speed to fully unleash the benefits of an autonomous driving future."
CCC Intelligent Solutions also explored this topic and found that "while the growing list of available safety features is sought by over half of drivers, many have a complicated perception of ADAS and its benefits." While 84% of drivers feel all ADAS features promote safe driving, 70% disable them, according to CCC.
"The reasons behind this vary, ranging from a belief that features were not working properly (41 percent), finding the noises/lights distracting (41 percent), or feeling the technology was not needed (30 percent)," CCC's 2021 Crash Course Midyear Report states. "The good news is that this is not the case for most as only slightly more than one-third of drivers (38 percent) turn off features regularly."
A survey of 290 consumers conducted for CCC found that 3 in 5 said they purchased a vehicle with ADAS "to keep me and my family safe." Despite this, 54% said they believe certain ADAS features can actually increase the chance of an accident.
Owners of ADAS-equipped vehicles are willing to pay for repairs of ADAS features but have high expectations, according to CCC. Seventy-one percent expect their ADAS "to work just as well as it did pre-collision, while one-quarter (24 percent) expect it to be slightly less effective." This points to the expectation most owners have of repairers to return vehicles to the condition they were in before they were damaged by following OEM repair procedures and conducting pre- and post scans as well as calibrating camera and sensor systems that ADAS uses to function.
In this year's Crash Course Midyear Report, CCC says the COVID-19 pandemic lowering traffic counts — leading drivers to speed and increasing accidents — tends to decrease the effectiveness of ADAS. "With traffic moving at higher speeds, ADAS may not be able to avoid a crash altogether."
CCC notes too that the $1.2 trillion federal Infrastructure Investment Jobs Act, among other items, authorizes U.S. DOT to mandate ADAS including forward-collision warning, automated emergency braking, lane-departure warning, and lane-keeping assist in all passenger vehicles.
"It also requires the DOT to update its New Car Assessment Program (NCAP) to establish performance test criteria for crash avoidance technology; create ratings to assess vehicle safety related to pedestrians and cyclists; and to establish roadmap to regularly update NCAP based on feedback from vehicle safety stakeholders," CCC says.
National Transportation Safety Board (NTSB) Chair Jennifer Homendy recently criticized the National Highway Traffic Safety Administration (NHTSA)'s  NCAP and said it "fails consumers" by not including collision avoidance and other safety technologies in its ratings.
In May, a Consumer Reports survey found that 47,000 of its members who own 2017-2022 model year vehicles "like car safety technology best when it helps them see what they sometimes can't, such as checking blind spots or obstacles hidden behind their vehicle."
Respondents also favored adaptive cruise control and lane centering assist, especially older drivers. According to Consumer Reports, "newer cars get higher satisfaction ratings, indicating that these systems are improving over time."
While more than half of respondents told Consumer Reports the two features make driving less stressful, Consumer Report Vehicle Technology Manager Kelly Funkhouser said it's important to understand "they're designed only to make driving easier."
"Some of these systems work really well at making driving less stressful, so it's easy to become complacent," she said in the CR article. "But as soon as drivers let their guard down, something could quickly go wrong with the system. The driver must stay vigilant and in control of the vehicle at all times."
A recent Insurance Institute for Highway Safety (IIHS) survey of more than 1,000 drivers focused on lane centering, automated lane changing, and driver monitoring found that consumer interest is strong but "drivers appear to prefer partially automated features that require them to stay engaged in driving," according to Alexandra Mueller, the survey's primary designer.
"For example, lane centering and automated lane changing come in 'hands-free' versions that allow drivers to take their hands off the steering wheel under certain conditions and 'hands-on' versions that require their hands always be on the wheel," an IIHS news release on the survey results states. "More drivers said they would prefer the hands-on version of the features."
Going back to Bolat's take on automated technologies, he wrote that he believes "automated vehicles will soon meet consumer needs."
"AVs [autonomous vehicles] of the future hold the potential to surpass human drivers in safety and efficiency. With new, enhanced sensor systems, advanced driver-assistance technology can be an important accelerant of full autonomy. However, none of the benefits will be recognized without consumer buy-in, and, by extension, consumer education."
IMAGES
Featured image credit: Media Whalestock/iStock
Share This: