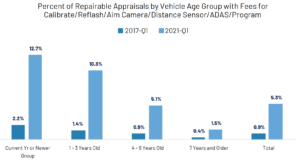 CCC reports on most common calibration line items as average fees rise
By on
Announcements
The percentage of estimates for repairable vehicles in the first quarter of this year that included a line item for a system calibration was up more than five-fold from the same period in 2017 – and the average fee per calibration estimate line has risen to $244.
That's among the data CCC intelligent Solutions shared in its recently-released 2021 Crash Course Midyear Report.
Despite the jump in calibration line item frequency, still relatively few estimates include a fee for such work, according to CCC's reported data, which generally includes only direct repair program appraisals. Just 5.3 percent of all repairable vehicle appraisals in the first three months of 2021 included a charge to aim a camera or sensor, program or reflash a system, or perform a calibration. That was up from less than 1 percent in early 2017.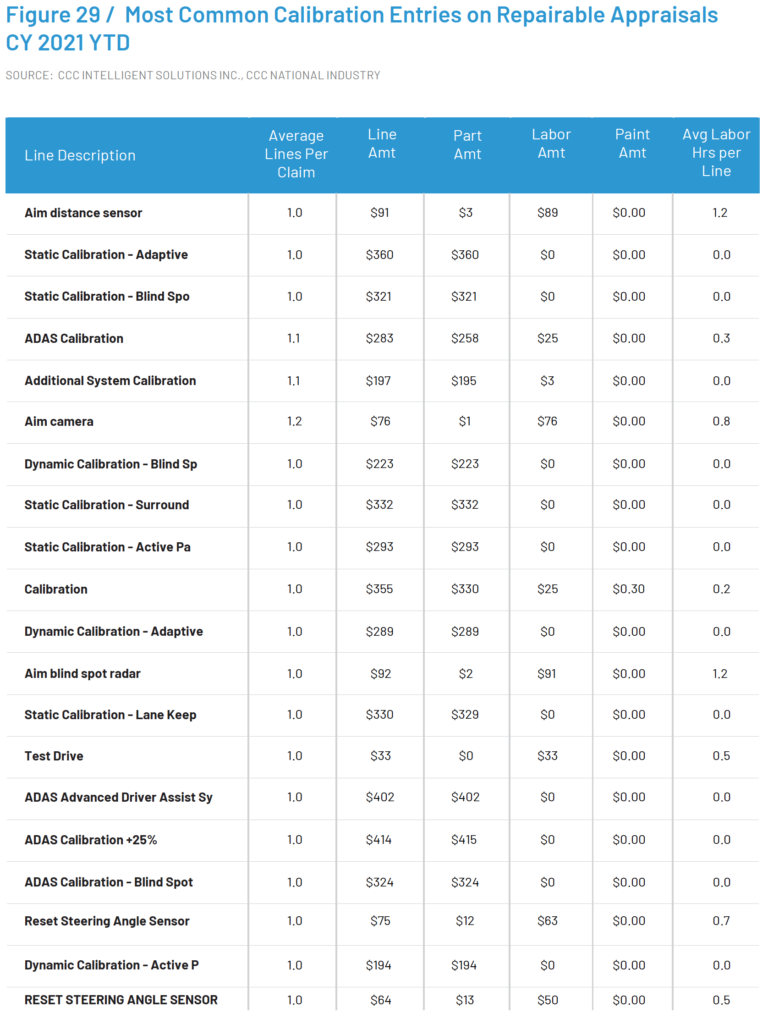 To be clear, that data includes all ages of repairable vehicles being appraised. But even looking at only the current year or newer vehicles, just 12.7% of appraisals included a calibration line item with a fee.
"Among the most common calibration entries so far in 2021, 'aim distance sensor' appeared most often, with an average fee of $91. followed by 'static calibration – adaptive cruise control' for $360," the CCC report states.
Another data point of note within the CCC report: The length of time to repair electric vehicles is significantly longer than average number of days to repair vehicles with internal combustion engines.
As measured in days from the point at which repairs actually begin to when they are completed, drivable vehicles with traditional powertrains averaged 7.3 days for the 12-month period ending with the first quarter of this year, according to CCC. That was true of hybrid vehicles as well, but repairs to fully electric drivable vehicles averages 9.7 days.
The difference was even more dramatic for non-drivable vehicles. They averaged 14.2 for vehicles with an internal combustion engine, 14.9 days for hybrid vehicles, but a whopping 23.5 days for electric vehicles.
"Like anything, with more time on the market and more experience, technicians' learning curve is expected to improve," the CCC report states.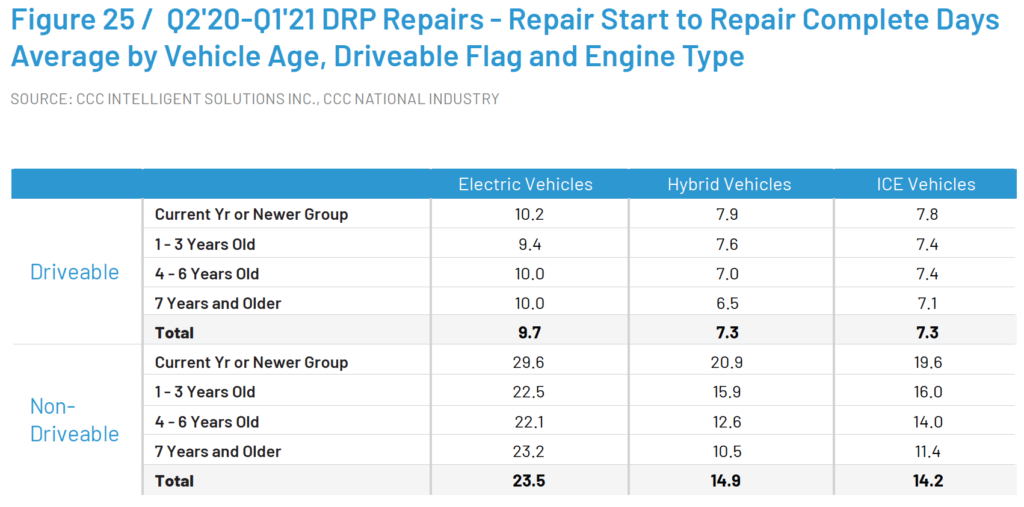 The report also includes a section related to consumers' perspectives on ADAS. A survey of 290 consumers conducted for CCC found that 3 in 5 said they purchased a vehicle with ADAS "to keep me and my family safe." Despite this, more than half (54 percent) believe that certain ADAS features can actually increase the chance of an accident.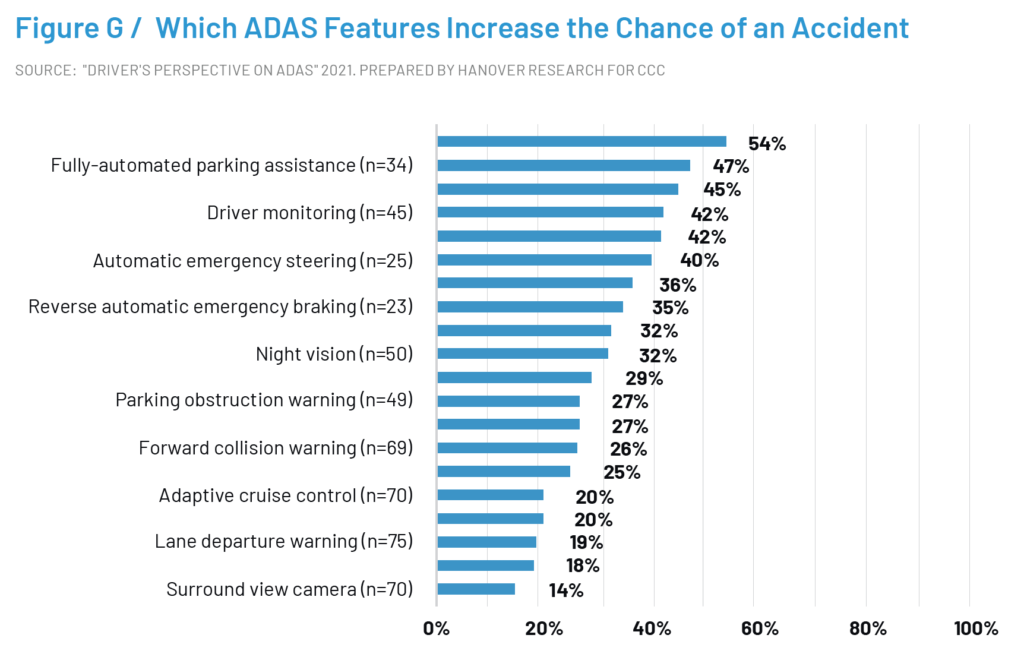 About two-thirds of the drivers said they have the ability to disable some driver assistance systems, and among those, 70 percent actually have done so.
"The reasons behind this vary, ranging from a belief that features were not working properly (41 percent), finding the noises/lights distracting (41 percent), or feeling the technology was not needed (30 percent)," the survey found. "The good news is that…only slightly more than one-third of drivers (38 percent) turn off features regularly."
Drivers ages 35-44 are more likely to regularly disable ADAS features than those both older and younger, the survey found.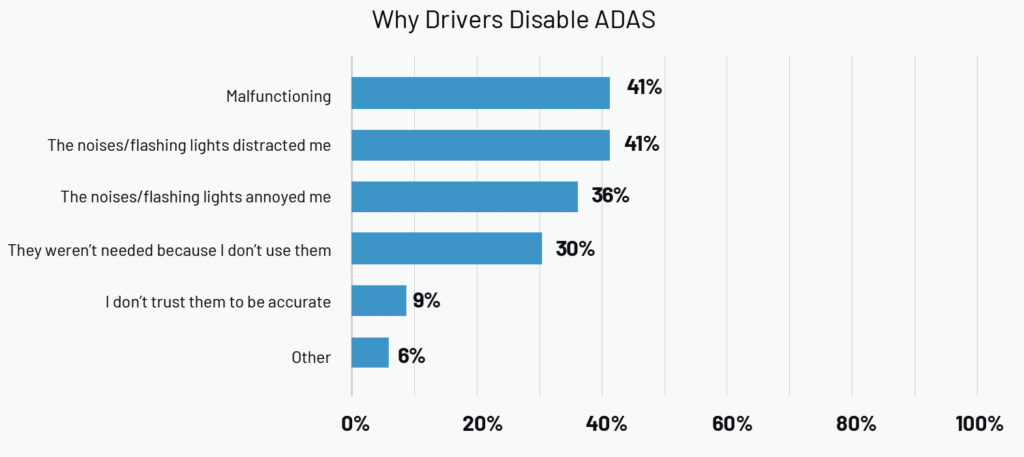 More Information:
See how auto body industry worked, earned during pandemic with CCC's 2021 'Crash Course"
https://www.repairerdrivennews.com/2021/03/17/see-how-auto-body-industry-worked-earned-during-pandemic-with-cccs-2021-crash-course/
Leave ADAS off if customer did? Expert, attorney say no
https://www.repairerdrivennews.com/2021/04/30/next-gen-2022-honda-civic-includes-stronger-stiffer-body-more-airbags/
Mitchell: 50% estimates have scans; calibration rates rise to 8.51% on newer models
https://www.repairerdrivennews.com/2020/09/16/mitchell-50-estimates-have-scans-calibration-rates-rise-to-8-51-on-newer-models/
Mitchell: Part replacement, longer cycle time more likely on electric vehicles
https://www.repairerdrivennews.com/2020/12/31/mitchell-part-replacement-longer-cycle-time-more-likely-on-electric-vehicles/
Images: Provided by CCC Intelligent Solutions
Share This: