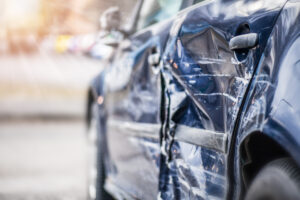 A recent Society of Collision Repair Specialists (SCRS) Consumer Tip video addressing supply chain challenges made a mainstream media appearance, picked up by an NBC affiliate in Los Angeles.
The video discussed why collision repairers can't get answers from parts suppliers on when backordered, or backlogged, parts will be available so they can get vehicles repaired and back to their customers.
"Collision repairers have had to modify the way that they normally conduct business," said Anderson, CEO of CollisionAdvice.com. "[C]ollision repairers have a lot of uncertainty in determining what parts are available and when they'll be available for your vehicle."
To avoid having customers' cars sit at the shop for weeks or months waiting on parts, and depleting their rental coverage for nothing, repairers may ask if they can conduct a partial disassembly to find out which parts are needed and then put it back together, if it's safe to drive with the collision damage, until the parts have arrived, Anderson said. Another option is to complete the repairs minus cosmetic parts, like emblems or moldings, which can be added on later.
SCRS recently told NBC Los Angeles one cause of the delay is supply chain disruptions, which have been going on for more than a year and are completely out of the control of the repair professional.
Todd Hesford, an SCRS national director and owner of Community Collision Centers in Mission Viejo, California, said during the three decades he's worked in the collision repair industry he's never experienced these types of delays.
"Your biggest, trusted, strongest manufacturers couldn't come up with their parts," he said. "Not to their own fault. It was just issues of getting things logistically around the world; from bumpers, headlights, fenders, doors — stuff that's pretty common in the collision industry."
The only solution Hesford has found so far? Driving to get the parts — hundreds of miles, often out of state or even the country — every week. While working temporarily, he noted it isn't sustainable.
"We've gone everywhere from two miles north of the border, to dealerships we never heard of before, to Santa Barbara, out to San Bernardino," he said. "We've driven to Las Vegas three times."
Kelley Blue Book Editor Brian Moody told NBC consumers should consider taking a look at the rental coverage they have in their insurance policies in addition to having partial repairs for safety done first and cosmetic later. He said it's best to pick a plan that pays out a flat dollar amount instead of those that cover the rental cost for a set amount of days.
"Say if they gave you $500 versus 30 days — you may choose to use that money in a different way, as opposed to just going down to the local rental car place and paying whatever," Moody said.
In a November SCRS Consumer Tip video, Gredinberg and Anderson also said collision repair customers should know what their policies cover for rentals. Will it be for the entire length of repairs regardless of how many days or only up to a certain dollar amount? Also, should separate insurance coverage be purchased through the rental car company in case of an accident, or will your primary policy cover an accident?
They said if you're the claimant, meaning you aren't at fault for the collision, you are entitled to a comparable vehicle, such as one similar in size, to yours that is being repaired. And before hitting the road in your rental, make sure to inspect it to ensure that you're not blamed for prior damage or issues.
Earlier this month, Enterprise reported length of rental (LOR) increased to 18.7 days during Q4 2022 and was nearly double compared to pre-pandemic April 2019 when LOR was 11.8 days.
"While Q4 2022 continued with the return of historical trending, the results themselves continue to be exacerbated by supply chain disruptions, parts delays, collision repair backlogs, and technician shortages," Enterprise said. "With the complexity of vehicle repairs only increasing, for both internal combustion engine (ICE) and battery electric vehicles (BEV) models, the entire industry must play a part in ensuring all collision-related businesses are aligned — not just for procedural solutions, but to ensure our mutual customers receive safe and proper repairs, an excellent experience and peace of mind."
LOR in Q4 2022 was up one half-day over Q3 2022 and 1.7 days compared to Q4 2021.
CBS 19 reports that repairs on vehicles damaged in collisions during ice storms, or from falling tree limbs, in Texas likely won't be completed for two weeks to two months.
"Right now I think we're averaging about 16 to 18 days, just like a rough average," East Texas Collision Repair General Manager David Butron told CBS.
However, when it comes to parts that affect safety, damaged cars could be sitting in shops until the backordered part arrives because repairers can't let consumers drive unsafe vehicles that they've already completed most of the repairs on.
"In this case this truck is fully assembled and apparently ready to go it's just missing one little air bag sensor," Butron told CBS. "That little air bag sensor is what's keeping it here, and it's been here for a good two months."
Tyler Ford, LTD Body Shop Manager David Sorge told the news station his shop is taking an average of two months to complete repairs because of parts delays.
"Some things in paint," he said. "Some of the chemicals for paint gets on backorder and we have to substitute and we end up creating and messing with the colors and it just turns into a nightmare."
Another example of delayed collision repairs comes out of the Jackson metro area in Mississippi, according to WLBT News. Repairs that used to take less than a week are now taking weeks, according to customers WLBT spoke to.
Freeman's Auto Repair technician Josh Malone told WLBT the delays aren't specific to certain parts or vehicles; it can be an issue at times and at other times, it isn't — "it just comes and goes," he said.
The Specialty Equipment Market Association (SEMA) sees impacts improving throughout the year, according to its Future Trends 2023 report. SEMA predicts the U.S. economy may experience a mild recession by Q3 but "should bounce back quickly in the first half of 2024."
The association's market research, detailed in the report, found that producer prices have likely peaked and are set to improve throughout the year.
"By the end of 2023, prices should return to more normal levels," the report says. "The supply chain issues that impacted the United States over the past few years largely peaked and are starting to recover. It's expected things will continue to improve in 2023. However, it will take time for everything to recover, especially for supplies that affect the automotive sector like semiconductors (or chips)."
Images
Featured image credit: Milan Krasula/iStock
More information
Parts shortage, supply chain disruptions continue to affect new car production, parts availability; How OEMs are setting the pace
Share This: