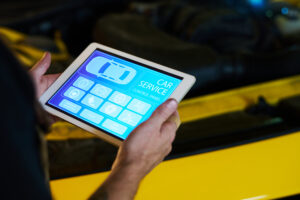 EV infrastructure investments continue as industry tech shortage continues
By on
Market Trends
As various levels of government continue investing in infrastructure to support electric vehicle (EV) growth, a looming shortage of automotive technicians needed to service them is being highlighted.
On Wednesday, the federal Department of Transportation announced that under President Joe Biden's administration, $100 million in funding was being made available to replace and repair existing but non-operational EV charging infrastructure. 
"Under President Biden's leadership, America is leading the electric vehicle revolution," U.S. Transportation Secretary Pete Buttigieg said. "This funding represents the latest step toward building a convenient, affordable, reliable charging network that reaches every corner of our nation." 
The $100 million is just a fraction of the federal government's total EV infrastructure investment.
It's part of the first round of funding allotted through the $5 billion National Electric Vehicle Infrastructure (NEVI) Formula Program, which was rolled out to help states build out EV charging sites.
"Charging your electric vehicle should be as easy and convenient as filling up a gas tank – and this investment will make our EV charging network more reliable, full stop," said Federal Highway Administrator Shailen Bhatt. "We're building a bigger EV charging network to keep up with driver demand, and we're also going to make sure the currently available network is working when you need a charge."
On the same day the funding was announced, The Drive published an article detailing how an ongoing auto technician shortage could feed into a shortage of auto technicians qualified to work on EVs.
The article noted that of the 655,000 Americans employed in auto service in 2019 just 1.4% are certified to work on EVs. Given that EVs currently account for about 1% of U.S. vehicles, that hasn't been a problem yet but could spiral into one as EV market share grows, it added.
"It's just too soon to say whether the mechanic shortage will translate as directly into an EV technician shortage, and if it does, how soon," the article said. "Automakers themselves are funding training programs that will first feed their own warranty service networks, and indirectly, the larger industry. 
"But it all starts with a young person interested in picking up a wrench, and somebody's gotta pay for that wrench."
As the article indicated, automakers have spearheaded programs to help train future workforces. For instance, Hyundai announced in April that it would partner with Savannah Technical College to develop a new EV training program to give students a shot at being hired by the automaker.
In January, Enterprise Holdings, through the Enterprise Holdings Foundation, partnered with the Ford Motor Company Fund to add a seventh college to the Collision Engineering Program (CEP).
CEP is a national workforce development program founded by Enterprise Holdings and Ranken Technical College that offers a two-year apprenticeship to attract and develop entry-level talent to fill essential roles in the collision repair industry.
Meanwhile, General Motors launched its Shifting Gears auto tech training program in 2014 to help soldiers transition into civilian life while building successful careers as GM service technicians. Kia launched an apprenticeship program to help military veterans become qualified OEM technicians, joining other automakers including Hyundai, Mercedes-Benz and Ford in establishing such veteran-focused initiatives.
But while companies with a vested interest in ensuring they're prepared for future needs are investing in EV training, the public sector has largely focused on funding infrastructure growth instead.
In May, Florida's government rejected a $2 million budget request to develop an EV workplace training that the proposed bill said would have helped those "underemployed, underserved, and underrepresented" communities pursue careers in EV repair.
Florida has the second-largest number of EV registrations in the nation, falling only behind California.
There have been EV training programs in Florida funded by the private sector. In early 2022, Universal Technical Institute (UTI) began offering an electric vehicle certification curriculum as part of its 15-week Ford FACT (Ford Accelerated Credential Training) program at nine campuses, including one in Orlando, Florida.
It's no secret that the workplace shortage isn't restricted to auto technicians.
A 2022 Techforce Foundation study found that 232,000 techs were needed in 2021 across the automotive, diesel, and collision repair industries but schools were graduating only 42,000. In collision alone, the demand was 35,000 techs while only 4,500 graduated.
To usher 1 million new entry-level automotive, collision, and diesel repair technicians into the industries over the next five years to meet the looming workforce demand, TechForce Foundation recently launched a new technical education campaign, "Grab the Wheel."
An upcoming Repairer Driven Education (RDE) panel at this year's SEMA Show will address the talent shortage and how repair facilities can get ahead of it. 
The Society of Collision Repair Specialists ISCRS) issued a reminder this week that early bird registration is still available for RDE sessions until Sept. 29. This year's SEMA Show runs Oct. 31 through Nov. 3 in Las Vegas, Nevada.
Those interested in learning more about the show or planning to register can do so online. To learn more about SCRS' education series during the show, click here.
Images
Featured image: shironosov/iStock
Share This: