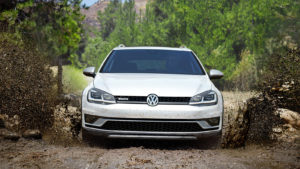 Volkswagen this summer gave a little context into how its Front Assist autobraking with pedestrian monitoring works, and it's worth a look by collision repairers.
Shortly before Volkswagen announced plans to incorporate the technology standard on "nearly all" 2020 models, it described the system in a July 29 news release.
Volkswagen said its Front Assist, which includes collision alerts, autobraking and pedestrian autobraking, relies upon a "a small radar, a narrow square a few inches on each side that discreetly fits behind the Volkswagen emblem on the front of the vehicle."
It doesn't appear to need a windshield-mounted camera to work, and Volkswagen said the radar can protect the vehicle or pedestrians day and night.
"Able to work in daylight or darkness, the radar sweeps points located in an area within about 35 degrees and up to about 400 feet ahead of the vehicle hundreds of times per minute," VW wrote. "The system then analyzes the data from the radar for the specific 'signature' of pedestrians that are about to cross in front of the vehicle or walking away from the vehicle inside the vehicle's path. …
"It is important to note that Pedestrian Monitoring may not work in all conditions and environments, for example when the radar sensor's vision is blocked by dirt or snow; it can only function within the laws of physics But the radar technology can offer improved awareness of pedestrians in fog or harsh sun glare where a driver's vision might be hindered."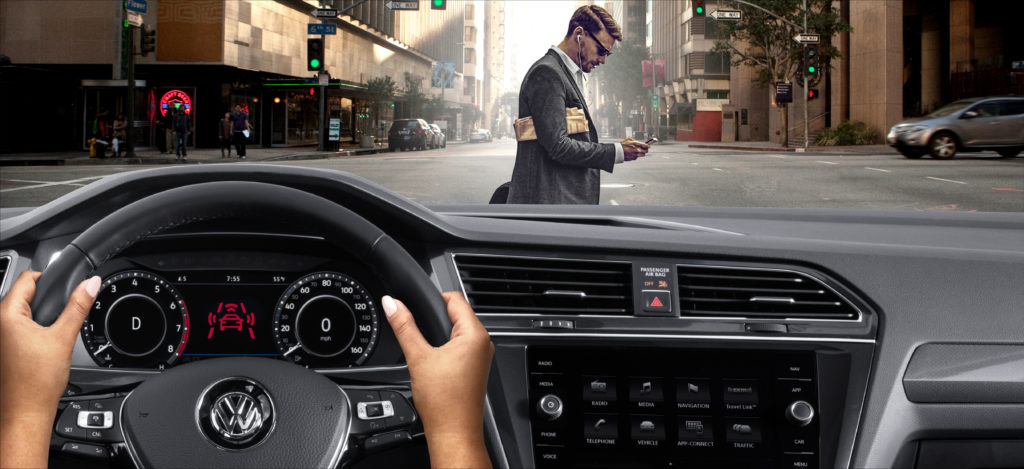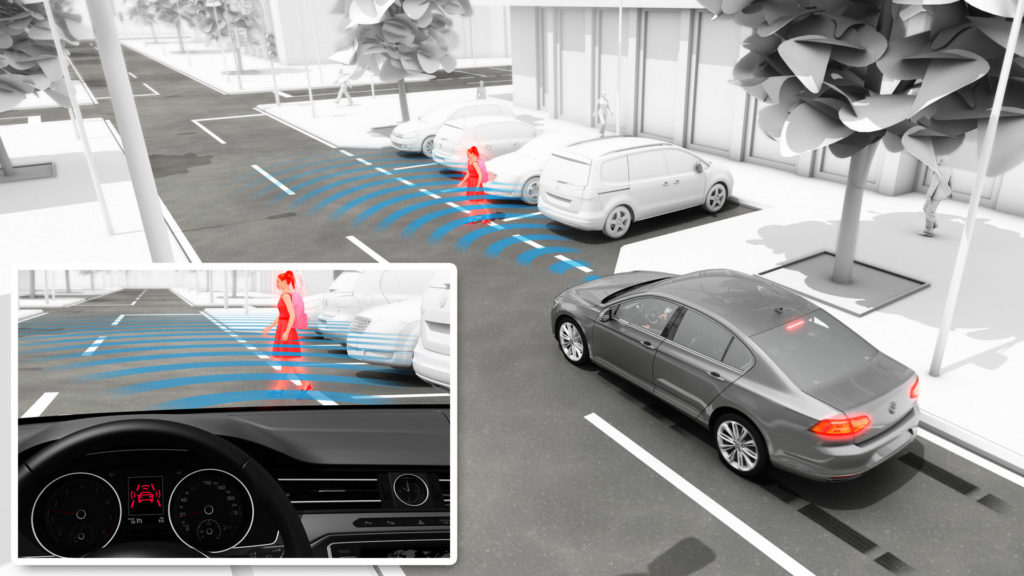 The explanation of the system's functionality would seem to suggest ramifications for the restoration of the physical damage as well as the vehicle's electronics. One can imagine the part being seated at an incorrect angle or being accidentally obscured if a shop isn't careful, for example.
The stakes of a repair intensify when an OEM adopts a system that protects parties other than the person who bought the vehicle. The pedestrian that was supposed to be protected but wasn't in a subsequent collision probably won't be assuaged by excuses like "the customer told me to" or "the insurer wouldn't pay."
Volkswagen on July 29 said every 2019 Volkswagen model except the Beetle, Jetta and Passat has Front Assist with pedestrian monitoring standard or as an option.
It's already standard on the 2019 Arteon, Atlas, Golf, Golf Alltrack and Golf R and standard on all but the base trim on everything else — perhaps most notably the Tiguan, Volkswagen's No. 1 seller as of the half-year mark.
The auto industry nearly unanimously pledged to offer autobraking by 2022, but throwing in pedestrian protection goes beyond the terms of the voluntary agreement with regulators. However, the Insurance Institute for Highway Safety said it will add pedestrian autobraking to its Top Safety Pick and Top Safety Pick+ ratings next year.
More information:
"NEWSROOM : HOW PEDESTRIAN MONITORING HELPS IMPROVE YOUR VIEW AHEAD"
Volkswagen, July 29, 2019
"MODEL YEAR 2020: NEW TECHNOLOGY ENHANCES THE VOLKSWAGEN LINEUP"
Volkswagen, Aug. 6, 2019
Volkswagen OEM repair procedures
Images:
The 2019 Volkswagen Golf Alltrack carries Front Assist, which includes autobraking with pedestrian detection, on all trims. The radar is housed behind the emblem on the grille. (Provided by Volkswagen)
Volkswagen Front Assist, which includes autobraking with pedestrian detection, relies upon a radar housed behind the emblem on the grille. (Provided by Volkswagen)
Share This: