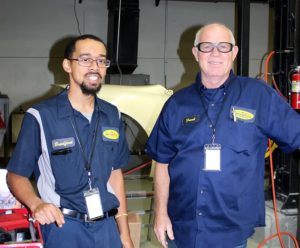 CREF said Friday that Service King teams took home the gold and bronze at the organization's inaugural Top Tech Competition, which pitted mentor-mentee teams from auto body shops nationwide against each other.
Competition developer Christen Battaglia, Collision Repair Education Foundation director of strategic partnerships congratulated the teams. "Their energy and expertise is a shining example of how collision industry mentoring programs help new technicians succeed," she said in a statement.
The unique event — think SkillsUSA, but for actual industry professionals — at St. Louis, Mo.-based Ranken Technical College tested repairers and their mentors "on competencies the industry has deemed necessary for an entry-level technician," according to CREF. The entire industry was invited to participate.
Mentees had to be two years or less out of a college or technical high school collision program or enrolled in a such a program now.
Nuts-and-bolts details on the competition demands and judging itself were unavailable Friday. But CREF prior to the event released a list of skills competing technicians were expected to know, such as:
• Damage analysis
• Supplement writing ,ability to read and understand the manufacturer's guidelines (AllData)
• Disassembly and reassembly, part/hardware organization
• Nut, bolt and clip recognition
• Ability to inspect work and QC
• Checking lights, sensors and functions
• Final vehicle checks
• How to identify and remedy wind, water and air leaks
• Electrical testing of circuits and wiring repair
• Corrosion protection
• Removing spot welds
• Draining radiators and discharging ac systems; Vacuum filling radiators and charging ac systems
• Set up and measure on frame rack and floor pull set up
• Tram measuring and reading/following manufacturers measurement specifications
•  Repairing bumpers
• Sheet metal adjustment and fit
• Small dings and dents
• Medium sized metal and filler work, metal shrinking
• Weld on panel mapping, removal and preparation
• Resistance welding
• Plastic welding
• Plastic repair with epoxy
• Introduction to mocking up and fitting weld on outer panels
• Demonstrate the ability to replace bedsides and door skins from start to finish (resistance welding only)
• Basic knowledge of outer weld on panel joints
The competition highlights the notion of a shop making an effort to develop technicians rather than just throwing them at the job.
---
Learn how to develop technicians at Repairer Driven Education
Interested in building your own technicians to have better control over your ability to meet body shop workforce needs (and win the next CREF competition)? Learn how to do so at SEMA with Tim Ronak, Charlie Whitaker and Jeff Baker of AkzoNobel at "Create an in-house technician development program." And until that program is in place, discover how to "Offset tech shortages with improved efficiency" featuring Shelia Principio of BASF; DeWayen White of Tom Bush Auto-Plex and Tommy Daniels of BMW. The sessions are part of the Society of Collision Repair Specialists Repairer Driven Education Series running Nov. 4-8. Register here for individual courses or the series pass package deal, which includes the entire week of classes, all three parts of the OEM Summit, IDEAS Collide and the Nov. 7 Sky Villa afterparty.

---
During the April Collision Industry Conference that saw the Top Tech event announced, CREF trustee Kyle Holt (S/P2) said 42 percent of students across all three transportation trades (automotive, collision and diesel) leave their industry within the first two years.
"That is not sustainable," Holt said.
However, mentoring increases retention a whopping 77 percent, according to Holt.
An informal audience poll at the CIC found 30 percent reporting no mentoring had occurred in their shop/company over the past two years. Another 44 percent said they'd mentored between 1-10 employees, while 22 percent had mentored more than 20 during that time.
The government's registered apprenticeship program also finds employers making $1.55 for every dollar they spend, Roxann Griffith of the U.S. Department of Labor told the July CIC. The apprentice is bringing in revenue through their work, even if they're not up to the level of a traditional employee, she said. (It's unclear if this ratio is padded by funding contributed by the government, but you get the idea.)
The winners
A Leander, Texas, Service King fielded the winning team: mentor Frank Allen and technician Bradford Amison, a WyoTech alumni who's been mentored for two years. Their success brought each of them $2,500 and their shop an $8,000 Chief PNP90 rivet gun.
"Allen, who has been mentoring young technicians for over 20 years, feels strongly that with a good mentoring program we are able to encourage individuals to enter and become skilled in the trade," CREF wrote in a news release.
Service King has been growing its own technicians with an apprenticeship program for a while, with the first class graduating in 2016. In fact, a 2015 Dallas Morning News article on the program featured Ralph Gonzales, the mentor in the MSO's third-place team. Gonzales, whom CREF said has been at Service King for 20 years, was about to retire but put it off to become a mentor, the Morning News reported.
"I believe it is important to me to show the next generation how to complete a quality repair," Gonzales said in a statement. "It also gives me an opportunity to change a person's life for the better."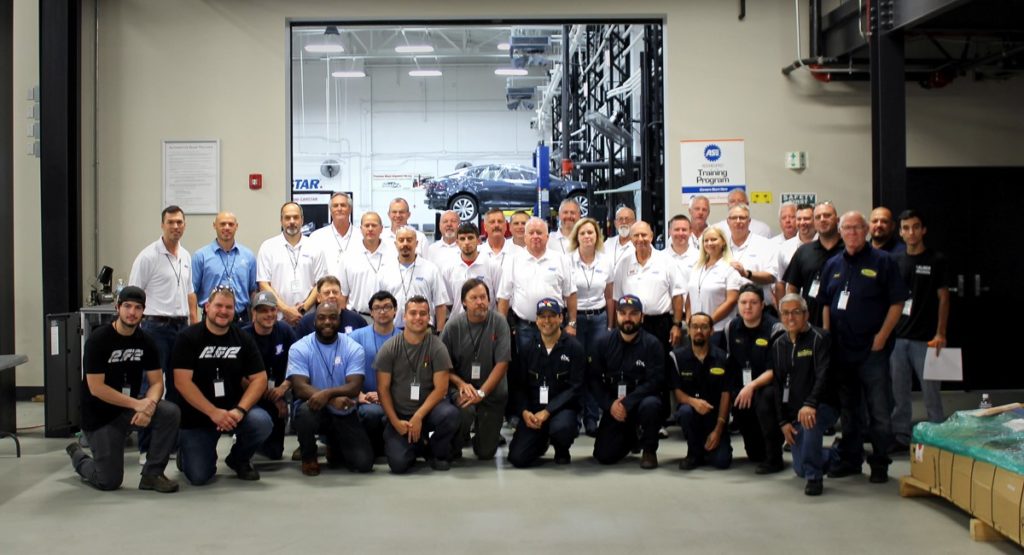 Gonzales successfully coached technician Ian Chambers, a Collin College student who's received less than a year of mentoring, to earn them each $500 and their body shop a Chief MultiMig 190 welder.
A Mt. Moriah, Tenn., Caliber team took second place. Technician John "Ritter" Gault, a Mid Florida Tech graduate with less than a year of mentoring, and six-year Caliber employee Bryan Parnell each won $1,000 and their shop another Chief MultiMig 190.
"Mentoring is important because quality body repair is a dying art that we must pass along to the younger generation," Parnell, who's been a mentor for a year and a half, said in a statement.
Other competitors included two teams from Gerber and single teams representing CARSTAR, Fix Auto, and Metropolitan Community College.
"Mentored training is critical to developing our future technicians," Gerber technician development program manager Ivan Albright said in a statement. "When industry and schools work together, we will enable entry level trainees to build the skills and proficiency required to become journey level technicians."
Sponsors included Automotive Technology, Axalta, Caliber, Chief, Enterprise, Gerber, Norton/Saint Gobain, Ranken, SAS Safety, Service King, SAS Safety and SP/2.
More information:
"WINNERS OF INAUGURAL TOP TECHNICIAN MENTOR/MENTEE COMPETITION ANNOUNCED"
Collision Repair Education Foundation, Oct. 4, 2019
CREF Top Tech competition webpage
Images:
A Leander, Texas, Service King fielded the winner of the inaugural CREF Top Tech Mentor/Mentee Competition. Frank Allen, right, mentored technician Bradford Amison. (Provided by Collision Repair Education Foundation)
Participants in the inaugural CREF Top Tech Mentor/Mentee Competition held Sept. 28, 2019, pose. (Provided by Collision Repair Education Foundation)
Share This: