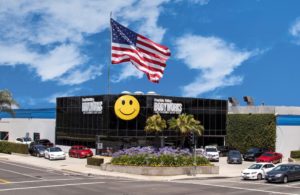 Crash Champions on Wednesday announced it had bought Fountain Valley Bodyworks' two locations, calling their collective sales "among the highest-performing collision repair shops in the industry."
Terms of the deal were not disclosed. However, Crash Champions said Fountain Valley founder Dave March will "retain a meaningful ownership stake in the combined organization and remain an active member of its leadership team." March's son, Michael March, will serve as director, and longtime general manager Mike Honrath will remain as well.
Fountain Valley's two sites do $18 million a year in sales together, which Crash Champions said represented one of the best sales-per-square-foot ratios in the industry.
"After 45-plus years of building Fountain Valley Bodyworks into the powerhouse it is today, I knew our next chapter would involve partnering with a well-capitalized MSO positioned for meaningful near-term growth," Dave March said in a statement. "Crash Champions is a brand on a mission. The leadership at Crash Champions and Fountain Valley Bodyworks have a shared vision for the Company's go-forward strategy and our operational ethos could not be more aligned. I look forward to working with our new partners at Crash Champions to enhance our value proposition to our insurance carrier partners and drive meaningful market share gains in Southern California. This is a tremendous day for everyone at our company, and we are excited for what the future holds."
The acquisition gives Crash Champions an even greater foothold on the Los Angeles area and is the latest in a slew of 2020 deals by the MSO. Crash Champions also said Wednesday it would rebrand all of its purchased shops under the "Crash Champions" name.
In March, Crash Champions bought the 23-shop SoCal chain Pacific Elite. It also has bought five Missouri shops, three Ohio facilities, and one Wisconsin collision repairer this year. All these properties will join Crash Champions significant existing Illinois footprint — part of which it recently used to generate another $30 million in cash in a sale-leaseback deal. Besides that new burst of capital, Crash Champions' growth is bankrolled by private equity firm A&M Capital Opportunities.
"We entered 2020 with the goal of expanding our presence into the densely populated Southern California market through smart partnerships and acquisitions that fit with both our business model and culture," Ebert said in a statement. "Over its near-50-year history, Dave and his team have built a reputation and track record of success that is not only unmatched in the market, but on a per shop basis has outperformed the entire U.S. collision repair industry. We're thrilled to bring this leading name into the Crash Champions family and look forward to leveraging Dave's experience and vision to continue our growth not only in Southern California, but across every market where we operate."
We asked if Fountain Valley would be Crash Champions' final deal of 2020.
"We're not done for the year, and we have a pretty aggressive growth plan for next year as well," Ebert said.
Ebert said Crash Champions is more drawn to "high-quality operators" instead of merely "dotting the map" with locations for the sake of adding locations.
Fountain Valley has a large footprint, but Ebert said the company was open to buying quality smaller shops as well. "You don't want stores that lose money," he said.
OEM certification is a major focus for Crash Champions, but the company wouldn't rule out buying uncertified repairers, according to Ebert. Nevertheless, certification "certainly helps," for Crash Champions would have to do less work to bring the shop up to a suitable level, Ebert said.
In an interview Tuesday, March described various factors prompting his decision to sell what was a "powerhouse" on its own. The perspective from the successful two-location repairer flags some challenges an independent shop owner might wish to consider and address before they arise — particularly repairers who don't wish to join a larger entity.

Insurers
Despite Fountain Valley's success, March described shifts in the insurance industry as one reason to join a larger chain.
March said they "strongly feel" at Fountain Valley that insurers are seeking a more efficient claims process — and to shed claims staff. He predicted only way carriers can accomplish this would be "long-term deals" with consolidators.
Fountain Valley has been "pretty aggressive in our marketing" to compete with consolidators, March said — noting that 18 Caliber, Service King and Fix Auto facilities sit within 5 miles of his company. In fact, there's a Caliber within 50 feet and a Service King within 100.
"We kinda enjoy the competition," March said, and his company has done "real well."
However, he's noticed more deals cut between insurers and consolidators that aren't available to Fountain Valley, which means his shop can't compete on a "level playing field."
Asked about whether the nearly 50-shop Crash Champions was large enough to avoid being cut out of such deals, Crash Champions CEO Matt Ebert said "there's a point where the insurers kinda determine that more than we do."
"We know that size seems to matter to them," Ebert said, and Crash Champions had a "pretty aggressive growth strategy. … We want to continue to grow to a point of relevance" on such factors.
Employees
March said another consideration involved giving a chance for career advancement to his son, Michael. As large as Fountain Valley grew, there was only so far the younger March could go, he said.
So when the opportunity came along to join a company with expansion plans, it made sense, he said. He said his hope was to give his son a place with "scalability, good people."
March said he'll now work on identifying new growth opportunities for Crash Champions, calling it a "perfect job," while being able to "watch my son flourish."
A similar issue existed with other staffers. "We did a great job," March said, but employees would eventually be "topped out" from a career perspective at the two-shop operation.
"The real thing was, is this gives our people an opportunity to advance," he said.
It also became harder for Fountain Valley to compete with consolidators who could pitch stronger benefits to court Fountain Valley employees, according to March.
More information:
"Crash Champions Partners with Fountain Valley Bodyworks"
Crash Champions via PR Newswire, Oct. 7, 2020
Featured image: Fountain Valley Bodyworks is shown. (Provided by Crash Champions)
Share This: