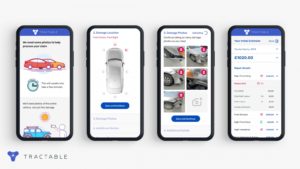 Mitchell announced Wednesday a partnership with Tractable that incorporates the artificial intelligence photo estimating software into the Mitchell Intelligent Open Platform.
"We're excited to combine our solutions to accelerate accident recovery," Tractable CEO Alex Dalyac said in a statement. "Mitchell's collision repair data and industry expertise are known to be a reference in North America, as are their affiliate's GT Motive in Europe. Insurers now have access to a solution that is best of breed on both AI and repair estimatics. This collaboration brings a new alternative to the industry."
The deal allows the use of Tractable's AI within Mitchell Intelligent Estimating, which Mitchell described as an "advanced claims automation solution."
"MIOP is a critical component of Mitchell Intelligent Estimating and our open and flexible approach to claims automation," Mitchell global product strategy and artificial intelligence Senior Vice President Olivier Baudoux said in a statement. "By collaborating with Tractable and incorporating their best-in-class AI engine into Mitchell Intelligent Estimating, we can provide customers and the industry with an advanced, turnkey solution."
Mitchell wrote in a news release that Mitchell Intelligent Estimating could "produce a partial or complete estimate."
"Photos of damaged vehicles are captured and processed, the Vehicle Identification Number (VIN) and configuration are determined, and the estimate is populated with part- and operation-specific line items before the appraiser begins work," Mitchell wrote in a news release Wednesday. "This expedites the claims process and helps both insurance carriers and collision repairers deliver better outcomes for their customers."
"(T)he result is a repair estimate – produced in seconds from anyone's smartphone – which a repairer can start to work from and upon which claims can be settled," Tractable wrote in a news release Wednesday.
Baudoux estimated Wednesday it took about 3-6 months of integration to tie the Mitchell-Tractable system into an insurer's internal claims handling process.
Another proposed AI photo estimating use case involves determining if a vehicle is a total loss based upon a photo. Baudoux said Mitchell was working on the concept of early detection, but the Tractable collaboration only involved generating estimates for repairable vehicles.
Dalyac called Mitchell and Tractable "highly complementary." Tractable's ability to predict repair operations from photos becomes "even more valuable" if combined with a collision database and claims workflow solution, he said Wednesday.
"We can actually create American repair estimates automatically," he said. This had "major implications" for the speed of the collision process, he said.
Tractable can predict whether a body part could be repaired or would require replacement based upon its appearance, Dalyac said. But "that needs to be matched up with the collision repair database," he said. "… This is actually really hard."
Doing so requires a smaller artificial intelligence process for each line item, according to Dalyac, who described this as a stumbling block for AI competitors seeking scale. "It's something we've cracked," he said.
Tractable had to undertake this process with other estimating partners, Dalyac said. It could "much more rapidly" accomplish the task with access to Mitchell's database, he said.
Mitchell can apply its industry expertise and the vehicle VIN to complement what the AI views on an individual vehicle, generating additional line items for the estimate, according to Baudoux.
Tractable integrating with Mitchell also permits the introduction of economic considerations into the estimating — what Baudoux calls the "break-even analysis." The analysis of factors like labor time or replacement part cost or availability might suggest a different repair/replace decision than a purely visual appraisal would indicate, according to Baudoux.
Human review
Baudoux said that eventually, the "Nirvana" of a fully touchless estimate would arise.
But right now, for reasons including regulation, Mitchell felt it was "really important" a staff appraiser or other reviewer examined the estimate produced by the machine, according to Baudoux. For some low-severity incidents, a mere review without changes might suffice, he said. But it would be "arrogant" to promote a fully automated claim as an option in North America right now, he said.
Dalyac said that Tractable in Europe has reached instances of 15-20 percent of claims "fully touchless," completely written by an AI. The company's goal is to reach 70 percent by the end of the year. But "that's Europe," he said.
Mitchell in 2018 observed that traditional photo estimates in 2016-17 resulted in supplements averaging more than 50 percent of the initial appraisal. The information provider estimated the supplement rate for such estimates at between 27-29 percent during that time. CCC's 2020 "Crash Course" calculated that 55 percent of all repairable estimates found in its system included at least one supplement. This rate climbs to 82.3 percent in instances where a direct repair program facility evaluated the vehicle, CCC said.
We asked about any notification to the consumer that the initial estimate produced off photos with AI wouldn't necessarily be sufficient.
"I think that that piece is left at the discretion of the customer," Baudoux said. Perhaps some of Mitchell's clients might want to issue a disclaimer if an AI played a significant role in the estimate, he said.
But Mitchell leaves it up to shops or insurers to determine how they wish to manage communications with the end consumer, he said.
"It's the insurer's decision what they want to do," Dalyac said.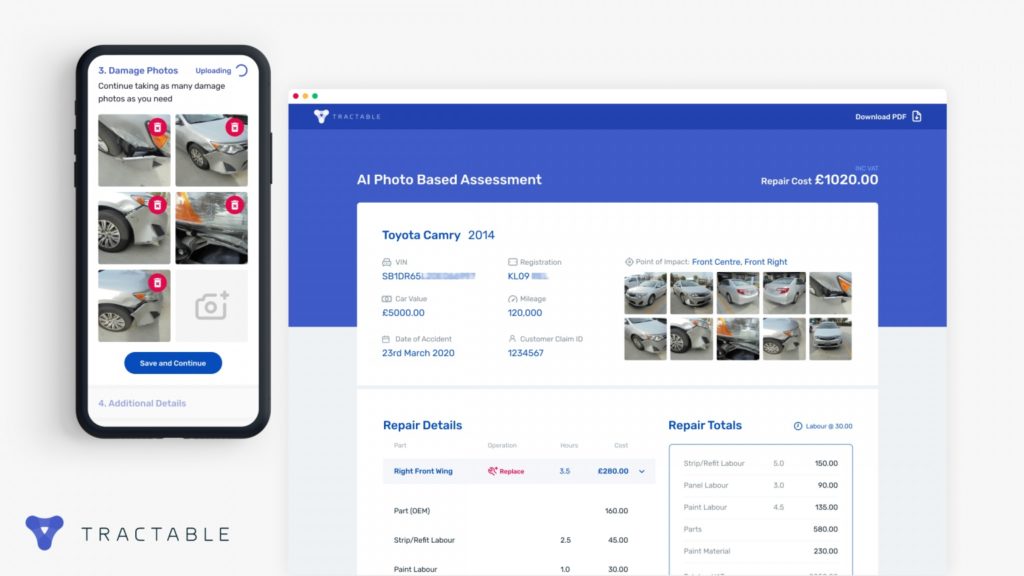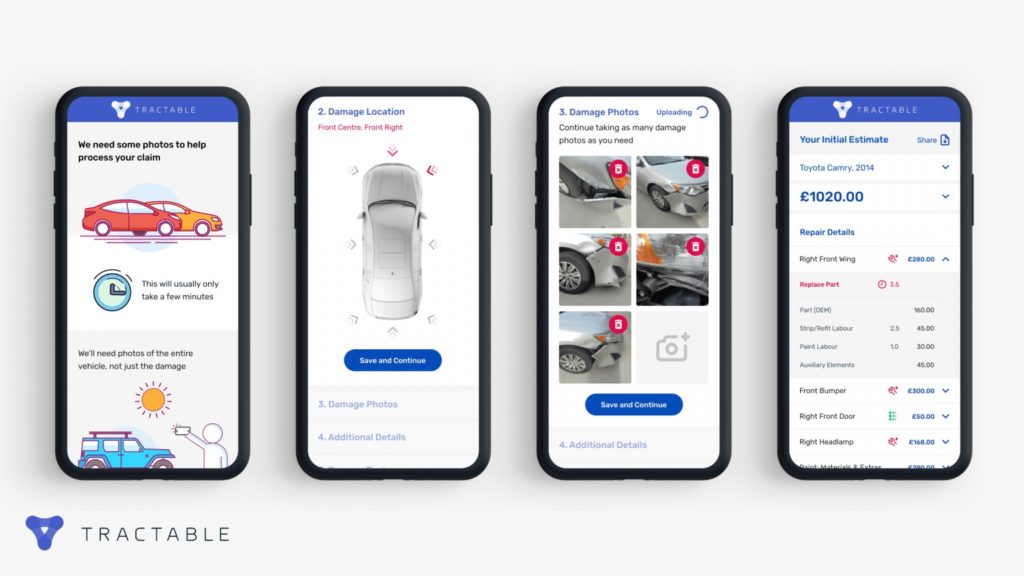 Body shop version
Some auto body shops are deploying photo estimating as well, and it's likely this usage has grown industrywide during the COVID-19 pandemic. However, the capabilities available through the Mitchell-Tractable partnership will at first solely be available to insurers, according to the two companies.
"On the insurer side, this is ready," Dalyac said. As for multi-shop operators and other collision repairers, "we want to enable it there. That integration doesn't exist yet," he said.
We asked about a potential timeframe for a shop-facing Mitchell-Tractable offering.
Baudoux said Mitchell did want to build solutions with shops, particularly the top MSOs, whom he said had an interest in leveraging artificial intelligence.
A shop can use Tractable's software as a standalone tool today, Dalyac confirmed. But "we think it's most powerful with Mitchell," he said.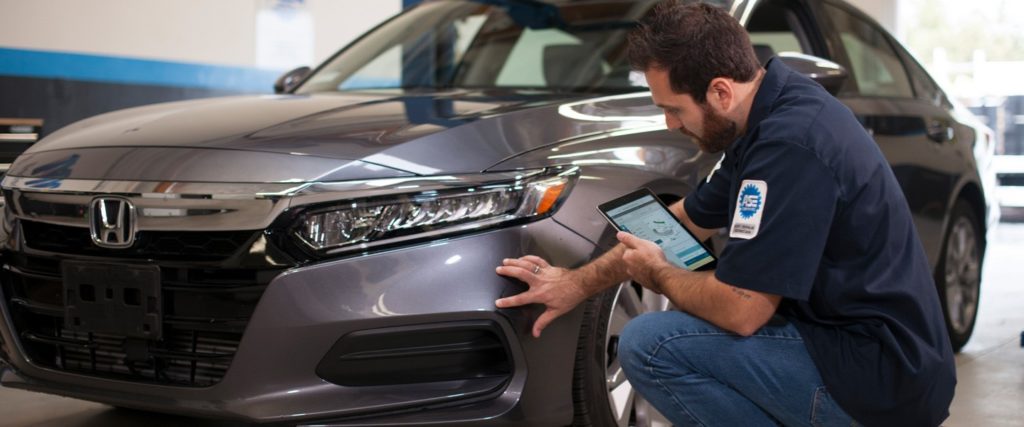 Previous relationship
Mitchell has worked with Tractable before. In 2016, it announced an exclusive partnership to use Tractable technology in WorkCenter. A year later, the information provider said it would it would leverage the partnership to offer insurers a way to double-check repair/replace decisions. However, the two parted ways in 2018.
"We're in a different time," Baudoux said of the two companies partnering again.
Five years ago, Mitchell "had everything to learn, everything to prove" on leveraging AI, Baudoux said. The company decided to partner with early startups and examine how much to invest in that field, he said. Mitchell realized it was critical to invest internally and build on AI, Baudoux said. Since the two companies had different sizes, aspirations and market strategies, Mitchell at the time decided to separate, he said.
Today, it was clear that they could bring "tons of value to the industry" together, Baudoux said. Partnering again seemed the right move for customers and vendors, he said.
Dalyac likened it to a band breaking up over matters like creative differences or disagreements but realizing, "'the best music we ever created was together.'"
More information:
"Mitchell Expands Claims Automation Capabilities Through Open Platform and Collaboration With Tractable"
Mitchell, Jan. 27, 2021
"Tractable and Mitchell to offer combined solution for AI vehicle repair estimating"
Tractable, Jan. 27, 2021
Images:
Screenshots related to a United Kingdom application of photo estimating AI Tractable are shown. (Provided by Tractable)
A screenshot of a Tractable AI photo estimating product is shown. This image was released in a March 2020 news release announcing Ageas would use Tractable in United Kingdom claims. (Provided by Tractable)
An image of a technician using Mitchell. (Provided by Mitchell)
Share This: