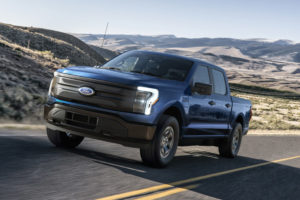 Ford on Wednesday said it would now spend more than $30 billion on electrification by 2025, up $8 billion from what it had already raised to $22 billion in February.
The OEM, which just last week unveiled the fully electric 2022 F-150 Lightning, said it expected 40 percent of global vehicle sales to be fully electric in 2030. It revealed that the Lightning already had 70,000 reservations.
Ford in a sales release earlier this month stressed the popularity of its "electrified" vehicles, a portfolio which includes the fully electric 2021 Mustang Mach-E but also hybrid options for the 2021 F-150 and Escape and an plug-in hybrid Escape.
"Mustang Mach-E sales totaled 1,951, F-150 PowerBoost sales totaled 3,365, while Escape electrified sales totaled 3,695 in April," Ford wrote May 4. "Electrified vehicle sales totaled 11,172 – up 262 percent." It said then that Mach-Es only average four days on dealer lots before being snapped up by customers, 70 percent of which hadn't bought a Ford before.
It's another sign auto body shops are going to start seeing a flood of electrified vehicles, which could come with new safety, production and logistics precautions.
Repairers will also see a dramatic increase in Fords and Lincolns with the ability to receive "over-the-air" software updates, similar to a smartphone or Tesla. This could add new features, fix bugs and potentially even adjust repair procedures related to vehicle electronics.
Ford estimated 1 million of its vehicles would have this capability by the end of the year — and this tally would explode to "33 million OTA-enabled Ford and Lincoln vehicles by 2028." Ford said it would have more OTA-updateable vehicles on the road than Tesla by July 2022.
Ford also said Wednesday it sought to shift its business model from the traditional "transactional, build-and-sell" format.
"Instead, Ford+ is characterized by close, enduring customer relationships – enabled by the company's foundational strengths, improving financial performance, and capabilities and investments in disruptive technologies," the OEM wrote in a news release.
This is interesting in that it would seem to heighten the importance of Ford's certified auto body repair network and unaffiliated auto body shops to the OEM.
If Ford's counting on customers sticking around and providing a revenue stream, then its shops need to deliver correct repairs or risk driving these consumers to another OEM brand.
Ford global collision marketing Rob Johnston in 2019 shared findings that 27 percent of customers who got rid of their vehicles within a year and a half of an accident did so because of damage from a repair. Another 21 percent did so because of the quality of the repair.
CCC's recently released 2021 "Crash Course" reports that direct repair program facilities during the year ending Sept. 30, 2020, saw customers bring back 10.1 percent of vehicles to the shop on average. When repairs exceeded $10,000, consumers were bringing back their cars 22.2 percent of the time, or every fifth customer.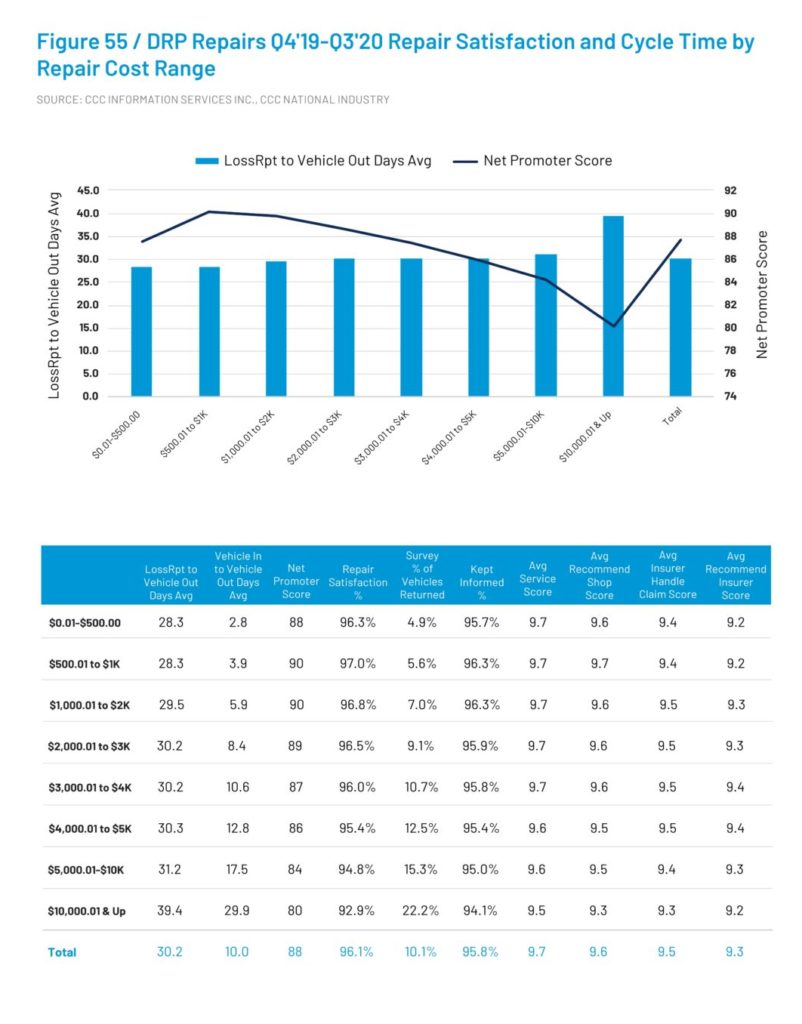 Ford said it planned to release "distinctive connected functions like Ford's BlueCruise driver-assist technologies, new features and upgraded software content, and EV charging to improve the user experience – and capitalize on what is projected to be a $20 billion market for such services by 2030."
The OEM also has created Ford Pro, which seeks to provide commercial and government customers with "(d)igital and physical services that can help optimize and maintain customer fleets."
The company planned to more than double its revenue from the "commercial market for hardware and adjacent and new services that's addressable by Ford" to $45 billion by 2025.
Last week, Ford also unveiled the Ford F-150 Lightning Pro, a base version of the F-150 starting at $39,974 and delivering 230 miles of range. The OEM highlighted telematics here as well.
"With the Ford EV Telematics dashboard active, vehicle data is shared seamlessly over the cloud so fleet managers can track vehicle health, status and range, log and pay for public charging events centrally, reimburse employees for home charging, remotely pre-condition the cabin while plugged in, and generate alerts and reports for depot and operational efficiency," Ford wrote.
"… When activated, the standard 4G LTE modem unlocks a number of seamless connectivity services to help fleets optimize efficiency and lower operating costs. Electric vehicle-specific data, such as kilowatt-hour consumption, charge speed, distance to empty and more, are available to better understand how trucks are operating in real-time to optimize running costs and uptime.
"Additionally, the Ford Telematics and EV Telematics dashboard offer in-cab driver coaching, remote vehicle pre-conditioning and severe incident notifications to inform operators should their vehicles be involved in an accident where the airbag is triggered. Email and in-app alerts can relay the driver involved, as well as location and time of crash."
More information:
"SUPERIOR VALUE FROM EVS, COMMERCIAL BUSINESS, CONNECTED SERVICES IS STRATEGIC FOCUS OF TODAY'S 'DELIVERING FORD+' CAPITAL MARKETS DAY"
Ford, May 26, 2021
Images:
2022 Ford F-150 Lightning Pro. Pre-production model with available features shown. Available starting spring 2022.
CCC data for the year ending Sept. 30, 2020, indicates customer returns occur on 10.1 percent of direct repair program shop repair orders. (Provided by CCC)
Share This: