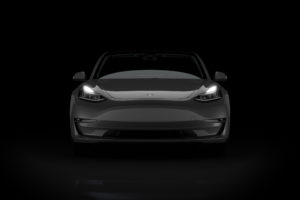 Collision repair shop owners and employees are reporting Tesla emails blatantly recruiting their certified Tesla technicians and estimators and even their acquaintances with the same resume.
Recruitment in any field is common, of course. But this seems much different.
Extensive Tesla training and certification is required of shops within the automaker's certified network, of course, at the shop's expense, and the email blast-list appears to have come directly from Tesla's training rolls.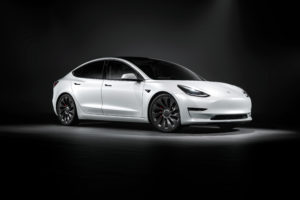 Unfortunately, due to the non-disclosure agreements all certified shops and technicians and estimators must sign, as well as the fear of loss of Tesla's recommendation, it seems no one is willing to go on the record, although plenty of collision repair insiders are angrily talking about the solicitations.
Repairer Driven News has a copy of one of the emails dated Sept. 14 under the subject line: "Tesla Collision Tech Referrals – Who Do You Know?" It was signed by Monica Vu, a recruiter at Tesla's Palo Alto, Calif., facility.
The text: "Hi, Thank you for being a part of Tesla's TACC network! Tesla is looking for experienced Collision Technicians who can join the team in San Jose, CA. I'm reaching out to see if you know anyone in your network that would be interested in working at Tesla. I have attached our benefit one pager for you to review."
Tesla was crafty and careful in this one to not directly solicit the receiver, but it seems obvious the receiver also is a target.
Besides the list of benefits Tesla purports to offer, there is a link to apply.
"If you know anyone who may be interested, please have them apply to this link," Vu wrote.
A repair planner who has taken part in Tesla training as a requisite for his role within the repair facility who spoke on condition of anonymity discovered the faux pas after clicking into what looked like the usual public relations spam. The anonymous planner was certified by Tesla, and therefore was on the automaker's wish list.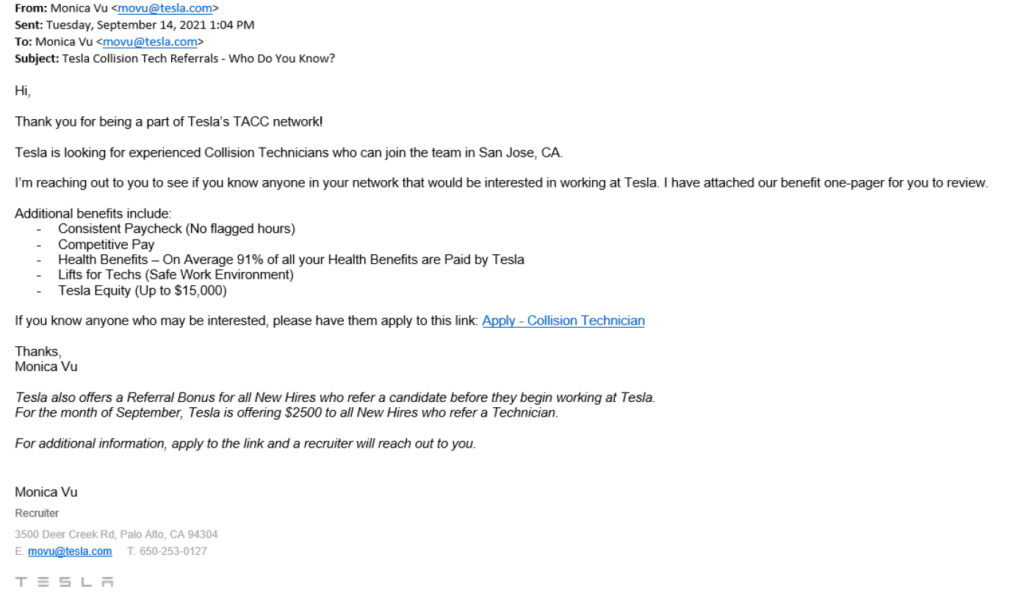 "So my biggest fear when I saw that was, who else in our organization is going to get that same email?" the source asked. "It turns out the technicians, the estimators, whoever was signed up for training in our organization ended up getting that email and we kind of had to have a quick internal management meeting on how we're going to handle this thing.
"We had to have an HR plan. How do you deal with having that conversation with someone you've invested so much money in? … There are so many horror stories you hear about a person using the facility then there's a battle because the shop owner is trying to recoup their money and trying to charge their technician back, but you're drawing up a legal battle there."
Actually, Tesla-certified shops might just have some ammunition.
Attorney Garland Watlington has a private practice in Jonesboro, Ark. He doesn't know all the contractual specifics of this solicitation by Tesla of employees at other shops the automaker was paid to train, but, generally speaking, suggested that they could be out of bounds.
Watlington said in Arkansas there is a law called Intentional Interference with a Valid Business Expectancy.
"Generally, this law is used for keeping companies from stealing contracts or clients, but it could be used offensively in the context you describe," Watlington said. "If Tesla is taking all your certified [collision repair technicians and/or estimators], they are certainly interfering with a valid business expectancy."
In Florida, they call it tortious Interference and it happens when a third party to a business relationship or contract intentionally disrupts that relationship or contract.
According to The Campbell Law Group: "In general, to demonstrate a tortious interference, the plaintiff must show that, 1) There was a business relationship or even just a potential for a relationship (advantageous or contractual) with another party; 2) The defendant knew about the relationship; 3) The defendant intentionally and unjustly interfered with or otherwise disrupted the business relationship; and, 4) Damages resulted from this disruption.
"To be successful, the plaintiff must show that the damages were a direct result of the defendant's actions."
Said Watlington: "That 'advantageous business relationship' in the Florida law seems to fit like a glove here."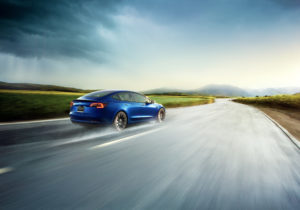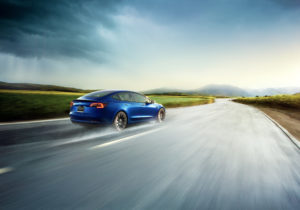 Watlington also said, "Non-disclosure agreements (NDAs) are not favored in the law. They need to be limited in scope to be enforceable."
However, Tesla founder Elon Musk has much deeper pockets for legal expenses than does any shop owner.
Tesla stopped answering press inquiries in 2020 and disbanded not only its press department, but its entire public relations team.
For a week, the automaker failed to respond to several emails from Repairer Driven News, including those addressed to Vu, the blast email author.
While training and certifications no longer have to be done entirely at Tesla's Fremont, Calif., location, as was the case through 2016, there still is significant investment in each employee and significant time commitment for certified facilities to acquire the expected skills through the training process.
"You figure you have technicians out a week or week and a half per session, so you're losing productivity," the source said. "Also the cost of the training. You have cars stacking up. It was definitely a big challenge.
"And then there's more risk of that many more people leaving you."
Especially when directly solicited.
"It sucks to know that's happening out there and even more so that it's by a manufacturer," the repair planner said.
Images:
Featured image: Tesla Model 3 (Tesla)
Other auto images: Tesla Model 3s (Tesla)
Email (anonymous donor)
More information:
Tesla: Model Y body structure will differ between Calif., Tex. factories
Share This: