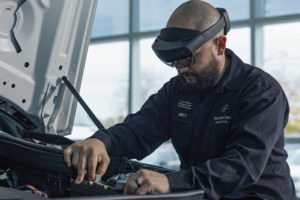 Mercedes-Benz Canada announced on Tuesday full deployment of its Virtual Remote Support program that is powered by Microsoft HoloLens 2 and Microsoft Dynamics 365 Remote Assist.
The automaker said Virtual Remote Support will "redefine automotive maintenance and service technician training, leading to faster and more precise vehicle servicing for customers and dealers across the country."
"This technology represents a paradigm shift in the automotive industry and how Mercedes-Benz Canada serves its drivers," said Nikhil Ondhia, vice president, Customer Services, Mercedes-Benz Canada, through a release. "Our collaboration with Microsoft Canada and the use of Microsoft HoloLens 2 and Microsoft Dynamics 356 Remote Assist is already benefitting drivers and dealers by reducing servicing time and costs, freeing up service bay space and most importantly, getting drivers back in their Mercedes-Benz vehicles and on the road again."
Described by Mercedes-Benz USA as the first mixed reality automotive support system, the company posted in September 2020 that Virtual Remote Support "officially launched" across its American network of its then-383 authorized dealerships a month earlier after a successful pilot program conducted in January and March 2020 among 13 of those dealerships.
So Mercedes-Benz Canada, which is made up of seven of the automaker's own retail operations and 52 authorized dealerships, is catching up.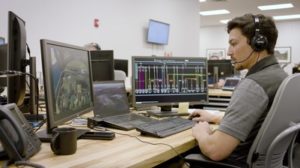 Zakary Paget, a Mercedes-Benz Canada spokesperson, told collisionrepairmag.com that the company hopes to offer Remote Virtual Support to its network of certified collision centers in 2022.
Motortrend.com reported last year that the cost to implement the Virtual Remote Support technology was $10,000 per dealer, which included four years of licensing cost and all the equipment.
Virtual Remote Support offers fully bilingual applications and its primary use allows dealership service technicians to wear the HoloLens 2 headset – an untethered, self-contained holographic device – to work hands-free. Be it a fairly quick look at a vehicle for body repair evaluation or a deep dive to solve more complex situations, the dealership technician can share real-time views and sounds of the vehicle while talking with Mercedes-Benz technical specialists across Canada, the U.S. and even the world.
Mercedes-Benz Canada called sophisticated technical precision "critical" since its vehicles are now constructed with more than 100 million lines of software code which the company said is "significantly more than the Space Shuttle, an F-35 fighter jet and a pacemaker combined."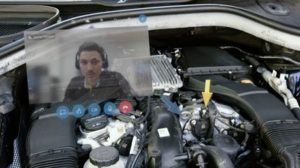 The company said in a release that thanks to Microsoft Dynamics 365 Remote Assist, "the remote technical specialists work with the onsite technicians in an immersive mixed reality environment and can share intricate 3D images and holograms, see where changes need to be made, annotate the visual information, add documents, and insert instructions to highlight which areas to focus on.
"This invaluable insight and technological guidance helps complete the complex maintenance issues more quickly, and the remote specialists do not need to travel to lend their specialized expertise, let alone leave their office."
Brampton shop foreman Joseph Lagrasta is a true believer.
"I've already experienced firsthand how Microsoft HoloLens 2 and Microsoft Dynamics 365 Remote Assist are game-changers," Lagrasta said in a Mercedes-Benz Canada release. "It's like having the right expert over your shoulder the minute you need them. Since deploying this technology in July we are getting cars back to owners – diagnosed, fixed, and ready to roll – in a fraction of the time.
"I'm also excited about the comprehensive, 3D training sessions we will have access to. All of this helps us deliver the best possible customer experience with the most efficient and quality service possible."
Mercedes-Benz Canada noted the Virtual Remote Support program reduces cost and the environmental footprint of technical specialists as they no longer will travel to dealerships across the country.
Images:
Featured: Mercedes-Benz shop foreman Joey Lagrasta uses the Microsoft HoloLens 2 device in conjunction with the Virtual Remote Support program. (CNW Group/Mercedes-Benz Canada Inc.)
Other images: Microsoft HoloLens 2 and Microsoft Dynamics 365 Remote Assist support holographic and 3D images, charts and icons. (CNW Group/Mercedes-Benz Canada Inc.) The Virtual Remote Support program in action. (CNW Group/Mercedes-Benz Canada Inc.)
More information:
Allstate to increase Virtual Assist usage during COVID-19 issue; APCIA asks DOIs for flexibility
LexisNexis: Fewer customers 'very satisfied' with auto claims, but virtual comfort grows
RealWear: Volkswagen technicians to pilot augmented reality headsets in U.K.
Share This: