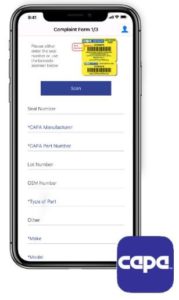 How does an aftermarket part become decertified? CAPA provides details
By on
Collision Repair
Since the beginning of 2022, the Certified Automotive Parts Association (CAPA) has decertified more than 40 parts that it has found no longer "fit, perform and last like the original." These parts included two hoods, 25 bumper impact bars and reinforcements; 12 bumper covers, grilles, and wheel moldings; two headlights, one taillight, and one radiator support, according to a cursory review by Repairer Driven News.
Decertifications are announced by CAPA, via its monthly and weekly mailing lists, and information about the status of certified parts or lots is available through the CAPA Parts Search feature on its website.
The organization in 2018 began publishing public notices and product safety alerts on its site. For instance, this Feb. 4 notice about a headlight assembly for 2018-21 Lexus 200t and Lexus 300 vehicles warns that "Low beam function may become inoperable. If this occurs, driver and oncoming traffic visibility will be impaired."
How does a part go from the certified list to the decertified list? CAPA gave us an overview of the process.
"CAPA decertifies part numbers or individual part lot numbers if they have been found to no longer comply with any of the requirement(s) of the applicable CAPA Standard," Stacy Bartnik, Industry Relations Manager, Transportation Technologies, for CAPA, told Repairer Driven News.
Bartnik said she could not address how a specific part became decertified, citing "client confidentiality," and some of our more specific questions about the workings of the process were left unanswered.
"CAPA may withdraw certification of the part or lot," Bartnik explained. "A CAPA part number is still considered certified even if some production lots have been decertified."
For example, CAPA's monthly Decertification Report for January 2022 lists 33 lots — 32 hoods and one fender — that have been decertified, though the parts themselves remain certified.
Once a part has been certified, it is subject to CAPA's ongoing system of compliance monitoring. "CAPA holds manufacturers accountable to its requirements to ensure there are high quality, alternative parts available in the automotive market," Bartnik said.
CAPA conducts annual document reviews and facility assessments to make certain that manufacturers are still complying with its requirements. It also reviews manufacturers' quality documentation if any changes have been made after a part has been certified.
"At the factory level, every month parts are randomly selected from the production lines and they are sent to a CAPA-approved lab for material testing. Random material testing is just one way CAPA ensures the parts continue to be comparable to the car company brand part," Bartnik said.
CAPA also operates a complaint program, letting repairers give feedback on the quality of certified parts. When possible, Bartnik said, CAPA will buy the questionable part from the shop and send it to Intertek's lab for testing, to see if the complaint is valid.
In July 2019, CAPA added an app to its complaint program, which lets repairers scan the CAPA seal barcode, upload photos, and save the information into a profile for future use.
RDN recently looked into who's responsible for communicating the use of a decertified part to the consumer, if one was used. That story can be found here.
Asked which of CAPA's safeguards was responsible for the greatest number of decertifications, Bartnik replied:
"All manufacturing processes exhibit variations that could impact the quality of production; no process is perfect. CAPA has various mechanisms in place to monitor these processes which help to keep manufacturing processes in better control. Each of these methods of monitoring the quality of CAPA Certified Parts helps to ensure that parts bearing the CAPA Seal are compliant to the applicable CAPA Standard."
Correction: An earlier version of this story incorrectly stated that part or lot decertifications are accessible through the CAPA Tracker parts usage database. CAPA Tracker is an internet based tracking system for repair shops to record the use of a CAPA Certified Part in a repair. In the event of a part problem, CAPA can identify all reported instances of the use of that part, matching the seal number to the applicable repair orders and repairers, and CAPA can immediately notify each repairer allowing them to contact their customers.
CAPA decertification & public safety notices: How to find out the status of your A/M parts
Images
Featured image: CAPA's complaint program app. (Provided by CAPA)
Share This: