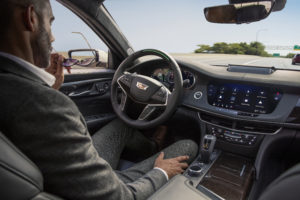 GM Addresses ADAS Integrity, occupant safety with new windshield replacement position
By on
Collision Repair
General Motors (GM) has released a position statement related to the use of aftermarket glass in its vehicles.
Also known as non-genuine OE glass, the automaker said off-brand windshields could compromise its safety standards.
"GM vehicles, safety systems and components are designed, engineered, tested, and validated to protect vehicle occupants based upon both government mandated and internal corporate requirements," GM said in the position statement. "The overall integrity of a vehicle's Advanced Driver Assist System is dependent on maintaining the design specifications of each component of the safety system."
GM Genuine branded glass is designed, engineered, tested, and validated to internal and government mandated standards and is the only equivalent to the Original Equipment glass.
"With the safety of our customers at the center of everything we do, it is critical a service point calibration/learn be performed whenever a front view windshield camera or sensor is removed and reinstalled or replaced, or when a windshield is removed and reinstalled or replaced," the statement said.
The statement was issued days after the release of a Global Automotive Glass Industry report, which said the worldwide market will reach $42.1 billion by 2030. The U.S. market is expected to hit $8.2 billion.
Last year, the global auto glass market was estimated at $30.7 billion; analysts have attributed the anticipated 37% increase to the geopolitical instability, inflation, and fears of new COVID-19 outbreaks in China.
GM isn't the first automaker to insist upon using original glass parts when making repairs.
In 2019, Volvo released its own position statement instructing collision repairers to only have windshield replacement done by an authorized Volvo location, using only OEM glass and its approved adhesive.
And last year, Ford drove home the importance of using OEM glass in collision repairs, most importantly for advanced driver assistance systems to properly function, and gives an overview of the Mustang Mach-E's body construction.
Lawmakers in several states including South Carolina, Massachusetts, and Rhode Island have backed those concerns by introducing legislation that would mandate the use of OE glass in auto repairs.
Critics have, on previous occasions, defended the use of aftermarket parts for repairs, claiming OE parts are being mandated to give auto giants a monopoly on parts.
However, GM maintained safety as its top priority, adding that aftermarket glass could impact the integrity of a vehicle's advanced driver assistance systems (ADAS).
"We test Genuine GM Parts (OEM glass) as part of our vehicles' structural and advanced safety systems. We do not approve or test aftermarket glass nor claims of Original Equipment Equivalent (OEE) glass," a spokeswoman told Repairer Driven News.
"The windshield has always been integral to vehicle safety structure. With the evolution of ADAS, the windshield"has an even greater role in vehicle safety. For this reason, we only recommend GM Genuine Parts (OEM) for windshield replacement."
The spokeswoman said GM informs the industry of vehicle-specific repair procedures through its GM Service Information, which offers engineer-developed procedures for safe removal, installation, and calibration of windshield replacements.
For more access to automaker position statements and repair manuals, visit 
www.oem1stop.com
.
Image
A 2019 Cadillac CT6 runs Super Cruise. (Provided by Cadillac)
Share This: