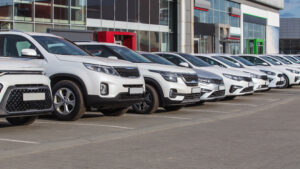 A newly released Consumer Reports (CR) study based on nearly 20 years of data has found that, contrary to popular belief, as new vehicle technologies and better fuel efficiencies have been introduced they've not made purchase prices higher.
"The results of the statistical analysis are counter to broadly reported narratives about increases in new-vehicle average transaction prices and 'unaffordability' of new vehicles," CR wrote. "The sorts of analysis that lead to those conclusions often rely on an overall average transaction price, and typically do not adjust for inflation. While average transaction price can be a useful metric, it doesn't capture many of the underlying dynamics in the market."
However, they have made collision repairs more expensive and complex. The average repair cost is currently more than $4,100 and non-comprehensive loss repair costs through Q3 2022 for the rolling 12-month period were up nearly 14%, according to CCC Intelligent Solutions Industry Analytics Senior Director Susanna Gotsch.
In December, Gotsch shared in a CCC report five trends that changed the auto repair industry this year — inflation, shifting consumer vehicle purchase behavior, increased repair costs, rising insurance premiums, and higher gas prices.
She wrote that overall inflation hit a 40-year high and the 6.6% increase in September caused by Russia's invasion of Ukraine, which caused oil and other raw material costs to shoot up. Gotsch told Repairer Driven News she expects to see further inflation in parts costs because of the cost of raw materials and shipping, though down some, are still high in addition to labor costs being higher. She predicted at the time that in 2023 there would be a 4-5% increase in parts, labor, and paint materials costs not including inflation. Add in inflation and those figures would at a minimum double, she said.
Higher interest rates and a more expensive vehicle mix have also led to larger and longer new and used vehicle loan payments and terms.
While safety features may decrease the number of bodily injury claims, or perhaps the cost of those that are filed due to less severe injuries, pre- and post-scans plus calibrations and ADAS verification before, during, and after repairs prove more time-consuming and costly but are necessary. OEMs recommend in their procedures that repairers perform all of the aforementioned procedures to ensure the systems work correctly post-collision. However, insurers don't always want to cover the costs, including labor, or flat out refuse to, leaving body shops or owners to foot that portion of the repair bills.
For example, Auto Body Association of Texas (ABAT) stands behind the mandatory consumer right to invoke the appraisal clause — a law ABAT is working to get passed in Texas — because it helps customers who are running out of days that their rental vehicles will be covered by insurance. And because of the time crunch, he's seen many of his customers feel pressured to accept an unacceptable repair pushed by their carrier.
"From ABAT's position, and from a body shop's position, this [appraisal] is really a great option for the insurer when there's a repair dispute because, from the collision center's side, there's a friction," Burl Richards, ABAT president and owner of Burl's Collision Center, previously told RDN. "You submit a supplement to an insurance company and the insurance company, nowadays, nine out of 10 times, don't even come look at the vehicle and they cut your supplement sometimes 50, 60, 70%, and a lot of the things they are denying are necessary for procedures – OEM recommended procedures. So, instead of us battling it out with an insurance company, what we do is we… give them [customers] the option to exercise their policy rights and go through their right of an appraisal.
"A lot of times, …we'll just go ahead and make those repairs to the vehicle and then we leave it up to the unbiased appraisers to come up with their decision. I'm always comfortable with that decision. Sometimes it may not be exactly the amount that my repair plan is; sometimes it's less, sometimes it's really close, and in some instances, it's a little bit more. But I can go ahead and flag my technicians in labor, get the parts, and get the vehicle delivered so it's a great option for the consumer and it's a lot cheaper for them than having to go through court."
Vehicle diagnostic companies Repairify and AirPro Diagnostics shared with RDN earlier this month that following OEM repair procedures in collision repair is essential to preventing injuries and deaths should repaired vehicles be involved in future crashes.
Repairify Training and Development Vice President Chris Chesney said many "faulty repairs" or missed operations, he added, could cause some safety systems to be inactive or inaccurate.
Michael Quinn, AirPro president, told RDN having a brand specialist involved in repairs is "critical in these highly sophisticated vehicles."
"We make a very positive impact in the safe repair of a vehicle," he said. "We feel we are a 'Gate Keeper,' at some level, to the motorist.  Mandating a post-repair scan by a qualified brand specialist safeguards motorists."
He shared a statement agreed to in 2019 by OEMs who are members of the Alliance of Automobile Manufacturers and Association of Global Automakers -now, who have since merged to form the Alliance for Automotive Innovation (AAI):
"Failure to follow OEM repair procedures in the course of a post-collision repair should be considered an unauthorized modification of a vehicle and its systems, introducing the potential for bodily injury and death to any future drivers and occupants of the vehicle, as well as occupants in other motor vehicles on the roadway."
After adjusting for inflation, CR reports vehicle prices didn't increase from model years (MY) 2003-2021, "even as average fuel economy increased 30 percent and proven lifesaving safety technologies became common features."
During the same period, CR says better fuel economy equated to an average of $7,000 in per-vehicle lifetime fuel savings for model year 2021 vehicles compared to MY 2003.
"Safety also significantly improved as crash-test procedures were strengthened, electronic stability control and backup cameras were mandated on new vehicles, and advanced driver assistance systems became more widely available," CR wrote. "Commonly reported changes in average transaction prices appear to be primarily driven by shifts toward larger, more expensive SUVs and away from smaller and cheaper cars, rather than from the cost of technology improvements in individual models.
"These findings prove that regulators can and should be aggressive in ensuring that automakers continue to deliver cost-effective technology improvements that save dollars and lives."
The 24-page report notes that consumers it surveyed in 2022 said safety and fuel economy are two of the most important features to them when purchasing a vehicle.
The 20-year study evaluated seven vehicle classes — compact cars, compact SUVs, large SUVs, midsized cars, midsized SUVs, minivans, and pickups — five showed no statistically significant change in price. Large SUVs showed a statistically significant increase in price. Midsized cars showed a statistically significant decrease in price.
For large SUV outliers that CR found prices increased, the researchers surmise the increase was likely attributable to "more costly aesthetic and technological improvements."
"The large SUVs class actually has seen the smallest improvement in fuel economy over the study period, even as many of these vehicles have been transformed from utilitarian blue-collar workhorses into near-luxury vehicles," CR wrote.
Forty-seven of 51 models showed no statistically significant increase.
"One of the key dynamics that is missed when focusing on averages is the rapid shift in the market away from less expensive smaller cars to larger and more expensive crossovers and SUVs," CR wrote.
Earlier this month, Mitchell International Director of Claims Performance Ryan Mandell said luxury vehicles continue to increase as part of the U.S. repairable car parc, accounting for 13.12% in Q4 2022 compared to 12.93% in Q4 2021. And average damage severity is already nearing Q4 2021 numbers at $4,015 compared to $4,068 for fully developed Q4 2021 data and approximately 40% of supplements are still outstanding.
Average total labor cost has already eclipsed Q4 2021, increasing from $1,586 to $1,593, which will continue to rise as supplements are taken into account for Q4 2022, Mandell said.
CR notes that the Environmental Protection Agency (EPA)'s 2022 Automotive Trends Report says vehicles in every class have become significantly more efficient while also becoming more powerful.
The market shift toward larger vehicles, CR says, "has also eroded some of the potential fuel savings and emissions benefits of the efficiency improvements made on a vehicle-by-vehicle basis."
"If the fleet mix had remained the same as it was in 2003, overall fleet-wide average fuel economy would have improved by 43% instead of 30%. There are also potential safety implications. CR has found that larger vehicles generally have a harder time avoiding crashes and perform worse in our emergency handling
and braking tests. Further, CR and other research have found that larger vehicles pose greater risks to both pedestrians and people in other cars than smaller cars do.
"Given that there is likely to be a strong correlation between fuel economy and model year — due to strong fuel economy and greenhouse gas standards in place during most of the study period — it is not surprising that the results for fuel economy and model year are similar. …Fuel-economy improvement over the study period ranged from 20% for pickups to 56% for car SUVs."
CR notes the fatality rate per 100 million vehicle miles traveled decreased 25% from 2003 to 2019, according to NHTSA, and in terms of population, decreased from 14.78 per 100,000 people in 2003 to 11.07 in 2019, which is also a 25% decrease.
"Fatality rates did increase significantly in 2020 and remained high in 2021, but the National Highway Traffic Safety Administration (NHTSA) attributes this increase largely to an increase in risky behavior—including reduced seatbelt usage, increased speeding, and increased impaired driving—during the COVID-19 pandemic," CR wrote.
NHTSA reports in its latest projections for traffic fatalities in 2022 that fatalities are beginning to level off after two years of dramatic increases. The administration estimates that 31,785 people died in traffic crashes in the first nine months of last year, which is a 0.2% decrease compared to the 31,850 estimated fatalities during the same time in 2021.
Numerous new safety features were developed and widely deployed on new vehicles during the study period. First was electronic stability control, backup cameras, and side airbags. Then, and more and more, commonly included ADAS features automatic emergency braking (AEB), pedestrian detection, lane departure warning, and blind spot warning.
CR estimates that the inclusion of all four ADAS features on all vehicles could save around 11,800 lives per year.
"Crash-test protocols were also significantly strengthened after model year 2010. NHTSA enhanced its crash-test ratings system by adding an additional crash test, adding a smaller dummy to some tests to approximate the size of a 5th-percentile adult female, adding additional sensors to the dummies, and introducing a new overall 5-star safety rating," CR wrote.
"Together these changes made it more difficult for automakers to achieve the top rating, encouraging further improvements in vehicle crashworthiness. Given the findings of this study, it appears that all of these life-saving improvements in vehicle safety technology have been delivered without any statistically significant increase in inflation-adjusted vehicle cost."
Images
Featured image credit: Apriori1/iStock
Share This: