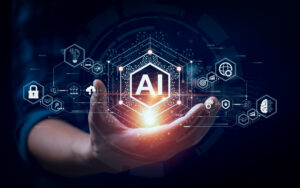 A new survey conducted by sprout.ai has found that more than half of 100-plus U.S. and UK insurance employees have either already implemented artificial intelligence (AI) in claims processing, such as ChatGPT, or are considering doing so.
sprout.ai is a tech company that fully automates insurance claims processing for its clients with generative AI. Its most recent survey fleshes out some of the benefits and challenges of AI use in insurance, based on responses from 126 insurance professionals in the U.S. and UK.
Forty percent of U.S. respondents said their insurance company employers are using AI while 27% are in the UK, according to the survey results. Fifty-five percent of U.S. customers and 47% in the UK have told the respondent companies they understand and have positive attitudes toward AI.
"Every industry is taking note of the opportunities presented by this cutting-edge technology that is capable of using datasets to generate realistic images, audio, and text," wrote CEO Roi Amir. "Within the insurance industry alone, AI is valued to be worth $35.77 billion by 2030. The opportunities for creating efficiencies and improving the customer experience are exciting and plentiful."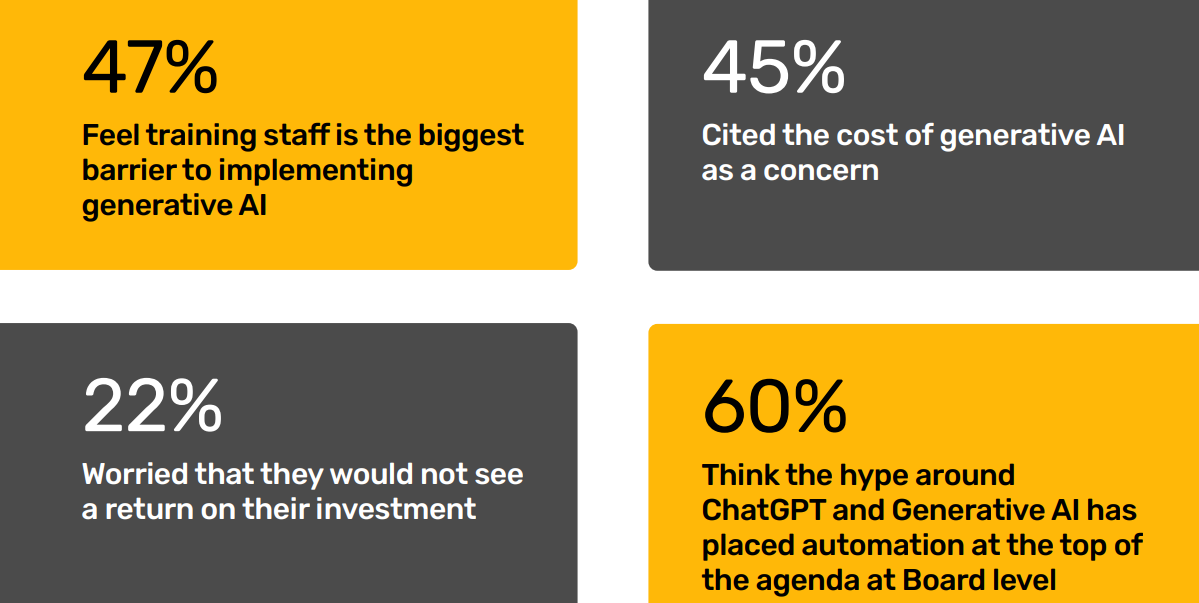 A previous sprout.ai report showed that more than a fifth of consumers expect their claims to be resolved within hours while 62% of claimants who reported a good customer experience said they remained customers of their existing insurance provider.
"When generative AI is used to produce huge gains in time and cost efficiencies, customer retention will improve in tandem with customer experience," sprout.ai wrote.
spout.ai notes that "generative AI has gone from a technological niche to a global phenomenon within a matter of months." The growth of the technology has also caught the eye of the Virginia Bureau of Insurance and the collision repair industry with a fair dose of skepticism.
Insurance Commissioner Scott White said in April during an open board meeting of the Society of Collision Repair Specialists (SCRS) that the Bureau wants "to make sure appropriate guardrails are in place" for carriers' use of "Big Data" through not only AI but machine learning.
"There's a lot of data out there and now they're finally finding ways to harness these really powerful AI," White said. "They're trying to utilize those in a lot of different areas. They're trying to utilize that for their marketing, for their underwriting, for their pricing, for their claims handling, and also for fraud protection in that space."
He added that while the use of AI algorithms can be good it could also lead to invalid or improperly used data and incorrect assumptions.
For collision repairers, industry pundits have said digital claims, especially those based at least in part on photos and with the assistance of AI in place of a person, are here to stay. CCC Intelligent Solutions reported in February that for the third year in a row the application of advanced computer vision AI for claims processing had increased — this year by 60%. At that time, more than 14 million claims had been processed using a CCC AI solution, showing three times the growth over 2019.
In 2017, LexisNexis Vice President of Risk Solutions Bill Brower (now Solera's industry relations VP) told A.M. BestTV he believed self-service and "touchless" methodology would be used in 50% of all collision claims by 2022, not far from the recent numbers provided by sprout.ai and CCC.
sprout.ai concludes from its survey that the insurance industry is "ready to embrace this exciting new technology in order to improve the experiences of the people working in it, and every person who takes out an insurance policy."
"Implementing this technology is not merely a siloed project for technical teams, but offers opportunities for every division," the company said. "Here at Sprout.ai, we use generative AI in a number of ways that help us automate claims processing fast. From the creation of synthetic data to policy checking, generative AI has helped us create a product that enables insurers to better serve their customers."
The use of synthetic data in the automotive industry is also on the rise and is predicted to only grow in use. Mindtech CEO Steve Harris recently wrote that the industry was one of the first proponents of using synthetic data to mimic and supplement limited real-world data but mainly in autonomous vehicle (AV) design and testing. Now, that focus should shift, Harris said.
"…the focus now should expand to other areas, such as in-cabin monitoring and around-car monitoring for security and safety, which is vital as we make the transition from non/semi-autonomous to fully autonomous vehicles. In addition, synthetic data can be used to train algorithms that recognize license plates and street signs."
Specific examples he gave include:
"Simulation and virtual testing: Automotive engineers use synthetic data to create virtual environments that simulate real-world driving conditions. Synthetic data helps generate diverse scenarios, including different weather conditions, traffic situations and road configurations;
"Training machine learning models: Synthetic data is used to train machine learning algorithms and neural networks. It helps augment limited real-world data sets by generating additional training samples. This augmentation improves the accuracy and generalization of models, making them more robust in different situations;
"Anomaly detection and fault diagnosis: Synthetic data aids in testing and validating anomaly detection systems in vehicles. By generating diverse synthetic data representing various fault conditions, engineers can train algorithms to identify and diagnose anomalies in the vehicle's systems;
"Sensor development and calibration: Synthetic data assists in developing and calibrating sensors used in autonomous vehicles, such as lidar, radar, and cameras. Generating synthetic sensor data enables engineers to analyze and fine-tune sensor parameters."
Last July, a Collision Industry Conference (CIC) topic explored a similar topic to safety — the standardization of advanced driver assistance systems (ADAS) access and repair capabilities. However, CIC's Emerging Technologies Committee said they thought ADAS could have a similar and arduous road ahead in developing standards to that of tailpipe emissions software access standardization. They noted that 45% of ADAS systems at that time had been deactivated by drivers, according to a study conducted by the Innovatrium at the University of Michigan on behalf of Automotive Aftermarket Suppliers Association (AASA).
Images
Featured image credit: Shutthiphong Chandaeng/iStock
More information
High tech ADAS & parts evolving today's vehicles, what to know
ADAS calibration companies say proper repairs are 'paramount' to systems' safety, would contribute to USDOT's goal of zero crashes
CCC 2023 Crash Course report explores AI effects on collision claims processes
Share This: