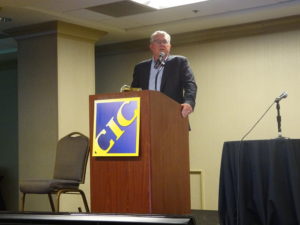 Going to the Collision Industry Conference on Thursday? Get ready to debate your colleagues and to dive deeper into some of the sector's hottest topics with our breakdown of the agenda highlights.
It's probably a little late for a plane, but California, Arizona and Nevada (and Mexico, for that matter) repairers who've been on the fence should consider driving in to attend. Pre-registration has closed, but you can register at the door Thursday for $75.
If you can swing it, try and come in Wednesday night at 6:30 p.m. for networking, cocktails and food at the CIC's reception.
The abbreviated, one-day January CIC typically sees committees discussing plans for the rest of the year, and you can provide some feedback on what you'd like to see them examine. However, it also offers more in-depth sessions as well.
These will include what promise to be at least three sessions talking about the topic of diagnostic scans and at least two examining calibration.
Scanning and calibration
At 10 a.m., Jack Rozint's Emerging Technologies Committee will feature a "Presentation on Secure Vehicle Gateway" involving Rozint (Mitchell), Jason Zeise (LaMettry's Collision), Chuck Olsen (AirPro), Jake Rodenroth (asTech) and Darrell Amberson (LaMettry's), according to the agenda.
The topic involves vehicle cybersecurity, something hammered home with the infamous "Jeep hack" publicized by Wired in 2015. The same year, Open Garages and I Am the Calvary founder Craig Smith demonstrated at a 2015 DerbyCon security convention how a hacker also could use an phony OBD-II port to upload sharable, executable code into a diagnostic tool and turn an automotive service or repair facility into an "auto brothel." The tool would go on to infect all other vehicles introduced to the shop through real OBD-II ports.
The threat might not even be as dramatic as the Jeep hack. As Privacy4Cars.com founder Andrea Amico pointed out, the more lucrative play for criminals might be to steal personal information out of a vehicle rather than turn it into a deathtrap.
At the January 2019 CIC, then-ETI Executive Director Greg Potter (now the organization's CTO) warned that OEMs seemed to be developing countermeasures to unwanted access unilaterally, with "no standardization in this case event."
Potentially dozens of diverse security protocols could hit the market.
"The standardization effort we have embarked on for the last 25 years stands to be broken," Potter said then.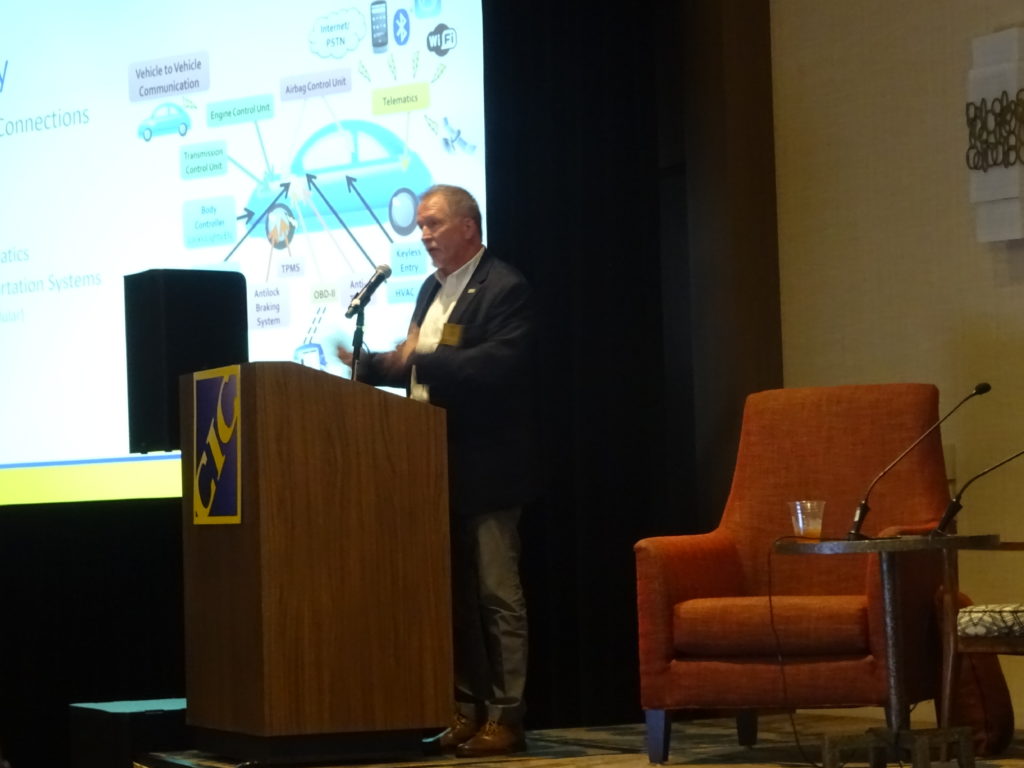 One high-profile example is Jeep's parent FCA itself. The OEM installed the Secure Gateway Module on "most" vehicles starting with the 2018 model year. It's been granting permission for certain aftermarket scan tools to sign into the vehicle (for example, here's Snap-On); try to use an unapproved scan tool, and you might be out of luck.
Meanwhile, the Auto Care Association in 2018 unveiled the "Secure Vehicle Interface," calling it "an internationally standardized technical design that provides for secure and standardized access to the In-Vehicle Networks (IVN) for access to operational, maintenance and driver behavioral data by the automotive aftermarket and vehicle owners." In a September 2018 Auto Body Repair Network column, Auto Care Association regulatory and government affairs Vice President Aaron Lowe presented the interface as an alternative to every OEM doing their own thing and creating havoc for the aftermarket.
So it should be interesting to learn more about the state of things on Thursday.
Following that at 10:30 a.m., an Emerging Technology Panel featuring Potter, Donnie Seyfer (National Automotive Service Task Force), Scott Brown (Diagnostic Network), Matthew McDonnell (Big Sky Collision) and Michael Marsh will deliver "An extensive discussion on Scanning and Calibration," according to the agenda.
After lunch, the topics will arise again when the Insurer-Repairer Relations Committee convenes at 1:30 p.m. for a "A 'Year in Review' panel covering thoughts on scanning, calibration, and certification programs." According to the agenda, committee Co-Chairman Matthew McDonnell will be joined by Mark Allen (Audi), Patrick O'Neill (Body Shop Express), David Willett (Intrepid Direct) — and notably, the symbolic "Empty Chair" CIC Chairman Jeff Peevy uses to represent the customer.
At the last CIC, Peevy (Automotive Management Institute) filled that chair with John Eagle plaintiffs Matthew and Marcia Seebachan. That dramatic event — made available to all with a December 2019 video — might cause that Empty Chair to loom a bit larger this CIC year.
Parts
Parts also commands a bit of real estate at Thursday's CIC.
At 8:20 a.m., Parts and Material Committee Co-Chairmen Aaron Schulenburg (Society of Collision Repair Specialists) and Ken Weiss (SSF Imported Auto Parts) will offer an "update on the parts definition debate." The session is only 15 minutes long, but it should be worth attending given the heated discussion in November 2019 during the last Parts and Materials session.
Weiss and Schulenburg at the time said the committee split following a deadlock; the two working groups offered the Las Vegas CIC competing visions of how to explain parts which before might have been known as "Opt-OEM" or "Alt-OE."
Following that, CCC reported it had taken a stand on what to call "Opt-OE" and other categories of components, issuing six parts definitions and binding suppliers to adhere to them.
Following Weiss and Schulenburg's presentation, the Automotive Anti-Counterfeiting Council and Homeland Security Investigations will at 8:35 a.m. offer a special presentation on "The Threat of Counterfeit Auto Parts." According to the agenda, the audience will hear "an overview of the abundance and dangers of counterfeit auto parts."
The "A2C2" has appeared at the Collision Industry Conference and NACE in recent years to warn the industry about counterfeits pretending to be OEM parts. Such criminal activity complicates life for repairers and consumers who seek to buy what they think are genuine OEM parts outside of the authorized manufacturer channel.
Legislation
With the 2020 legislative season underway, the CIC Governmental Committee will appear at 1 p.m. to "Survey the attendees for their preferences in our future projects/presentations" and present on "recent and upcoming legislative activities, both on state and federal levels."
2019 was noteworthy for the extensive collision industry legislative activity involving bills mandating insurers reimburse OEM repair procedures. However, only New Hampshire's House Bill 664 actually passed a legislature — only to be vetoed by Republican New Hampshire Gov. Chris Sununu. However, a new version of the bill is back for 2020.
It'll be interesting to hear from the committee which other states are resurrecting their OEM procedures battles.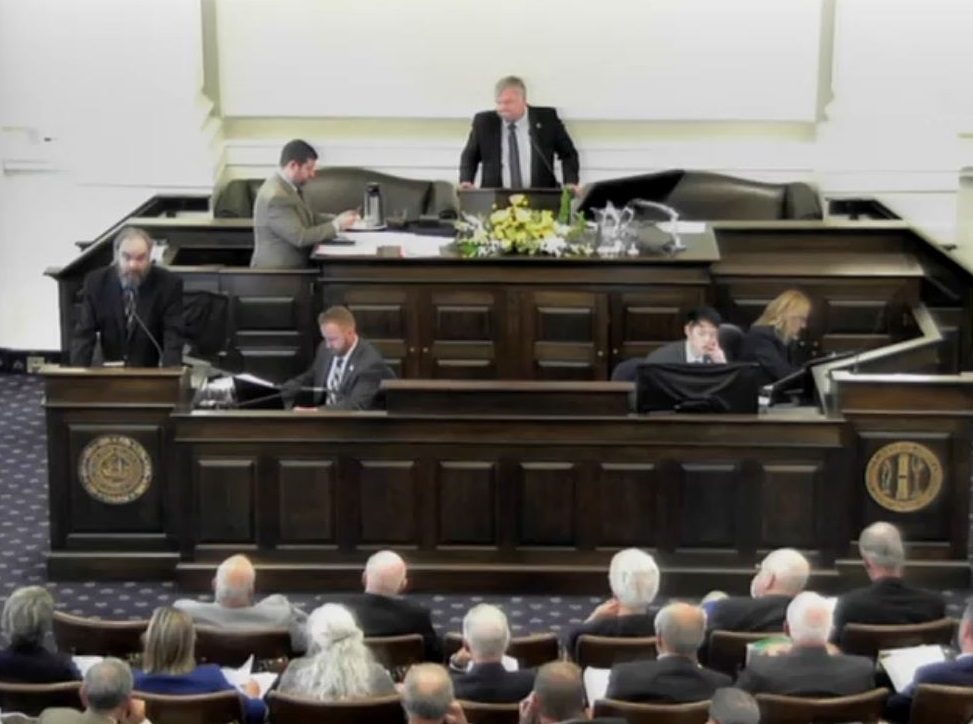 Another committee will discuss legislation Thursday. The Data Access, Privacy and Security Committee led by Frank Terlep (Auto Techcelerators) and Dan Risely (CCC) will at 4:15 p.m. present "It's 2020, are you ready for the CCPA and other Data Access, Security and Privacy Initiatives?"
Under the California Consumer Privacy Act, businesses doing $25 million or more in sales are by law in 2020 held to higher standards regarding customer data. (Businesses that don't make that kind of money but still handle 50,000 consumers a year also would qualify.)
The law has been tweaked since passing in 2018.
"Several new laws passed to clarify and to ease CCPA compliance including a narrow opt-out and deletion rights in order to facilitate prompt and effective recalls and warranty work," the Calfornia Autobody Association wrote in an email Jan. 6. The CAA referenced Assembly Bills 1146, 25, 874, 1355 and 1564 in the message.
The committee warned the CIC about the issue last year, and as they pointed out, the measure became live Jan. 1 of this year. So your business needs to get compliant ASAP if it isn't already.
Attorney Patrick McGuire told the CIC audience in July 2019 he was already getting calls from shops with concerns about PII under the California law. "It's very broad," he said.
A weak point in safeguarding that information could be one's "lowest-paid employees" with access to data on-site in locations including an infotainment system, he said.
McGuire also recommended restricting access to such information whenever it had to be collected. For example, if only the front office needs that data, ensure nobody else in the shop can do so.
In July 2019, Terlep said other state legislatures were examining the topic as well.
Tech shortage
Education and Training Committee Co-Chairmen Gene Lopez (Seidner's Collision Centers) and Josh McFarlin (AirPro) will at 3:05 p.m. offer a "Entry Level Technician Task Expectations and Accreditation Presentation to review various perspectives of entry-level task expectations." The committee has been promoting the ASE Education Foundation's effort to reduce the threshold for vo-tech collision programs to become accredited. Since repairers really only need new hires to be fluent in a few core skills, changing guidelines for schools might make it easier for them to support collision programs. In theory, this could result in more graduates pumped into a market with a severe technician shortage.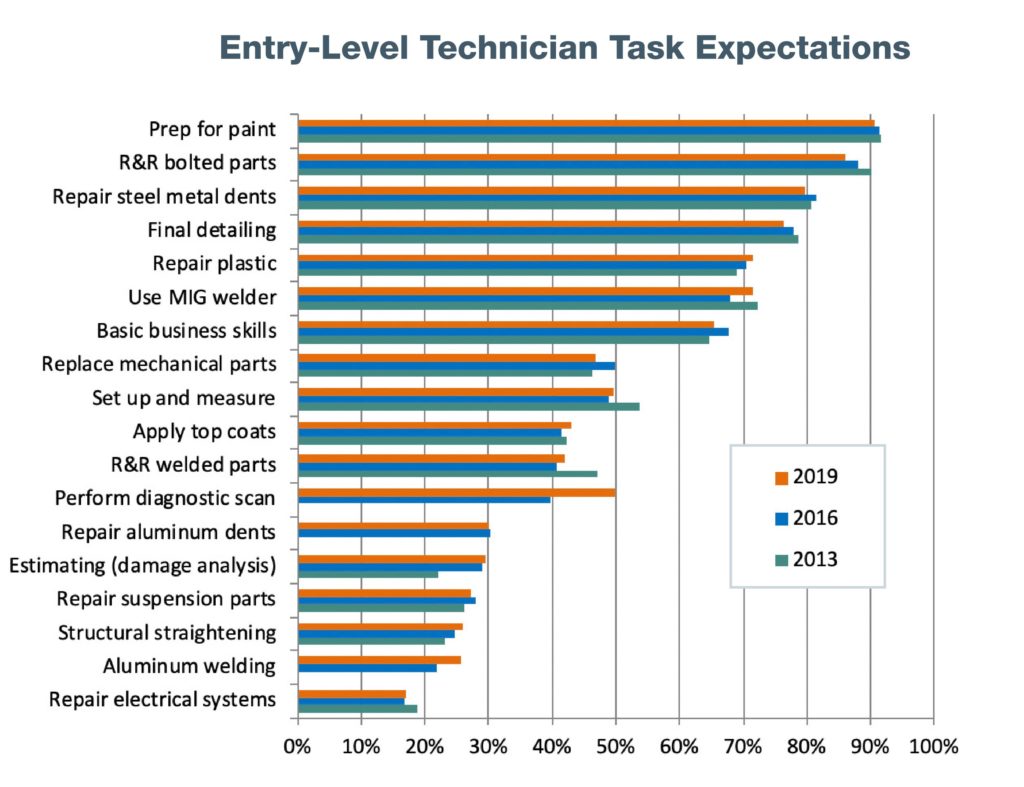 And speaking of the tech shortage, "The Talent Pool Committee will provide an update of its work for 2019 and plans for 2020," according to the agenda. The 3:45 p.m. session will feature Kyle Holt (SP/2), Nick Schoolcraft (Phoenix Solutions Group), Kyle Medieros (Nashville I-CAR) and Brandon Eckenrode (Collision Repair Education Foundation).
Other highlights include:
Kevin Earlywine (Full Impact Technologies) of the Estimating Committee at 11:15 a.m.: will discuss "How do we align the estimating process with the current vehicle technology and repair procedures?"
Toby Chess (Kent Automotive) and Kye Yeung (European Motor Car Works) will return at 2:15 p.m. with the 2020 edition of "Kool Tools" they found at SEMA. You can also see it Wednesday at the SCRS open board meeting 3-5 p.m.
Details on other CIC Week events can be found here.
More information:
Collision Industry Conference website
Collision Industry Conference agenda
CIC, Jan. 7, 2020
Images:
Collision Industry Conference Chairman Jeff Peevy speaks July 24, 2019, at the Indianapolis, Ind., CIC. (John Huetter/Repairer Driven News)
The automotive aftermarket and OEMs have worked fairly well together for a while on diagnostic support and standardization, but the OEMs' need for vehicle cybersecurity could create problems for independent repairers, an Equipment and Tool Institute leader warned. Then-ETI Executive Director Greg Potter (now the organization's CTO) at the January 2019 Collision Industry Conference gave the industry a rundown of the history of on-board diagnostic standardization and potential sore spots for the aftermarket going forward. (John Huetter/Repairer Driven News)
Rep. Kermit Williams, D-Wilton, spoke in favor of overriding Republican Gov. Chris Sununu's veto of House Bill 664 on Sept. 18, 2019. (Screenshot from New Hampshire House video)
The basic skills demanded of an entry-level technician remain fairly consistent, according to a Collision Repair Education Foundation and I-CAR study. (Provided by CREF)
Share This: