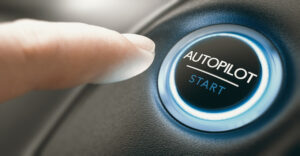 A coalition of auto safety and consumer protection groups is urging OEMs to adopt universal terms for advanced driver assistance system (ADAS) features, warning that the current variety of terms can confuse consumers and make it hard to understand their vehicle's functions.
AAA, Consumer Reports, J.D. Power, the National Safety Council, PAVE, and SAE International on Tuesday released a set of updated and expanded terms that it believes will help clear up confusion, particularly as ADAS features become more common. The six major categories on the list are collision warning, collision intervention, driving control assistance, parking assistance, other driver assistance systems, and driver monitoring – a category added this year.
"ADAS features have become increasingly prevalent in new vehicles, and have the potential to reduce traffic crashes and save thousands of lives each year," the coalition said in a statement. "However, the terminology used by automakers to describe ADAS features varies widely, which can confuse consumers and make it difficult to understand the vehicle's functions."
The various terms appear to have the potential to confuse not only consumers but repairers and insurers as well.
The coalition drew particular attention to safety features that are "overstated or misrepresented with marketing language designed to reel in buyers," leading drivers to over-rely on the features. "Establishing common language for ADAS helps ensure drivers are fully aware these systems assist, not replace, an engaged driver," the coalition said.
"The coalition is calling on automakers, regulators, safety organizations, journalists, and other stakeholders to adopt this recommended standard language in the near term to reduce driver confusion. The group is also asking for vital consumer education on the benefits, limitations, and capabilities of ADAS," it said.
The Alliance for Automotive Innovation, which represents the great majority of US automakers, issued the following statement to Repairer Driven News: "Auto Innovators supports the need for additional consumer education to understand the complexities of Advanced Driver Assistance Systems (ADAS)."
The coalition launched the "Clearing the Confusion" effort in 2019 when it submitted an initial list of standardized names to the U.S. Department of Transportation (DOT). The agency endorsed the list in 2020.
The Collision Industry Conference (CIC) agreed to use the proposed generic nomenclature for various ADAS functions in early 2021 in coordination with "Clearing the Confusion" developers. Eighty-eight percent of the CIC audience endorsed doing so in a July 2020 CIC poll.
The coalition says that its recommended terms are "simple, specific, and based on system functionality." It said the list is updated as new systems are introduced. The universal terms are not meant to replace OEM's proprietary names but are intended to give consumers "transparent and consistent" information.
It suggested that the universal terms be used on window stickers, in owner's manuals, and in other marketing materials for generic system functions.
In a separate statement, Consumer Reports said there's "widespread industry support for consumer-friendly terminology."
"The names of these features are all over the map right now, and many of them don't accurately describe what the feature will do or what drivers should expect," Kelly Funkhouser, CR's head of connected and automated vehicles, said. "There's a different name on the website, in the owner's manual, and then in the menu in the car."
Not specifically mentioned by the coalition, but a frequent target of criticism, is Tesla's Autopilot and its optional "Full Self Driving" (FSD) mode. Tesla has never claimed that FSD is the same as autonomous driving, and last year confirmed to California regulators that the mode is a Level 2 system, which requires a driver to remain behind the wheel and pay attention at all times.
The National Highway Traffic Safety Administration (NHTSA) recently upgraded its investigation of Tesla's Autopilot feature. The agency opened a preliminary evaluation one year ago after "an accumulation of crashes in which Tesla vehicles, operating with Autopilot engaged, struck stationary in-road or roadside first responder vehicles tending to pre-existing collision scenes."
An AAA study published in May found that owners of new vehicles equipped with ADAS technology may understand it better after six months of use, but still have limited knowledge.
"Our research finds that drivers who attempt the 'self-taught' approach to an advanced driver-assistance system might not fully master its entire capabilities," David Yang, executive director of the AAA Foundation for Traffic Safety, said at the time. "In contrast, drivers who have adequate training are able to effectively use the vehicle technology."
Research conducted by the AAA Foundation for Traffic Safety found that, despite gaps in drivers' understanding of the technologies, at least two out of three owners of vehicles with forward collision warning (FCW), automatic emergency braking (AEB), lane departure warning (LDW), lane keeping assist (LKA), blind spot monitoring (BSM), rear cross-traffic alert (RCTA), and/or adaptive cruise control (ACC) said they trusted them and found them useful. At least seven out of 10 owners said they would want each of the ADAS features on their next car and that they would recommend it to others.
Another word for 'recall?'
Adopting clearer terminology for evolving technology is the subject of another effort, this one by the website CleanTechnica, which argues that the word "recall" may not be the right word to use to describe over-the-air (OTA) software updates.
Author Carolyn Fortuna said OTA updates are becoming more common as new vehicles increasingly feature built-in wireless connections, noting that Ford, Mercedes-Benz, Tesla, and General Motors have all used OTA updates to address product recalls. Fortuna said, "With so many automakers now sending OTA updates, isn't it time to replace our tendency to focus on the negative connotations associated with a 'recall?'"
Fortuna said recalls addressed with OTA updates benefit both consumers and OEMs.
"Clearly, vehicle recalls in which live service technicians manually repair a vehicle are expensive, and many automotive manufacturers have implemented OTA updates as a contemporary replacement or repair delivery system that makes it unnecessary to bring a vehicle into a service center. Instead, service centers receive access to updates with the same contents at the same time as an OTA update, allowing for consumer convenience of choice," she said.
"OTA updates help automotive manufacturers to reduce vehicle warranty and recall costs and are an opportunity to implement safety-related and legally relevant corrective measures in a faster, more customer-friendly and efficient manner than traditional recall practices."
In the U.S., manufacturers issue a recall when they or NHTSA determines that a vehicle or particular equipment creates an unreasonable safety risk or fails to meet minimum safety standards. OEMs must address the issue by repairing or replacing the component, offering a refund, or, in extreme cases, repurchasing the vehicle.
Evolving technology increasingly favors such hands-off, at-a-distance repairs, Fortuna said.
"Regular software updates are an integral part of the service concept across industries in the digital world. OTA updates are a practical method for manufacturers to rapidly deliver system fixes and improvements and draw upon a complex system architecture with connected control units and system functions.
"Many connected car systems are built to work in a distributed manner, therefore requiring communication with other systems over a network. These cars have started to become the new normal in the automotive industry. Due to the major advancements in automotive electronic systems and wireless communication technology, processes such as vehicle diagnostics and updating the software in vehicle electronic control units are possible from a remote location through the internet and without having vehicles being present at service station."
Fortuna acknowledged that providing continuous and secure OTA updates presents a challenge to OEMs, "due to technical, organizational, and regulatory issues." She argued that the recall process must adapt to "increase transparency from manufacturers and enable NHTSA's recall process to fit vehicles of the present and future."
More information
IIHS: Drivers don't understand limits of Level 2 systems, particularly Autopilot
AAA, J.D. Power, Consumer Reports, NSC urge standardized ADAS naming, propose 19 terms
AAA study finds even after 6 months, drivers may not correctly use, understand ADAS
Images
Featured image by Olivier Le Moal/iStock
Share This: