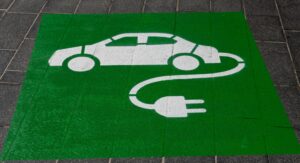 EPA 'streamlines' EV, semiconductor materials risk review to 'super-charge production'
By on
Technology
The Environmental Protection Agency (EPA) has announced a new "streamlined and efficient process" under the Toxic Substances Control Act (TSCA) to determine risks posed by new chemicals used in electric vehicle (EV) batteries, semiconductors, and renewable energy generation.
Specifically, the EPA is evaluating mixed metal oxides (MMOs), including new and modified cathode active materials (CAMs), and is considering risk mitigation efforts that might be necessary.
MMOs, including CAMs, are a key component in EV lithium-ion batteries, which the EPA called "a growing and important industry." MMOs can also be used for semiconductors, solar cells, wind power turbines, and renewable energy storage. They typically consist of lithium, nickel, cobalt, and other metals.
"Streamlining our review of new chemical substances that make up electric vehicle batteries and that can be used in other vital emerging markets will allow manufacturers to super-charge production, bolstering our economy and advancing the Biden-Harris Administration's goals to protect the environment and combat the climate crisis," said Michal Freedhoff, assistant administrator for the Office of Chemical Safety and Pollution Prevention, in a news release.
Manufacturers are required to inform the EPA that they plan to use MMOs, including new and modified CAMs, prior to production. The agency then assesses all potential hazards and exposures, determines if they present unreasonable risk to human health or the environment, and takes steps to address the risk(s) before the chemicals are produced.
EPA plans to also offer outreach and training to those who are interested in the new review process, basics of TSCA statutory and regulatory requirements, and steps for navigating the new chemicals submission process.
In January 2022, EPA launched a similar effort to streamline the review of dozens of Premanufacture Notices (PMNs) for biofuels that could be used to displace current, higher greenhouse gas-emitting transportation fuels. Since then, EPA has completed nearly 95% of submitted PMNs.
In pursuit of environmental protection, Volkswagen, General Motors, Stellantis, and Toyota all shared plans earlier this year to recycle EV and/or hybrid batteries. Rivian said during last year's OEM Collision Repair Technology Summit that they were working on how they could get high-voltage components back to ensure they're recycled responsibly and Lucid said they planned to track what battery packs are put back into their fleet.
During the Collision Industry Conference (CIC)'s July meeting, Automotive Recyclers Association Executive Director Sandy Blalock outlined ARA's commitment to making sure recyclers are properly trained in handling BEV and EV components, including recently updating its certification model to include a high-voltage vehicle dismantling protocol.
IMAGES
Featured image credit: Michael Marais/Unsplash
Share This: