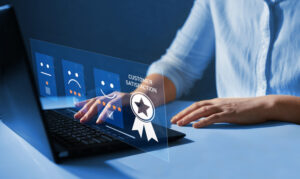 Customer satisfaction with property and casualty (P&C) insurance has not improved over the past year, with 22% of customers reporting that they're dissatisfied with their carrier, according to the American Customer Satisfaction Index (ACSI) Insurance and Health Care Study 2021-2022.
According to the study, which surveyed 12,841 people between October 2021 and September 2022, customers are least satisfied with the availability and range of discounts and rewards (75% satisfied), the speed of claims processing (77%), and the ease of understanding billing statements (77%).
The areas of greatest satisfaction involved remote services: The quality of the mobile app (83%), the reliability of the mobile app (83%), and website satisfaction (82%). This contrasts with a J.D. Power study announced in May, which found that customer satisfaction with insurers' digital offerings had fallen, despite significant investments in customer-facing websites and mobile apps.
The results for the other four benchmarks in the ACSI study were unchanged from 2021. Eighty percent of respondents were satisfied with call center satisfaction, courtesy and helpfulness of representatives at policy purchase time, and variety of coverage options, while 78% were satisfied with the courtesy and helpfulness of staff in the claims process.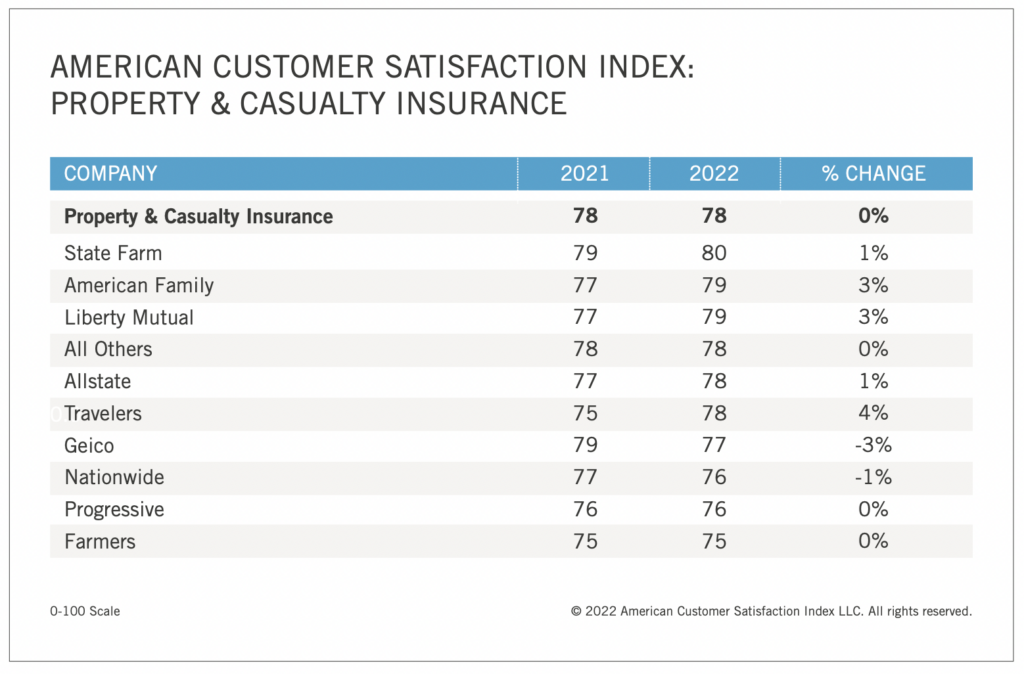 Just five percentage points separated the carrier with the greatest customer satisfaction, State Farm (80%), with the carrier with the least, Farmers (75%). The greatest improvement was shown by Allstate, whose satisfaction rating rose by four points to 78%. American Family and Liberty Mutual each gained three points, to 79%, while State Farm and Allstate (78%) each gained a point.
Progressive (76%) and Farmers were unchanged. Losing ground were Nationwide, down one point to 76%, and GEICO, down three points to 77%.
The ASCI study is based on interviews with 12,841 customers, chosen at random and contacted via email between October 2021 and September 2022. Customers were asked to evaluate their recent experiences with products and services provided by the largest firms in terms of market share, plus an aggregate category consisting of "all other" — and thus smaller — companies in each industry. These smaller companies were not identified.
ACSI did not reveal the specific questions respondents were asked, and did not respond to an email from Repairer Driven News seeking further information.
Although its survey included all P&C insurance, it's interesting to compare ASCI's results with those of the 2022 Insurer Report Card conducted by CRASH Network.
The Report Card grades carriers strictly on repairers' responses to the question, "How well does this insurer's claims handling policies, attitude and payment practices ensure quality repairs and customer service for motorists?" It's a comprehensive survey, awarding letter grades to 144 different auto insurance companies, both national and regional.
Three of the gainers in the ASCI study — Allstate, Liberty Mutual, and State Farm — saw declines in their grades and rankings in the Report Card. Only American Family gained in both studies, rising to a grade of C+ and a ranking of 55 in the Report Card.
American Family and Travelers, which had a 78% satisfaction rating in the ASCI study, earned grades of C+, the highest among the 10 largest carriers. GEICO, Nationwide and Progressive all earned Cs, while the highest ranked in the ASCI study, State Farm, earned a C-. Liberty Mutual and GEICO each earned a C-, while the lowest grade, D+, went to Allstate.
Many of the insurers getting the highest grades are "smaller, regional insurance companies, ones that many consumers may not be familiar with because these companies do not spend billions of dollars per year on advertising," the survey notes.
The 2023 Insurer Report Card survey is currently open to collision repairers at www.CrashNetwork.com/gradebook.
The report card can be completed in less than three minutes, although shops are encouraged to spend time explaining why they gave each insurer the grade they did. All individual shop grades and identification information will remain confidential.
More information
J.D. Power study: Consumer claims satisfaction tied to understanding of policies
Customer satisfaction with claims process drops in new J.D. Power survey
Images
Featured image by Galeanu Mihai/iStock
Share This: