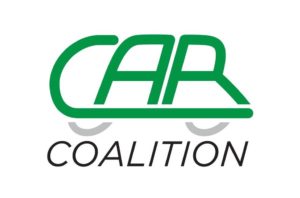 Allstate, LKQ, CAPA and the ABPA on Wednesday warned U.S. House Energy and Commerce Committee leaders about the "captive environment" of automakers' certified collision repair networks, calling them monopolistic and expensive.
The companies and trade groups' comments came in a letter opposing automakers' call for a federal "limited five-year preemption regarding access to telematics data that could compromise vehicle safety due to actions at the state level." (Emphasis Alliance for Automotive Innovation.)
The Auto Innovators OEM trade group in June told the committee that a proposed Massachusetts "right to repair" expansion raised cybersecurity concerns by granting repairers the ability to remotely manipulate systems. It also complicated OEMs' ability to comply with a NHTSA mandate to provide such cybersecurity, Auto Innovators said.
The opposition Wednesday was the first public initiative by the newly formed "Consumer Access to Repair Coalition," which called itself "a group of independent automotive parts and repair companies, associations and insurers dedicated to preserving and protecting consumer choice, transparency, and affordability in the post collision repair market."
The group's membership as of Thursday only included Allstate, LKQ, the Certified Automotive Parts Association and the Automotive Body Parts Association. It doesn't include repair companies per se, though shops do sit on CAPA's board and technical committee.
The CAR Coalition said the Alliance for Automotive Innovation's request for a temporary ban on state telematics rules "would only strengthen their developing monopoly of the automotive collision repair chain."
"These concerns are not speculative," the CAR Coalition wrote to House Energy and Commerce Chairman Frank Pallone, D-N.J., and ranking member Rep. Greg Walden, R-Ore. "OEMs have long taken many monopolistic actions in the automobile repair market. This latest effort by the OEMs is part of a broader strategy to move the repair of damaged vehicles to a captive environment, restricting choices for consumers. Some OEMs' tactics have also included the abuse of design patents, mandated use of OEM parts in repair procedures and position statements, and steering consumers following an accident to 'OEM Certified Shops.' These moves have only served to reduce repair options and increase prices for consumers. Vehicles are often the second biggest purchases consumers will ever make and they deserve access to affordable repair options. … An OEM that denies vehicle owners and independent repair facilities access to necessary repair information, diagnostics, and tools to communicate with the vehicles it manufactured forces consumers to patronize its affiliated dealerships for expensive maintenance and perpetuates the monopolistic profit grabbing practices that have become the norm for OEMs."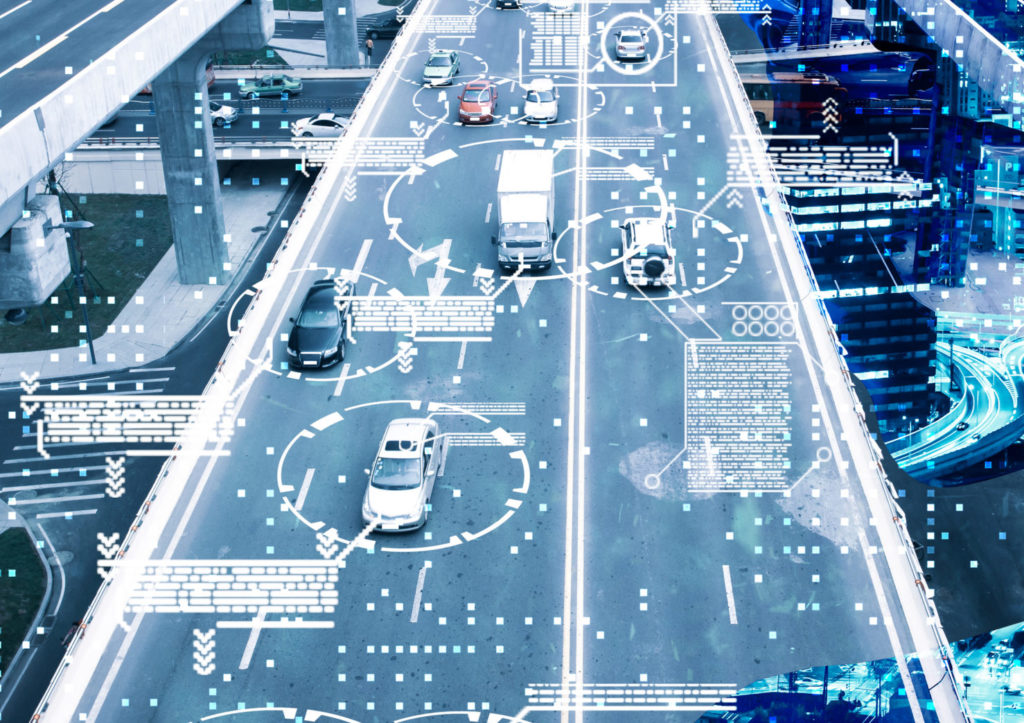 We asked the CAR Coalition on Wednesday about their opposition to automaker-certified shops given signs that many auto body shops are not up to the task of fixing modern vehicles. Why wouldn't you want a facility confirmed qualified by the company that built the car?
"The Coalition is not opposed to specific facilities," spokeswoman Jo Maney wrote in an email Thursday. "The Coalition is opposed to monopolies and will be focused on expanding and preserving choices for consumers in the post collision repair process."
We asked the coalition Thursday morning if it was disingenuous to attack "mandated use of OEM parts in repair procedures and position statements, and steering consumers following an accident to 'OEM Certified Shops.'" when the coalition's members all benefit from an identical system that pushes alternative parts and refers customers to insurance direct repair networks.
The coalition has not yet responded as of early Thursday evening.
"In addition to ensuring consumer access to data, the CAR Coalition seeks to advance additional policy solutions that will address the rising cost of automotive collision repair for consumers," the group wrote in a news release Wednesday. "The Coalition will be highlighting automotive design patent abuses and will work to prevent steering techniques and first notice of loss from OEMs, which directs consumers to dealers first, limiting repair choices."
We put similar questions to Allstate specifically on Wednesday. We also asked if Allstate only referred customers to its network's OEM-certified shops and, if not, its rationale for refusing to do so.
The company had not responded as of early Thursday evening.
On top of the comments over certified collision repairers and OEM parts Wednesday, Allstate last year showed hostility to OEM repair procedures. While opposing a Montana bill requiring shops and insurers to follow them, lobbyist Bruce Spencer argued that incidents like the Seebachan v. John Eagle Collisioncase didn't happen frequently enough to merit the legislation. He also said a customer should be allowed to choose a cheaper fix than one called for in the OEM instructions, and he warned about auto body shops having to buy new equipment to execute those procedures.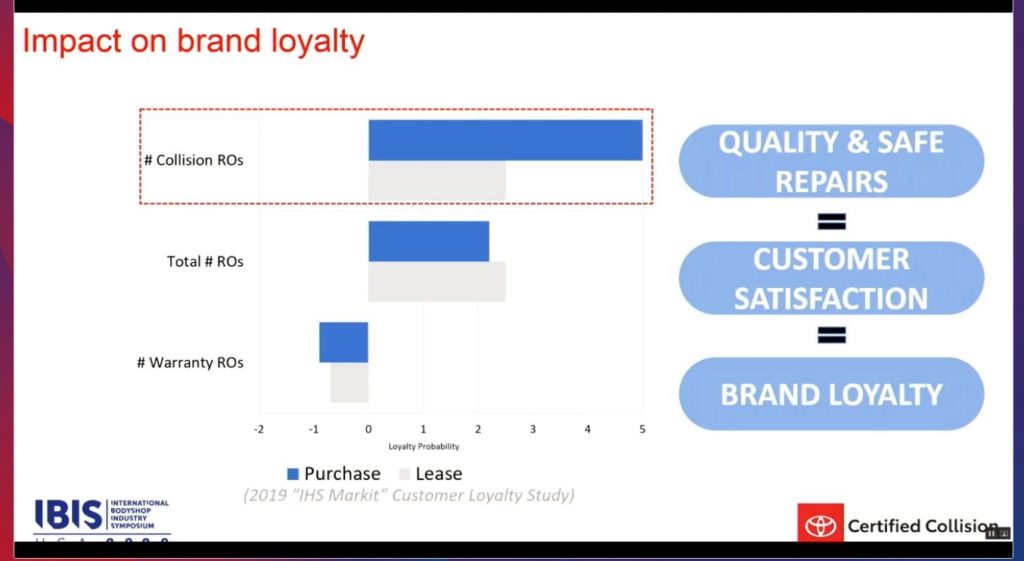 Telematics
Automakers have said they'll use their ability to detect crashes through telematics to recommend their certified auto body shops to customers.
Parts sales might be an incentive, but repair quality is far more lucrative for an automaker. Sean Carey of SCG Management Consultants in 2016 pointed out that new OEM parts sales are a drop in the bucket, a mere $140 million market per point of retention, Carey said. But every percentage point of the overall auto market an automaker controls is worth $5 billion, he said, and OEMs have realized that a bad repair or a total loss costs them some of that share — while they're releasing vehicles that are growing harder to repair.
An August 2019 study with IHS Markit found that "believe it or not," the strongest driver of brand loyalty is a collision repair order, Toyota national manager of service and collision operations George Irving Jr. said this spring at IBIS USA.
The impact of a collision repair order "far exceeded" a service RO, which also had a positive result on brand loyalty, he said. (A warranty repair order "doesn't work" for brand loyalty, he said.)
Toyota also plans to sell insurance policies at dealerships which will be "100 percent OE parts," Irving said, calling that a "great reason" to be in the network. He said Toyota would also direct those customers to the certified network and promote the network from vehicles which will be increasingly connected, according to Irving. "The car will help direct the actual collision process," he said.
Of course nothing's stopping insurers from using data from an OBD-II dongle or even a smartphone's sensors to study driving behavior and price premiums accordingly. The same devices also permit carriers to detect crashes and recommend their own network of shops. The data from the vehicle itself is said to be more accurate. However, insurers have shown confidence in the smartphone's results with products like Allstate's Milewise, and roadside assistance company Agero in 2018 said its smartphone app rarely got false positives about crashes.
Be heard: Congressional contact information can be found here.
More information:
Consumer Access to Repair Coalition letter to House Energy and Commerce Committee
CAR Coalition, July 1, 2020
"CAR COALITION LAUNCHES WITH CALL FOR EXPANDED CONSUMER CHOICE"
CAR Coalition, July 1, 2020
Auto Innovators letter to House Energy and Commerce Committee
Alliance for Automotive Innovation, June 3, 2020
Images:
Allstate, LKQ, the Certified Automotive Parts Association and the Automotive Body Parts Association have formed the Consumer Access to Repair Coalition. (Provided by CAR Coalition)
This Toyota slide from IBIS USA 2020 shows results from a Toyota-IHS Markit August 2019 study into brand loyalty. (Toyota slide; screenshot from IBIS USA 2020 feed)
Automaker trade group Alliance for Automotive Innovation has called for a five-year federal ban on state telematics mandates. (4X-image/iStock)
Share This: