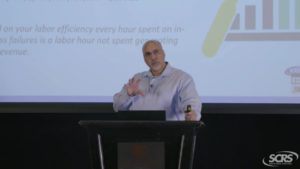 Auto body shops and others seeking insight into technology, resources and business practices relevant to the collision repair industry will be able to access the virtual Repairer Driven Education series through Aug. 31, 2021.
The Society of Collision Repair Specialists released the nearly 24 hours of educational content in stages last week alongside the virtual SEMA360. Repairers who tuned in then have the chance to fill in any gaps in their education, review a particularly valuable or complicated point or screen content for their colleagues or employees.
And those who didn't register last week still can purchase and watch the content through the end of next summer. One class on the Database Enhancement Gateway and Blueprint Optimization Tool is free. The other regular series courses are $75, and the multipart OEM Collision Repair Technology summit is $150. A full series pass is $375.
"This has been a challenging year for in-person events, and we wanted to do our best to provide easy access to our audience from the comfort of their business, while still maintaining the aesthetic and feel of participating in a national level event," SCRS Chairman Brett Bailey (A&B) said in a statement Tuesday. "Rather than deliver this content over an online webinar platform, we were organized an event bringing our speakers on-site to be filmed in the front of a room, situated similarly to how an event-room would be set. Based on the feedback last week from our online attendees, I feel like we delivered on our vision, and we've got a great deal of gratitude to our speakers who went the extra lengths to join us for filming in-person to share their expertise with the industry."
Register for the classes and replay the lineup at rde.scrs.com.
"RDE included business-oriented subject matter ranged from preparation in order to get paid for scans, overcoming insurer objections, leveraging OEM certifications, technology that will disrupt your business, marketing online, litigating and winning short payments and more," SCRS wrote in a news release. "Additionally the sessions included more technical topics such as duplicating OEM seam sealer, interpreting component level data and Glue Pull Repair. The OEM Collision Repair Technology Summit session delved deeper into emerging realities in the automotive space, with presentations from executives and engineers at GM, Subaru America, Ford and Audi of America, with an in-depth look at Materials, technology and changes in automotive design in North America, from the perspective of Ducker."
SCRS on Monday also recognized the companies who supported the revised Repairer Driven Education format this pandemic year: the Alliance of Automotive Service Providers, 3M, AirPro, AkzoNobel, Axalta, BASF, CCC, Enterprise, GM, the Auto Care Association's Paint, Body and Equipment Specialist segment, Podium, PPG, Reliable Automotive Equipment, Sherwin-Williams, SEMA360, Spanesi and Toyota.

Here's some relevant Repairer Driven News coverage ahead of and after the release of the courses to whet your appetite for the sessions.
More information:
SCRS Repairer Driven Education series website
"SCRS Repairer Driven Education Available Through August 2021"
Society of Collision Repair Specialists, Nov. 10, 2020
Featured image: Lee Rush, manager of business consulting services for Sherwin-Williams Automotive Finishes, speaks during a 2020 virtual Repairer Driven Education series session. (Screenshot from Society of Collision Repair Specialists video)
Share This: