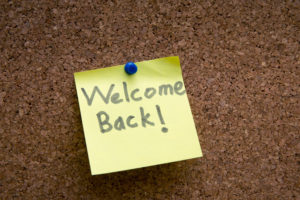 Collision industry professionals who were out of the office or hustling to leave it for the holidays over the past two weeks might not have had time to keep up with their daily doses of Repairer Driven News.
It's OK, we understand, and we have the solution. Here's links to all the coverage you missed between Dec. 23, 2019, and Friday.
"11th Circuit judge: Why wouldn't insurer misleading on guarantees be tortious interference?"
An Eleventh Circuit Court of Appeals judge last month questioned an insurers' representative on steering during oral arguments, suggesting possible hope for tortious interference claims rejected by a lower court.
The comments by Judge William Pryor Jr. on Dec. 4, 2019, involved allegations of steering brought by Mississippi shops against leading national insurers in Auto Alignment et al v. State Farm et al. The case has been bundled with similar litigation from Utah and Indiana in a joint appeal to the Eleventh Circuit, which means the steering discussion during oral argument could signal judges' thinking on all three lawsuits. Read more.
"AASP-NJ warns insurer misleading over private right of action bill"
The Alliance of Automotive Service Providers of New Jersey on Dec. 23, 2019, warned that an insurer had been sending out letters "making false and misleading comments" about a bill allowing a private right of action to sue over insurer misbehavior.
AASP-NJ Executive Director Charles Bryant said he had confirmed one letter from NJM Insurance, and provided us with a copy. However, he said he's heard NJM isn't the only carrier doing so. Read more.
"Merry Christmas! Here's some more presents, courtesy of the collision industry"
Our annual roundup of all the free stuff available online for your body shop. See if there's one you haven't tapped yet. Read more.
"CREF announces 2020 career fair schedule; shops seeking techs can man a booth"
Need technicians? The Collision Repair Education Foundation will give the industry a crack at thousands of auto body repair and other transportation skilled trade students with its 2020 career fair lineup. The organization announced a spring and fall 2020 schedule it said "will include events being held in at least the top 25 markets nationwide that employ technicians."
The career fairs kick off in Pittsburgh, Pa., on Jan. 24, 2020, in conjunction with the AutoRama, World of Wheels and Cavalcade of Customs show's Student Day. CREF said more than 700 students are expected. Read more.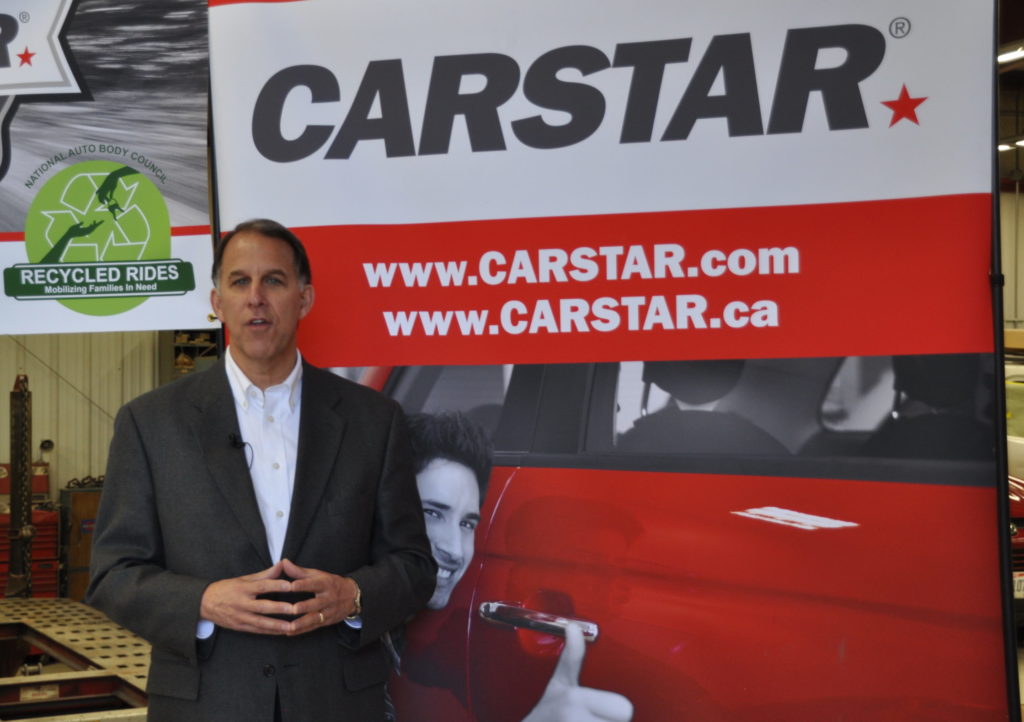 "'Dial will turn on', CARSTAR head predicts of OEM certification"
OEM certification will become significantly more relevant, CARSTAR President Dean Fisher predicted.
Automakers are entering the industry at an "unprecedented rate," he said on a CARSTAR-sponsored BodyShop Business webinar Dec. 12, 2019. Fisher said they're even taking an interest in which rental car a consumer is assigned while their vehicle is in a body shop: Why would they want a customer placed in a competing brand, particularly in a total loss situation, he said. Read more.
"Appeal oral arguments suggest customer a solution to auto body shops' issues with insurers"
Oral arguments in repairers' RICO appeal against major insurers suggest body shops might have a hard time suing when insurers place them in a situation of having to eat, refuse, or balance-bill necessary operations.
On the whole, the discussion Dec. 4, 2020, seemed to suggest shops might wish to look to the customer as the key to the problem of insurers refusing to budge from an insufficient estimate. Either through using misrepresentations made to the consumer as the foundation for a RICO case or just simply balance-billing the vehicle owner rather than trying to sue the insurer at all. Read more.
"Uber seeks to replace rental cars during auto body repair claims"
Uber recently made a pitch to collision repairers that it could replace traditional industry transportation methods like rental vehicles and chase cars.
Uber for Business general manager Neal Watterson told the MSO Symposium on Nov. 4, 2019, that his speech marked the first time someone from Uber addressed the body. "It's been a long time overdue," he said. Read more.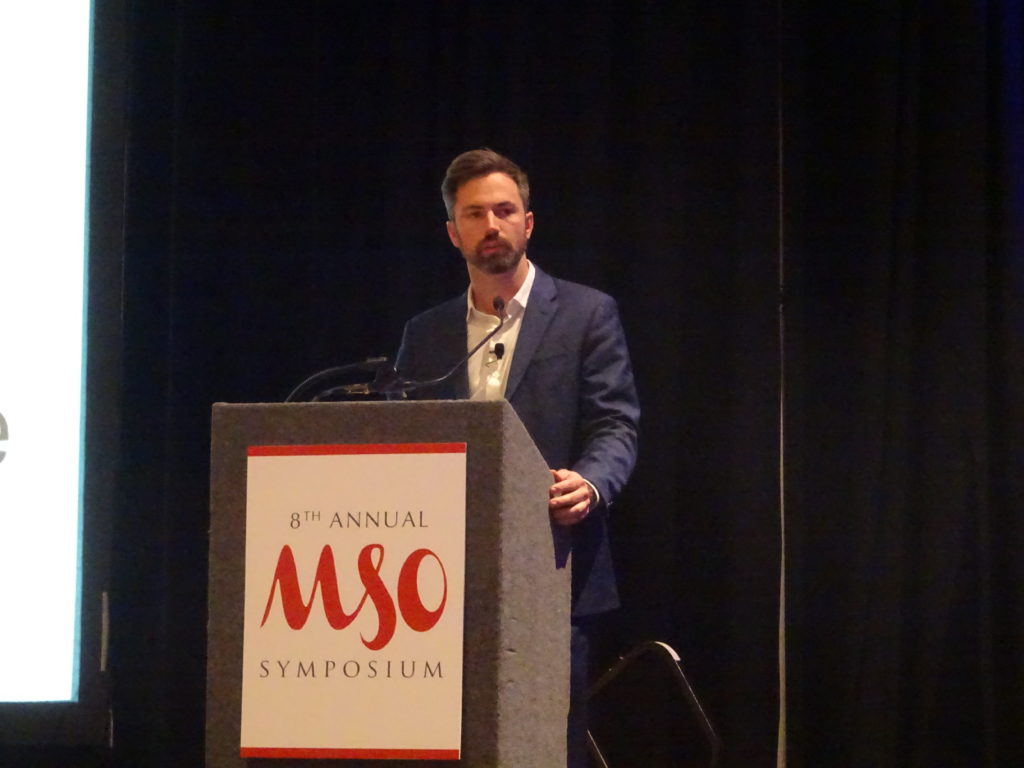 "Guest column: Getting welding right on the 2020 Toyota Corolla Hatchback"
The latest issue of Toyota's free Collision Pros magazine contained a detailed look at permitted and prohibited repairs on the 2020 Toyota Corolla Hatchback.
Collision Pros Magazine, Toyota Motor North America, graciously allowed us to reprint it as a guest column. Find out what the OEM had to say. Read more.
"Toyota: 2020 Highlander has 'extensive' high-strength steel, Safety Sense 2.0 ADAS"
Repairers will notice structural and technological changes in the 2020 Toyota Highlander following what is expected to be its gas and hybrid debuts in dealerships in December 2019 and in February 2020, respectively.
Toyota said it built the 2020 Highlander on the OEM's Toyota New Global Architecture ("TNGA-K") platform, an architecture collision repairers might have noticed on the 2019 RAV4. Read more.
"New Continental auto sensors could detect low-speed impacts"
Continental in December 2019 announced a miniaturized sensor it said could detect minor impacts such as low-speed parking lot collisions or some jerk keying your car.
Calling the technology a variation on the sound sensors used by passive safety systems to detect more significant collisions, Continental said its Contact Sensor System technology could entail a network of 2-12 sensors distributed throughout a vehicle. A graphic shared with the Tier 1's Dec. 10 news release indicates the sensors would be behind vehicle surfaces. Read more.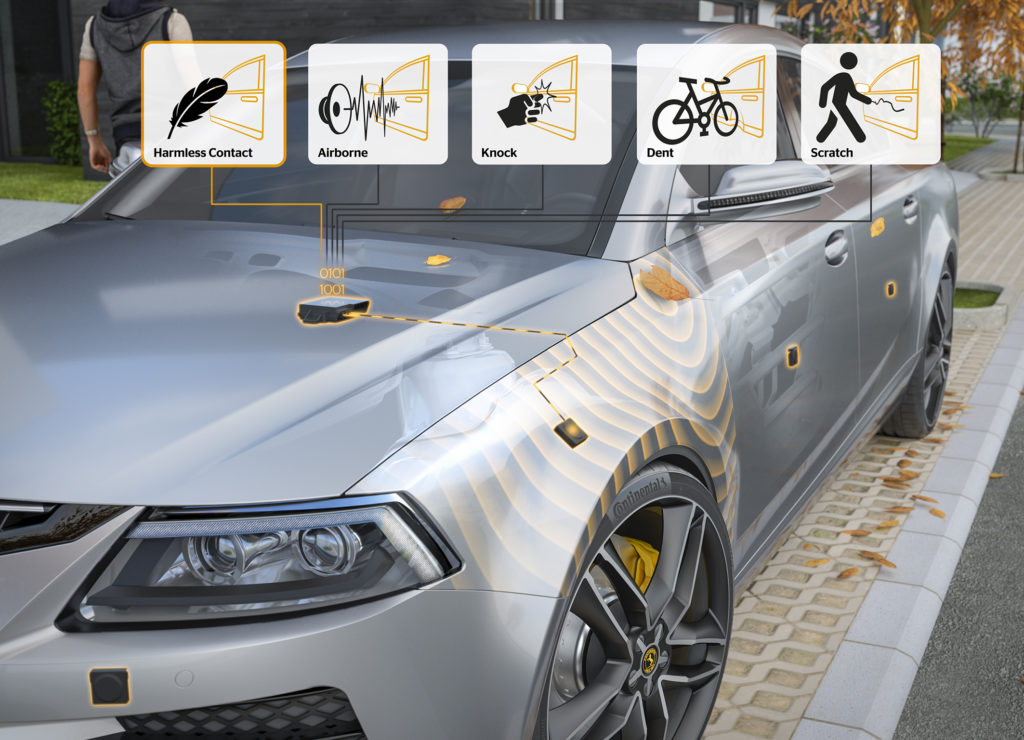 "Shop president: Build relationships with dealerships to make OEM auto body certification work"
You don't need to wait for the OEMs to market your certified auto body shop to consumers. A repairer can leverage OEM certification into a lucrative business model today if they're willing to cultivate relationships with dealerships, a shop leader with credentials from multiple OEMs said in November 2019.
Tim Kilkeary Jr., president of Eighty-Four, Pa.-based Kilkeary's Auto Body, told a SEMA audience that while certification wasn't right for everybody, it has "absolutely" proven a "game-changer" for his business. He said peers laughed when he dropped DRPs and told him why aligning with a dealership was a bad idea. But those relationships proved "much stronger" than any relationship with an insurer. Read more.
"McLaren's carbon-fiber, windshieldless Elva shows possibilities of lightweighting, aerodynamics"
Supercars are not the bread-and-butter of the average collision repairer, but they're notable sometimes for revealing cutting-edge technologies that someday might filter down to a luxury car, or even a mass-market one.
With that in mind, we direct repairers' attention to the Elva, which McLaren last month said was "the lightest road car we've ever built" and allows passengers to travel at high speeds without a windshield. Read more.
"Wash. auto body trade group WICRA joins SCRS as affiliate"
The Society of Collision Repair Specialists on Dec. 30, 2019, announced the Washington Independent Collision Repairer's Association had become its newest affiliate.
WICRA launched earlier this year under the leadership of President Jeff Butler (Seattle-based Haury's Lake City Collision) and Vice President Marc Gabbard, owner of Yakima-based GSR Quality Collision and founder of the popular Collision Repair Technicians United Facebook group. Read more.
"Happy New Year! Here's your top stories from 2019"
Vehicle technological advances, both in electronics and in the materials used to form auto bodies, drew significant interest among Repairer Driven News readers this year.
Materials in our top 20 stories' headlines include high-strength steel, aluminum, carbon fiber — and even stainless steel, found on the exoskeleton of Tesla's electric "Cybertruck." Read more.
"Warning of EPA racecar threat, SEMA urges industry to campaign for RPM Act"
Collision repairers who watch, participate in or build cars for track racing might wish to take note of a new SEMA campaign for a bill carving out a performance EPA emissions exemption.
Senators introduced the "RPM Act" (Recognizing the Protection of Motorsports Act) in October 2019, and representatives introduced a House version in December 2019. Both have bipartisan sponsorship and cosponsorship, with the Senate version up to 29 senators backing it. Read more.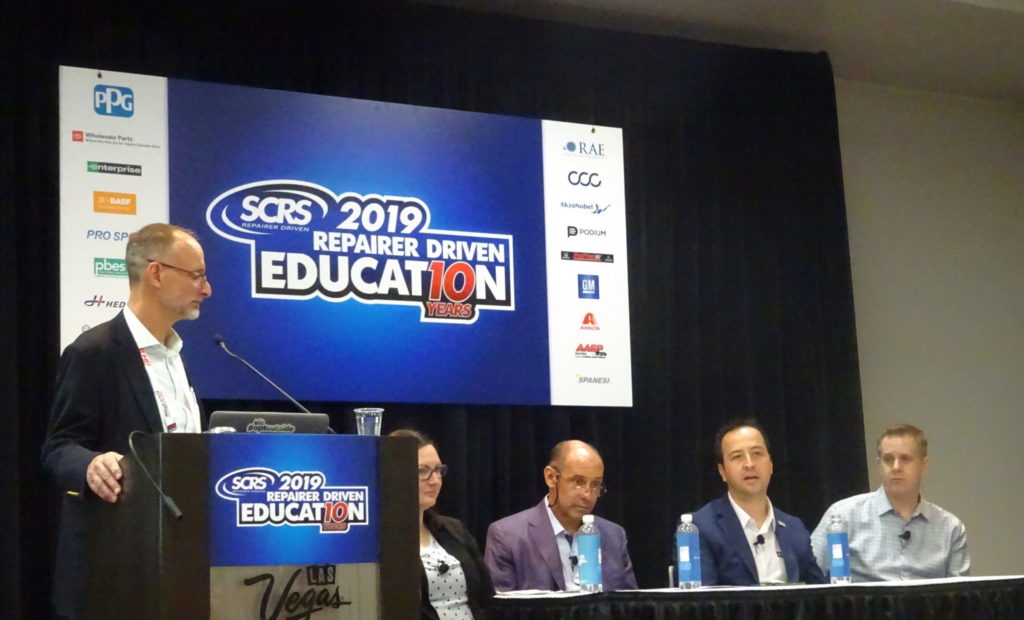 "Auto body shop heads discuss managing OEM certification training, equipment demands"
Training and equipment requirements for OEM certification can be a cost and logistical issue, according to two collision repairers who provided insight into managing both.
"It's expensive," said Tim Kilkeary Jr., president of Eighty-Four, Pa.-based Kilkeary's Auto Body. The training and tooling requirements are "virtually endless," and it's a nonstop job to stay on top of it, he said. Read more.
"Auto body shop head: Insurers 'tested our resolve,' but holding fast works"
Certification is expensive, but a collision repairer can afford the personnel and equipment costs if they're willing to challenge insurers, according to a shop leader.
"You have to be willing to fight to get paid to properly repair cars," Tim Kilkeary Jr., president of Eighty-Four, Pa.-based Kilkeary's Auto Body, told a SEMA audience last month. Read more.
"I-CAR/Ford guest column: Repairing 2019 Expedition, Lincoln Navigator"
The latest issue of Ford's free On Target newsletter for collision repairers contains an in-depth I-CAR look at potential structural and ADAS considerations on the 2019 Ford Expedition and its sister Lincoln Navigator. Both Ford and I-CAR graciously allowed us to reprint it for you. Read more.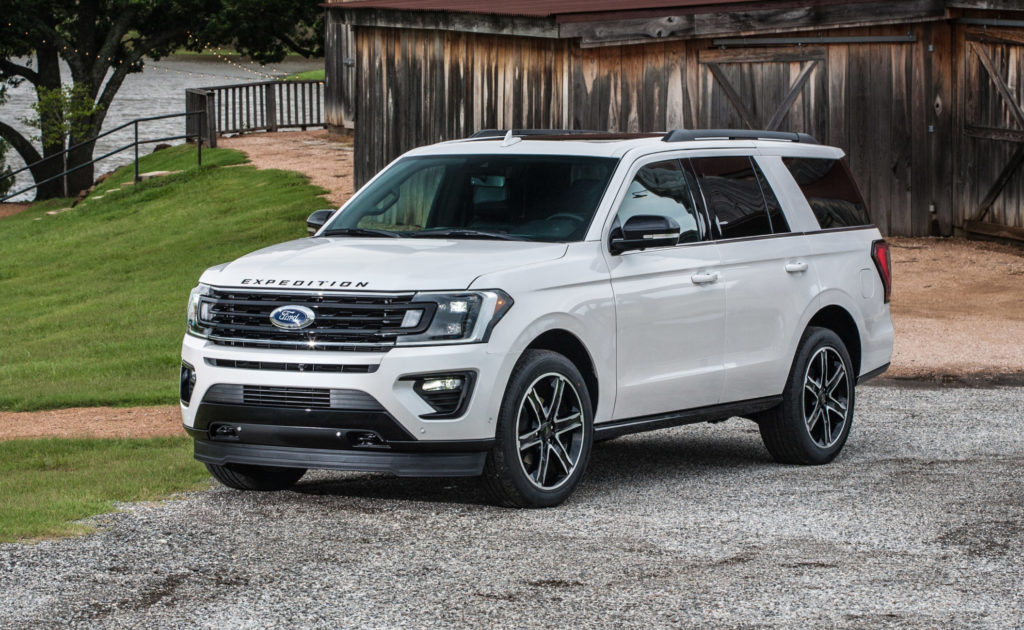 "Removing e-coat, filling fluids, deference to manufacturer on paint: More tips from the DEG"
What do you do when the paint manufacturer lists a different number of stages than Mitchell? Does CCC include transmission fluid on an R&R or R&I of a radiator or condenser with a built-in cooling system? Do Audatex times include removing e-coat?
Learn more with our latest monthly roundup of tips from the free Database Enhancement Gateway resource for auto body shops and insurers. Read more.
"Preventing crashes with V2X, I2X: ABI predicts 'cooperative mobility'; Continental's Mich. hub"
ABI Research on Thursday announced its prediction that connected cars would share more information with each other this year in more "cooperative forms of mobility."
Continental also recently announced some interesting work along these lines, a "Wrong-Way Driver (WWD) detection system," and two "Intelligent Intersections" within an Auburn Hills, Mich., "Smart City Mobility and Transportation Hub." Read more.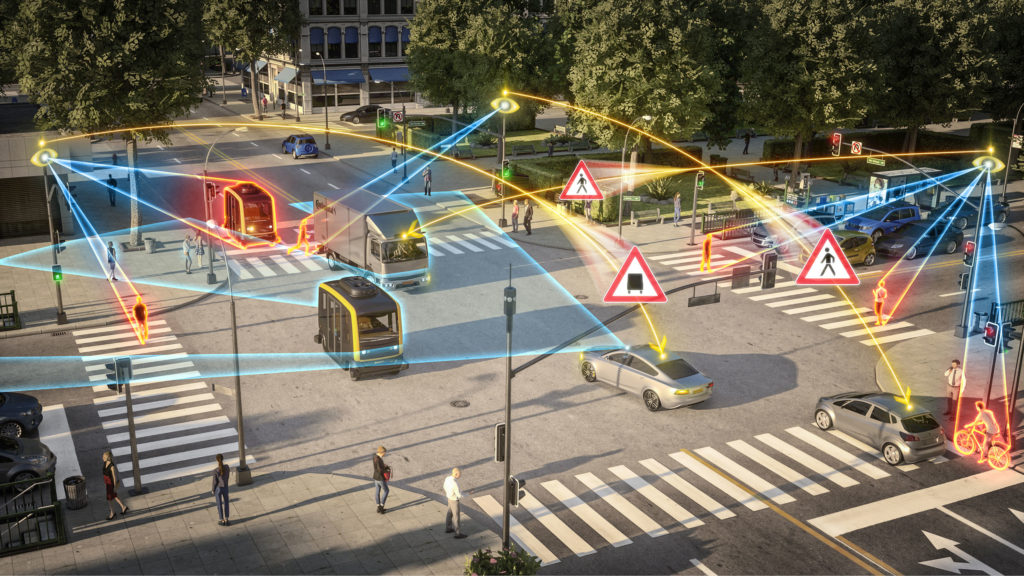 "CCG grows to 'over 400' auto body affiliates, says banner model serves high-quality independents"
Auto body repair banner network Certified Collision Group announced last month it had grown 35 percent in 2019 to support more than 400 collision repair companies.
CEO Tom Matlack on a media teleconference Dec. 17, 2019, called CCG the highest-quality network in the industry by a "long shot," and nothing like "quote-unquote competitors." Each of the 164 independent collision repairers who joined the network in 2019 had to hold at least one OEM certification as the price of admission, and Chief Operating Officer Marty Evans said they need to be I-CAR Gold or better too. Read more.
"Drew Technologies buys scan competitor AutoEnginuity for $20M"
Calling the company "widely used in the US collision scanning market," Drew Technologies announced Friday it had acquired AutoEnginuity for $20 million.
"Their broad coverage and diagnostic depth represent an interesting growth potential for Opus IVS," Drew, a subsidiary of Opus IVS and a fellow scan tool manufacturer, wrote in a news release. Read more.
Images:
Welcome back, those of you who were gone for the holidays! (photojournalis/iStock)
CARSTAR President Dean Fisher is shown in this 2017 file photo. (Provided by CARSTAR)
Uber for Business general manager Neal Watterson speaks to the MSO Symposium on Nov. 4, 2019. (John Huetter/Repairer Driven News)
Calling it a variation on the crash impact sound sensors used by passive safety systems to detect more significant collisions, Continental said its Contact Sensor System technology could entail a network of 2-12 sensors distributed throughout a vehicle. The Tier 1 said it could detect low-speed parking lot crashes and even vandalism like someone keying a vehicle. (Provided by Continental)
From left, Jeff Wildman, BASF North America OEM and industry relations region manager, on Nov. 6, 2019, served as moderator on an SCRS Repairer Driven Education panel composed of Jaguar Land Rover aftersales retail technology senior specialist Liz Willard; Tim Kilkeary Jr., president of Eighty-Four, Pa.-based Kilkeary's Auto Body; Eric Mendoza of Toyota collision operations; and Jeff Pabst, general manager of Vaughan, Canada-based Pfaff Autoworks. (John Huetter/Repairer Driven News)
A 2019 Ford Expedition Stealth Edition is shown. (Provided by Ford)
Continental on Dec. 18, 2019, announced it had set up two "Intelligent Intersections" within an Auburn Hills, Mich., "Smart City Mobility and Transportation Hub." (Provided by Continental)
Share This: