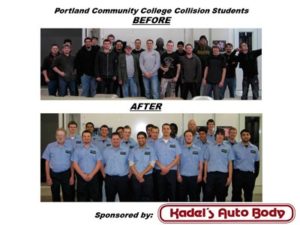 The Collision Repair Education Foundation this summer again called on the industry to support local high school and college collision education by donating uniforms and personal protective equipment.
The effort might potentially help a few programs stave off closure, CREF suggested.
TechForce reported collision program graduates declined again in 2018, the most recent data available. If repairers can't reverse this trend, they might have a harder time filling thousands of upcoming vacancies expected from turnover and retirement.
So in honor of Labor Day, we thought we'd promote this CREF option for fixing the labor shortage by aiding the supply side.
CREF in July encouraged repairers to make high school and college programs "Safer & More Professional" by sponsoring "Cintas safety kits" for $50 per student. The kits include protective glasses, ear plugs and a dust mask for safety and a work shirt and pants for professionalism. It's an ongoing initiative that CREF made a point of hyping before the start of school.
"Now more than ever do local high school and college collision programs need the industry's support and engagement to ensure that they not only graduate quality entry-level students but for these programs to be seen as viable career options," CREF wrote in a July 22 email. "School administrators are evaluating program budgets and as collision programs are one of the more costly to run, they need to see that there are local industry businesses who are in need of these students. Otherwise the number of calls to CREF from collision instructors stating that their programs are being flagged for potential shut-down will only increase. The safety kit sponsorship opportunity is one way that businesses can invest in their local collision students, showcase to the administrators the interest from the local community, and help the industry businesses network with the students."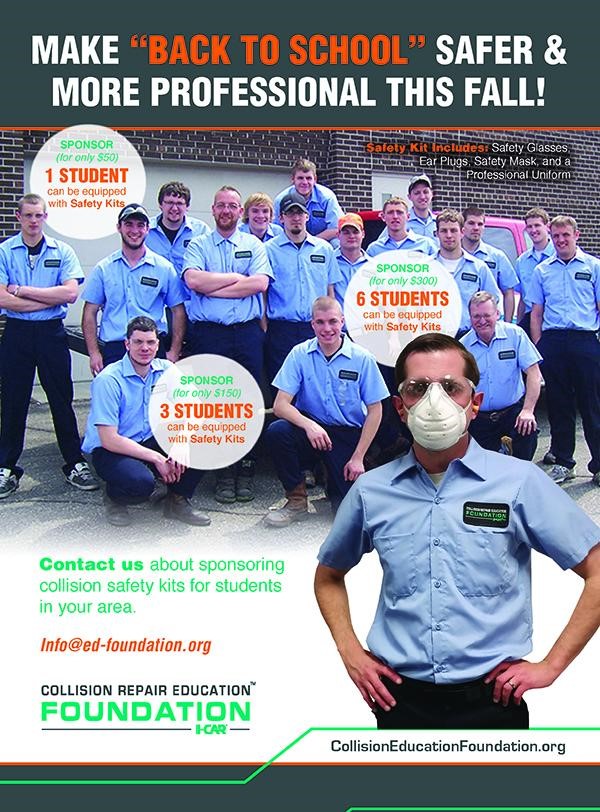 Repairers can earmark their donation for a specific school. Any business sponsoring at least 20 kits ($1,000) will get their shop's logo on the front of the shirt. Email CREF development director Brandon Eckenrode.
CREF told us once they've heard filling an open spot with a technician can mean $30,000-$50,000 per month in additional revenue for a collision repairer. So it might be worth the $1,000 to get your shop's brand on the minds of prospective future employees.
Collision completions at postsecondary two- and four-year programs dropped from 5,564 in 2017 to 5,426 in 2018, according to a recent TechForce study of new Integrated Postsecondary Education Data System data.
But repairers needed 13,253 people to fill the open positions created by turnover or retirements or generated by growth, according to Bureau of Labor Statistics data reviewed by TechForce. The industry was nearly 8,000 warm bodies short. This year, the industry was projected to have 17,251 open jobs, which would really be a problem if graduation rates continue to decline.
Eckenrode on Friday also offered an update on CREF's job fairs, which are another way of getting yourself in front of prospective technicians. COVID-19 has disrupted plans for in-person fall career fairs. However, the organization is exploring virtual job fair options, and it's working to set up physical events and dates for spring 2021 with "fingers crossed," he said.
The recession created by the COVID-19 response might have increased interest in the skilled trades, TechForce said. It also might have temporarily reversed the tech shortage as repairers suddenly needed to resort to furloughs and layoffs in the face of reduced business. For example, Service King on Aug. 27 reported it had recalled 820 furloughed staff and hired 260 more but would only be more than halfway to full production by mid-September. But the company — and likely the industry — is still rebounding, and repairers are probably going to be staring down the barrel of a tech shortage again soon if they aren't already.
Past RDN tech shortage, solutions coverage
As we've done on other Labor Days, here's some of the last year's worth of coverage of the problem and potential solutions. (One caveat: This is the past year's worth of stuff. Some of the items reported here might have been modified, delayed or cancelled since then for reasons such as the COVID-19 pandemic.)
"TechForce finds technician 'shortage continues to worsen,' notes COVID-19 might help supply"
"Collision repair trade school initiatives include shop time, free tools, ALLDATA"
"Dent Wizard goes beyond 'post and pray,' finds recruiting success"
"Structured, attentive process helped Dent Wizard recruit 1,200+ in a year"
"Auto body vo-tech aid plans include CREF dealer initiative, CCA $250K products campaign"
"SCRS 401(k): Shop questions about switching retirement provider answered; webinar on new plans Tuesday"
"SCRS webinar: New law makes 401(k) changes for auto body employers, employees"
"N.Y. auto body teacher named CREF 'Instructor of the Year'"
"CIC student survey notebook: Path for advancement, 4-year degrees, job-seeker demographics"
"CIC study: Two-thirds of CREF auto career fair students expect $50K or less in first job"
"Nationwide workforce effort includes pilot 3-day weekends; $160M for costs like training"
"CREF, I-CAR committees, others give nearly $500K to vo-tech; Mitchell donates $3.4M in software"
"State groups: Central Mass. I-CAR helps vo-tech; AASP-NJ backs job fair; ABAT merges with HABA, has hit show"
"DOL: Resources exist for body shops seeking to fill tech shortage with veterans"
"CREF skills challenge results suggest 'something special' in Service King's new in-house training model"
More information:
Collision Repair Education Foundation
Learn more about sponsoring CREF "safety kits"
Featured images: The Collision Repair Education Foundation in summer 2020 called on repairers to sponsor $50 kits containing personal protective equipment and work shirts and pants. (Provided by CREF)
Share This: